Primus
PowerLighter
1

review

5-star:

0

4-star:

1

3-star:

0

2-star:

0

1-star:

0
Specs
Weight
67 g / 2.4 oz

Dimensions
80 mm x 50 mm x 20 mm / 3.15 in x 2.0 in x 0.8 in

Reviews
I had been looking for a lighter of this type for…
Rating:


Price Paid: $17.95 USD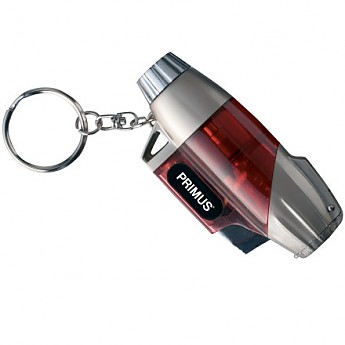 I had been looking for a lighter of this type for some time. I will do tons of research before I make a gear purchase. I read of other companies making a lighter of this type and found them to be very expensive. I found this lighter at Smoky Mountain Outfitters in Gatlinburg, TN and bought it instantly after looking everywhere for it. The gentleman was nice enough to fill it for me as well, showing me how easy it was. I thought it to be a great backpacking lighter.
And I have so far been right. Wow what a value! It has come alive every time since I trained myself to light it slowly. There is a split second where fuel needs to be in the ignition area to light. I love it around the house as well. I don't smoke anything and still find myself carrying this lighter. The heat from this little hand volcano is great for starting campfires with ease, starting charcoal, lol lighting fireworks, and tons of other everyday uses.
Bought a small canister of fuel at walmart for a couple dollars and the lighter refills in a snap, nothing confusing.
I cannot say that I have used any similar products, but I really don't plan to do any underwater welding, therefore I really don't see a need to buy anything else - except maybe another one of these. I am highly recommending this product.
Pros: Ease of use, reliable, refilling, small size and weight.
Cons: must hold at correct angle when pointing downward, might try the other model with angled nozzle
PS: Can't wait to get the Primus adaptor for the isobutane canisters to fill with my Jetboil fuel.
Manufacturer's Description
Visit Primus's PowerLighter page.
Retailers' Descriptions
Here's what other sites are saying:
PowerLighter has a narrow flame that makes it simple to light your stove or camp fire. A temperature of 1300°C facilitates lighting liquid fuels in bad weather. Dimensions: 2.8" x .08" x 1.3" (71x20x35mm). Weight: 0.6oz (16g).
- Vargo Outdoors
The Primus PowerLighter ignition device makes it simple to light your stove or campfire. The focused, wind-resistant, 2400degF flame will light fuel in any weather.The PowerLighter's angled tip and narrow flame make it easy to light cramped stoves or to reach that sweet spot to ignite your camp fire.This lighter uses Isobutane/butane/propane fuel. (Not included)Refillable.
- NRS
Primus created the Power Ignitor Lighter for those times when you need fire quickly. So whether you're looking to start you liquid-fuel stove in foul weather or just trying to get your soggy doobie to blaze, the Power Lighter will help you get your burn on. This year's model includes a narrower flame, reduced weight, and an operating temperature of 1300 degrees C (2372 F).
- Backcountry.com
CLOSEOUTS . Demanding backcountry quests often require a hardcore flame to get things rolling. The Primus Power Ignitor lighter emits a 1300?C flame that holds up in fierce wind and cold. 1300?C wind-resistant flame Adjustable flame Uses butane fuel (not included) Refillable Dimensions (HxWxD): 2-3_4x1-1_2x3_4" Weight: 0.6 oz. Material: Aircraft aluminum and composite Made in China Available Colors: BLACK, RED.
- Sierra Trading Post
Primus PowerLighter
MSRP:
$22.00

The Primus PowerLighter is not available from the stores we monitor. It was last seen October 11, 2011 at Vargo Outdoors.
If you're looking for a new fire starter, check out the best reviewed current models.