Ruff Wear
K-9 Float Coat
Reviews
Durable, comfortable, and provides high visibility!
Rating:


Source: bought it new
Price Paid: Retail

Summary
Durable, comfortable, and provides high visibility!
Pros
Strong material
Comfortable fit
Amazing handle
Provides great floation
Ease of movement
Cons
Price
I wish there was a second sturdy leash attachment or better placement of the singular one
Another fantastic product from Ruff Wear and probably my favorite of Shyla's gear!
This life jacket is perfect for taking your dog paddleboarding. The large handle allows for easy pick up and placement when I need to get Shyla onto and off the board.  
The jacket provides great flotation while still allowing Shyla to swim freely. The fit is perfect. She is a size medium and is anywhere from 65-70 pounds. Putting the jacket on is super easy (which is important when you're dealing with a slippery wet dog!). You just slide it over your dog's head and clip at the torso.
The material is very strong and resilient. After two and half years of wear there is no loose stitching or rips in the fabric. This amazes me because this jacket has pretty much encountered everything you could throw at it from rivers and lakes to rocky beaches with fine sand. The buckles have also survived without a scratch. I believe that is due to their open design, which has no closed spaces for sand or dirt to get trapped in.
Very easy to clean, just hose off and hang to dry. After a proper wash down, the jacket retains no smell.
This life jacket also has a second unintended purpose. I use it with the WalkyDog bicycle exerciser. Its top leash access point works really well with the WalkyDog, and the bright yellow dandelion colour/reflective strips are amazing for visibility at night.
My only gripe with the K-9 float coat is the fact the leash access point is tucked under the handle (see below). I wish it were placed on top of the handle or at the base of the neck, so it would be easier to get at.
All in all, I'm glad I spent the extra money on this particular jacket because it shows no sign of giving out any time soon. Money well spent!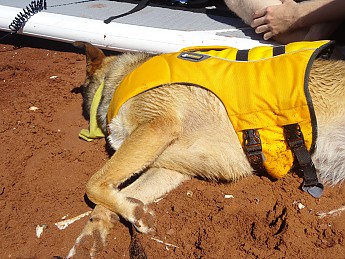 Ruff Wear K-9 Float Coat
currently retails for:
$79.95 - $80.00
MSRP: $79.95