Salazon Chocolate
Organic Dark Chocolate with Sea Salt and Organic Cracked Black Pepper
1

review

5-star:

0

4-star:

1

3-star:

0

2-star:

0

1-star:

0
Reviews
I love chocolate. I like salt. But salted chocolate?
Rating:


Source: received for testing via the Trailspace Review Corps (Sample provided by Salazon for testing and review)

Summary
I love chocolate. I like salt. But salted chocolate?

When Salazon Chocolate, a brand new company, sent me samples of their salted chocolate bars last month, I was a little skeptical. I love good chocolate, but I don't like when people mess with it too much.

Salazon (which means salted in Spanish) claims to be the first salted-chocolate brand, and I initially wondered if maybe there was a good reason salted chocolate hadn't been done before.

But, I couldn't resist the company's motto — "roam the earth. eat chocolate." — or the fact that Salazon Chocolate was started by a hiker, Pete Truby, who preferred making his own salted dark chocolate rather than eating energy bars or "nutritionals" on his hikes. Plus, it was chocolate.
So today I got to work and dug in. I figured I'd try a sample from each bar. I ended up having to put the delicious half-eaten bars far, far away, two floors away, lest they disappear completely.
I am converted.
Organic Dark Chocolate with Sea Salt and Organic Cracked Black Pepper:
I saved this one for last because I was even less sure of pepper in my chocolate than salt, but it works. Though all the bars are dark chocolate, this one tasted richer to me, and the salt is a little less pronounced when balanced with the pepper.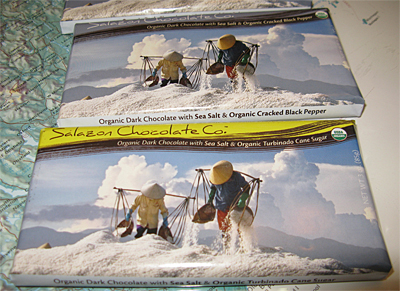 Salazon Chocolate bars are made in small batches in Maryland and are 100 percent USDA organic. The additional ingredients — like sea salt, pepper, and turbinado — are sprinkled onto the bars for better texture and taste, instead of mixed in with the chocolate. The resulting flavors are more complex than in a plain old milk or even dark chocolate bar, but not overly complicated or fussy.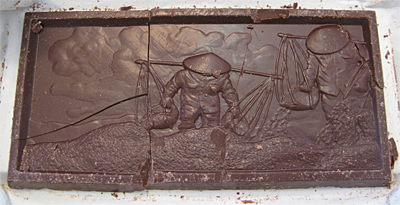 Instead of being scored to break apart easily, the three-ounce bars are solid and feature a molded chocolate image of the Asian salt farm featured on their labels. My bars were broken into a couple pieces by the time I opened them, so I missed having a pretty, intact chocolate picture, but they still tasted great and hey, who needs scoring?
If you've never tried salted chocolate, I highly recommend you give these bars a try. Each Salazon Chocolate flavor has its own charm and I can see any one being a favorite for individual palettes. Consider carrying along a bar (or two) on your next hike or backpack.
Individual bars retail for $3.49.
Manufacturer's Description
Our sea salt and organic cracked black pepper bar certainly invokes some raised eyebrows upon first glance, but this bar is fast becoming a fan favorite and our best seller. The organic black pepper balances the sea salt (naturally) and brings out different flavors in the chocolate than the salt can on its own.
Our unique, organic chocolate bars are made in small batches in the United States with only the best all natural and organic ingredients. And all of Salazon Chocolate Co's bars have our signature touch of sea salt.
Our subtly sweet dark chocolate starts with the best organic cacao beans available and then we add only the best additional ingredients such as organic evaporated cane juice and organic vanilla. This produces a smooth not too sweet, not too bitter chocolate that pairs perfectly with our sea salt.
We looked for the perfect sea salt for our chocolate and we found it: our sea salt is completely natural, unrefined and has absolutely no additives. It is simply sea water harvested from pristine areas in the Southern Atlantic and then solar evaporated, that's it! The natural minerals and subtle nuances of flavor make it the perfect balance for our organic chocolate.
Salazon Chocolate Organic Dark Chocolate with Sea Salt and Organic Cracked Black Pepper
MSRP:
$3.49

The Salazon Chocolate Organic Dark Chocolate with Sea Salt and Organic Cracked Black Pepper is not available from the stores we monitor.
If you're looking for a new bar, check out the best reviewed current models.