Salomon
X-Scream
2

reviews

5-star:

0

4-star:

1

3-star:

1

2-star:

0

1-star:

0
Reviews
Transitioning from road to trail is a tough thing…
Rating:


Source: bought it new
Price Paid: $110

Summary
Transitioning from road to trail is a tough thing to do for a shoe. The Salomon X-Scream does an incredible job of providing rugged support for trails yet a smooth ride on pavement.
Pros
Great protection
Smooth ride
Cons
Narrow across the arch
Poor Drainage
Disclaimer: I own a running store. However, I do not carry Salomon products. 
The Salomon X-Scream is a new shoe in Salomon's City-Trail line that boasts itself to be a transition shoe from pavement to off-road. I have been turned off by Salomon's shoes in the past due to their narrow fit and my wide feet, but I thought I would give these a try. I'm glad I did.
The fit on these shoes was very surprising. As mentioned above, Salomon shoes tend to bee too narrow for my feet. However I looks like they might be adding some room in the forefoot with this model. They were still a bit narrow across the arch but not terrible.
My first run with these shoes put them to the test. I was running a local park that has some wide but technical trails and also has paved sections. I brought a spare pair of shoes just in case they couldn't make it through the 9 miles I had planned. However they performed magnificently on all surfaces. There was enough support and protection to go over the rocks and other gnarly stuff on the trails but the tread wasn't too aggressive when I hit the pavement. I was shocked at how smooth the ride was off the trail.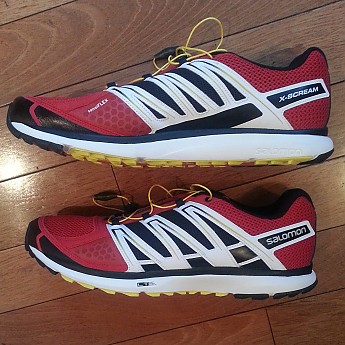 That same day, the skies opened up and it rained hard. Within about 3 minutes I was soaked and it wasn't letting up. This is where I think the shoes could have done better. The shoes held on to the water that was coming down and didn't drain very well making it feel like I had puddles inside my shoes with every step.
Another downfall in my opinion is Salomon's lacing. I don't like their lacing on any of their running shoes. I appreciate what they are doing to not make you worry about your shoes coming untied, but the shoes lack the ability to customize the fit unless you get some scissors, a lighter, and patience.
Since the rain soaked run, I've put about 40 miles on them (dry miles) and they are doing just fine. Sometime I run on trails with them and others on the road and these shoes haven't lost their performance. 
A very good hybrid shoe. When I'm running my local…
Rating:


Source: bought it new
Price Paid: $90

Summary
A very good hybrid shoe.
When I'm running my local trails, I have to run about a mile or so to get to a trailhead. That mile can be a pain when I'm wearing some of my heavier trail shoes. So, being a Salomon geek I had to go out and buy the X-Scream, if only because it was advertised as a hybrid shoe.
I've now worn them several times on the trail and can say they perform as advertised—meaning they are comfortable on pavement and the tread grips well on the trail. That said, if you are running over a rock garden or going on technical trail, remember that these don't offer very much protection. You will feel the rocks underneath and if you stub your toe, it will hurt. If you run on smooth singletrack, these shoes will feel featherlight and you'll love them.
I would not use these for every day training. But then, despite Salomon's overselling , these shoes weren't designed for that either.
Where to Buy
sponsored links
Help support Trailspace by making your next purchase through one of the links above.
Retailers' Descriptions
Here's what other sites are saying:
Offering a dynamic and cushioned ride, Salomon's X-SCREAM trailrunning show is an agile CITYTRAIL shoe that injects mountain spirit into running in an urban landscape.
- CampSaver.com
Offering a dynamic and cushioned ride, the Salomon X-Scream Trail-Running Shoes are built to handle terrain from city streets to rocky trails so you can get your daily run in wherever you may roam.
- REI
Salomon X-Scream Trail Running Shoes for MenIf you're looking to run in an urban setting, the Salomon X-Scream Trail Running Shoes for Men are the perfect pick-up. There's a big difference between running in the wilderness and the urban sprawl, a fact that's been accounted for in the design of this shoe. While it comes with standard foot protection in the form of Sensiflex and Sensifit technologies, it also features a dynamic build designed to deal with the less pliable surfaces such as road and sidewalks. Additionally, it also offers a number of safeguards against random and unwanted objects such as rocks coming into contact with your feet. The Salomon X-Scream Trail Running Shoes for Men is a must have shoe for those braving the urban jungle.
- SunnySports
Salomon created the CityTrail series to help you get off the road, depending on where your proclivities lie. For the road running purist who has avoided any shoe that suggests trails, put on the Salomon Men's X-Scream Running Shoe and dip your toes onto the crunchy gravel that lines the way out of town. No one has to know if you scream with pleasure at the unfettered freedom you find in this all-terrain, cross-over shoe. The stretch air mesh upper is like your road shoe: lightweight and breathable. Its Sensifit offers a bit of lateral support by blending overlays into the Quicklace closure system. With a single pull, you've tightened the laces and created a cozy cradle for your foot. The EVA-shaped footbed keeps you stepping lightly, and it comes out when you want to slip in a custom insole. The heel stack height of 19mm hits a sweet spot between low and high. With a drop of 9mm, midfoot- and heel-strikers alike can run in comfort. Look at the meat of this crossover shoe sandwich, and you'll realize the only thing missing is bacon (but what shoe is made with bacon'). From your toes to your heel, an injected EVA midsole cushions your footsteps, similar to your road running shoes. A hit of compressed EVA in the medial heel is like an I-beam for a bridge; it prevents collapse--of your form. Lightweight Muscle slingshots you forward by adding an elastic element into your toe-off. The Contagrip bottom gives you traction on tricky (anything other than the road) terrain and fluidity in your footsteps when tackling asphalt-paved obstacles.
- Backcountry.com
With adaptive fit and dynamic cushioning, these Salomon X-Screams are the best trail running shoes for men, specifically designed for the urban landscape. Salomon X-Scream men's trail running shoes. Offering a dynamic and cushioned ride, the X-SCREAM is an agile CITYTRAIL shoe that injects mountain spirit into running in an urban landscape. Available Color(s): Black/Fluo Yellow/Autobahn
- Tahoe Mountain Sports
Salomon Men's X-Scream
currently retails for:
$54.98 - $110.00

where to buy: