Reviews
A very comfortable shoe, but not my favorite Sauconys.
Rating:


Source: bought it new
Price Paid: $60

Summary
A very comfortable shoe, but not my favorite Sauconys. A sufficient trail runner with ankle support, but I question Backpacker Magazine's reviewer supporting the idea of backpacking with these.
Pros
Nice sticky tread/aggressive pattern
Good ankle support
Light weight
Cons
Questionable quality of construction
Low quality insoles/poor arch support
Tubular style laces loosen/untie
I purchased these trail runners on clearance from a running store, and decided to give them a try. The size is true to fit (9.5), and parallels Saucony's other products in size. I have been a long time supporter of this brand.
The lacing eyelets do not have metal rings, and after wearing them for about 20-ish miles, I fear the laces may tear the material by the eyelet. I am also not a fan of this tubular style shoelace; they tend to untie/loosen easily if one is not super careful. The shoe is very comfortable, but my feet tend to ache after a day of activity, regardless of the insoles in them.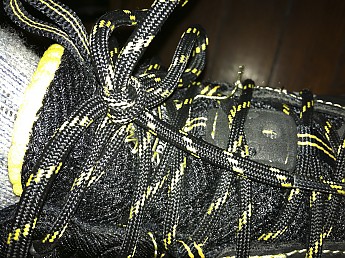 The stock insoles in these shoes have to go immediately, especially if you have any kind of arch. Please bear in mind this review is from a person with a narrow foot with a high arch. I have used several varieties of Sof Sole, and Superfeet in these shoes. For me, this corrects the poor arch support. Ankle support is sufficient, which can really help people that like or need additional ankle protection.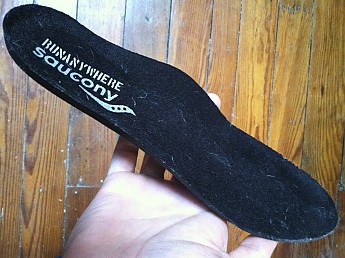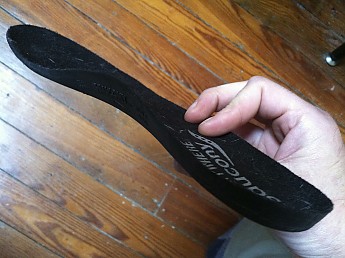 These trail runners are not designed to be waterproof, or water resistant. They are made just like a standard sneaker, with good breathability. One nice addition, like the Exodus series, Saucony has added a gaiter hook at the bottom of the tongue. There is a hard outsole on the heel that increases heel support, and also protects the heel area.  
I am impressed with the aggressive tread pattern of soft, sticky rubber. Due to excellent grip, I wouldn't expect a long lifespan of the shoe. The shoe is said to have a 4mm offset from heel to toe, I personally don't find anything radically different in feel than any other shoe out there.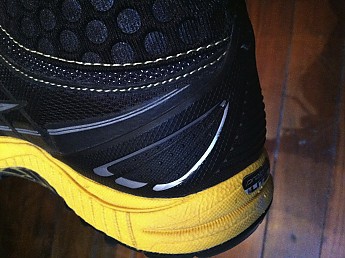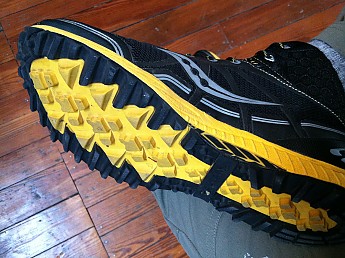 After several dayhikes, and urban use in the mid-atlantic region, I'd estimate 20+ miles of overall use. I have found the tread is beginning to separate from the inner arch area prematurely. Not sure if this is a defect, but I wouldn't expect this to happen so soon. There are several areas of loose stitching, all primarily on the tongue. I don't typically expect too much otherwise from a shoe made in China. Overall, this is a good product in my opinion, however not nearly as satisfying as a pair if lowtop Saucony Xodus 2.0's.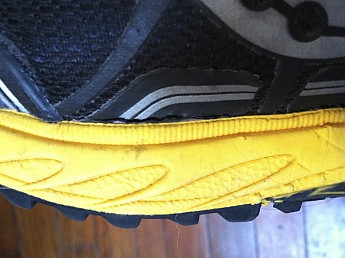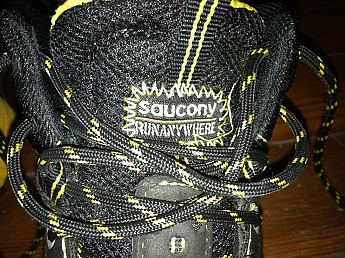 Best 4wd, off-road shoe period. Excellent support,…
Rating:


Source: bought it new
Price Paid: $60-80

Summary
Best 4wd, off-road shoe period. Excellent support, excellent grip!

I live in beautiful San Luis Obispo,Calif. We have rolling hills, mountain bike trails, walking trails. Some of the trails are dirt, some mixed rock with pebbles. Hills can vary up to 1000' above sea level. If I run along the rugged trails mixed with rock/hard packed gravel/dirt, I'm very confident in the sure-footedness/traction/grip of the soles.

The ankle support in the Saucony ProGrid Outlaw is a huge plus! Such a great "off-road" shoe for walking, hiking, running. Saucony, resurrect the Progrid Outlaw!
Pros
Lightweight
Grip
Support
"Off road any terrain" period!
Saucony ProGrid Outlaw
The Saucony ProGrid Outlaw is not available from the stores we monitor. It was last seen April 16, 2014 at Sierra Trading Post.
If you're looking for a new trail running shoe, check out the best reviewed current models.
Recently on Trailspace