Sawyer
Permethrin Repellent for Clothing
1

review

5-star:

1

4-star:

0

3-star:

0

2-star:

0

1-star:

0
Easy to use and long lasting this bug treatment really…
Rating:


Source: bought it new
Price Paid: $15

Summary
Easy to use and long lasting this bug treatment really works. If you visit buggy areas or are concerned about ticks at home or on trail this stuff is peace of mind in a bottle
Pros
Effective
Easy to apply
Won't harm most clothing and gear
Long lasting
Safe for children's clothing
Cons
Very poisonous requiring safe disposal of any remainders
OK, that was a reach since I can't think of any real cons
Designed to be used to pretreat clothing and gear to repel ticks, chiggers, mites and mosquitoes this product works as advertised.  After one full season of use I am convinced of the effectiveness of Sawyer's permethrin and will keep using it so long as that remains the fact.
Application is simply a matter of waiting for a day without much wind, hanging the item or items to be treated, lightly dampening items with the product via the spray applicator and then waiting for them to dry. Sawyer claims 42 days of effectiveness per treatment and will last through 6 washes, but as I'm either walking in the rain or sweating in the heat I retreat once a month if I remember.
Once the product dries it is almost entirely without odor. There is a very faint smell which I do not find annoying in the least and really only notice when I'm sniffing to see if I should reapply. I have yet to find any item I have treated which was discolored by the process, but I would recommend testing first on a small hidden area just in case.
The info on the container says the 24oz bottle is enough to treat four complete outfits but that seems very conservative to me. I treated my own shirt, pants, hat and socks three times last year, some clothes for Mrs Stranger and The Tot as well as treating clothing for three other people who came on trips with me last year and that left about a third of the product remaining. I may have been under treating but based on how well it worked I'm thinking they may just be avoiding setting their specs too high.
As mentioned the product is safe to use on children's clothing which is great if you have kids who like to roll around on the ground. Our back yard is a forest filled with ticks so I have found the permethrin useful at home as well as on trail given Lyme Disease concerns. Now that EEE is moving into our area I think we may start treating more of our clothes we wear outside the house this year.
There are other brands of permethrin out there but having tried the Sawyer I don't feel much need to try them.  This stuff works as advertised and definitely far better than I expected. On last year's trips I never had to resort to using a head net and only used bug repellent one time.
Keep in mind my trips were all here in Maine where bugs are certainly not a minor annoyance so if it works here it will probably work where you go. Personally I'm sold and will buy a bottle each year unless something better comes along.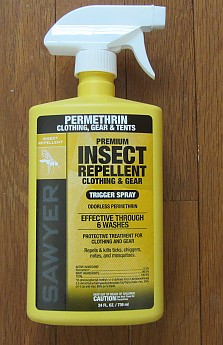 Where to Buy
sponsored links
Help support Trailspace by making your next purchase through one of the links above.
Retailers' Descriptions
Here's what other sites are saying:
This insect-killing repellent for your clothing is effective against ticks, chiggers, mites and mosquitoes for up to six weeks. Nonaerosol pump bottle contains 24 fl. oz. of repellent, or enough to coat four full outfits; a full outfit consists of shirt, trousers and socks. One treatment will last up to six washings or six weeks before clothing has to be treated again. Effective against ticks that carry Lyme disease and Rocky Mountain Spotted Fever. Repellent should be applied outdoors and before clothing is worn; hang clothing, spray and let dry two hours (four hours in humid conditions). Avoid contact with skin and eyes.
- REI
Rather than hosing yourself with noxious, stinky insect repellent, spray Sawyer's Permethrin Trigger Spray Insect Repellent on your clothing and outerwear and get the protection you need from biting insects. Apply this repellent before hiking or camping, and the active ingredient Permethrin (a synthetic molecule similar to pyrethrum which originates from the Chrysanthemum flower) will kill or repel up to 55 types of insects on contact. You can even wash your gear up to six times before losing the power of Permethrin repellency. Not too shabby, eh'
- Backcountry.com
Sawyer Permethrin Clothing and Fabric Insect Repellent Trigger Spray DECENT FEATURES of the Sawyer Permethrin Clothing and Fabric Insect Repellent Trigger Spray For use on clothing, tents, and other gear Not only repel insects, they actually kill ticks, mosquitoes, chiggers, mites and more than 55 other kinds of insects on contact When applied to clothing, Permethrin binds to the fabric eliminating the risk of over-exposure to the skin Odorless when dry, and will not stain or damage clothing, fabrics, plastics, finished surfaces, or any of your outdoor gear A single application lasts 6 washings
- Moosejaw
A synthetic molecule that mimics pyrethrum-a natural insecticide derived from the Chrysanthemum-Permethrin effectively repels and kills mosquitoes, ticks, and other insects to make your outdoor adventures more enjoyable.
- EMS
Sawyer Permethrin Repellent for Clothing
currently retails for:
$12.95 - $18.95

where to buy: