Sea to Summit
AlphaLight Long Spoon
1

review

5-star:

1

4-star:

0

3-star:

0

2-star:

0

1-star:

0
Reviews
Sea to Summit's AlphaLight Long Spoon is an ultralight,…
Rating:


Source: bought it new
Price Paid: $8

Summary
Sea to Summit's AlphaLight Long Spoon is an ultralight, anodized aluminum spoon that, due to its superiority, has replaced the Titanium Spork I've carried for nearly 15 years.
Pros
Ultralight (0.4 oz)
Reaches the bottom of freeze-dried food bags
Clips to your pack with a 0.05 mini-biner
Cons
Loses the tines of a spork
Wish the bowl was a bit larger
Most of us have done it...Finished off the last of our Mountain House meal by digging into the bottom of the bag and allowing our hand to be covered in tomato sauce or other goo. It seems to go with the territory.
Let's start with a short, slightly narcissistic video.
For 15 years, my Snow Peak Titanium Spork has been my companion on every camping adventure, but earlier this year, I stumbled upon the Sea to Summit AlphaLight Long Spoon. There was, of course, a moment of indecision. I mean, I've had my spork almost as long as I've had my wife, and I'm a pretty committed person.
Oh, but that AlphaLight Long Spoon tempted me...with its extra long handle, promise of being lighter, and $8 price tag (Honestly, $8!!!). I decided to begin my affair with this spoon.
Let's do some side-by-side comparisons.
First, the AlphaLight Long Spoon is a full 2" longer than the Snowpeak Titanium Spork.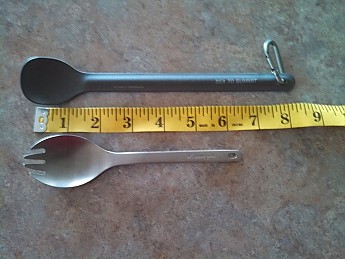 Snowpeak Titanium Spork— 6.5 inches
AlphaLight Long Spoon— 8.5 inches
Sure, in everyday usage, the AlphaLight Long Spoon comes across as freakishly long. HOWEVER, it was designed for those eating freeze-dried meals from the pouch.
Observe the difference: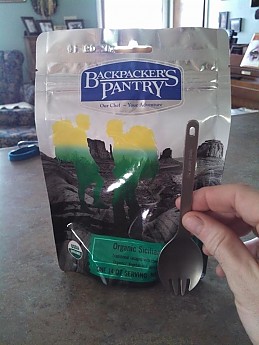 Puny spork that can't reach the bottom of the bag.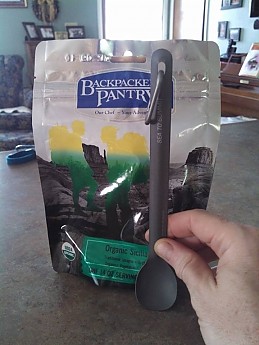 Svelte spoon that takes keeps my hand out of the bag!
Second, the AlphaLight Long Spoon is 1/10th of an ounce lighter than my spork. I placed both on the postal scale at work to confirm the advertised numbers:
Snow Peak Titanium Spork: 0.5oz (actually, Snow Peak lists it at 0.6oz, but I weighed it)
AlphaLight Long Spoon: 0.4oz
Okay, I know I can come across as a gram weenie in my reviews, and 1/10th of an ounce isn't much, BUT keep in mind we've added a full 2" to the spoon AND it's still lighter, PLUS that weight includes the handy-dandy mini-biner, which leads me to...
Third, the mini-biner proves to be very handy in keeping the spoon where you can find it. Yes, some silly utensils fold or slide in order to fit into your cook kit (This would be a good moment to mock this item http://www.trailspace.com/gear/gsi/telescoping-foon/.). Since the AlphaLight Long Spoon isn't going to fit into my mess kit, the biner is great for securing my spoon in a place where I can easily find it later.
The Snowpeak Titanium Spork has a small slit in its handle, I suppose, to tie a string through.
[Side note: The very fact that I would carry and use the mini-biner proves I'm not a Gram Weenie. Okay, yeah, I tried dehydrating my toothpaste once, but....]
Fourth, the spork wins in the category of being able to stab food. Let's face it, a spoon (or the [giggle] GSI Telescoping Foon) lacks the utility of a spork. And the spork has a larger bowl for holding solid food....BUT both the spork and spoon only hold 1 teaspoon of liquid in its bowl. Although the spork looks significantly bigger, it's an illusion. The very tines that I like about the spork mean liquids are limited to 1tsp. Soup eating is equal in this equation.
Summary
I wish the bowl on the AlphaLight Long Spoon was a full Tablespoon. Otherwise, I find it superior in every way to my 15-year-old spork.
Of course, the question is will the AlphaLight Long Spoon last as long as my titanium spork?
Where to Buy
sponsored links
Help support Trailspace by making your next purchase through one of the links above.
Manufacturer's Description
Visit Sea to Summit's AlphaLight Long Spoon page.
Retailers' Descriptions
Here's what other sites are saying:
At 8.5 in. long, the Sea To Summit Alpha Light spoon lets you scrape up every last bite of food from your freeze-dried pouch without getting your hands all messy.
- REI
Sea to Summit Alpha Light Long Spoon FEATURES of the Sea to Summit Alpha Light Long Spoon Lightest metal cutlery on the market Ultra light, strong 7075-T6 aircraft aluminum alloy Hard anodized aluminum for safe, long use Smooth matte finish Easy to display 100% polypropylene packaging All pieces come with a mini carabineer SPECIFICATIONS of the Sea to Summit Alpha Light Long Spoon Weight: 0.4 oz / 12 g This product can only be shipped within the United States. Please don't hate us.
- Moosejaw
The Sea To Summit Alphalight Long Spoon is an ultralight camping spoon with a long handle, perfect for eating straight out of your dehydrated dinner pouch - no need to dirty a dish!. Made out of ultralight aircraft grade aluminum. Hard anodization makes it harder and lighter, while also eliminating the risk of aluminum leaching into your food. One of the lightest metal spoons on the market. Smooth, matte finish is easy to grip. Comes with a micro carabiner that can be used to hang the spoon through a whole in the handle. If you want to shave weight but still want cutlery that will last, check out the Sea To Summit AlphaLight. Weight: .4 oz (12 g). Material: Hard-anodized 7075-T6 aluminum alloy
- Tahoe Mountain Sports
Forget plastic cutlery, the Sea to Summit Alpha Light utensils bring back some class to mealtimes.
- EMS
Sea to Summit AlphaLight Long Spoon
currently retails for:
$7.95 - $8.95

where to buy: