User Review:
Sierra Designs Omega
Rating:


Design: 3/4 season convertible
Sleeps: 2
Ease of Setup: very easy
Weight: 7 lbs.
Price Paid: $215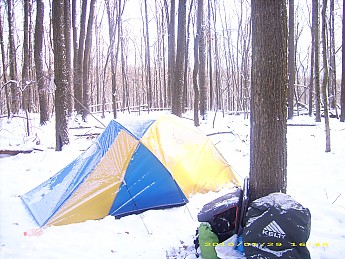 I have stayed in the Omega 2, four nights since purchasing this tent just over a month ago. Every night it has been extremely cold. The first night was a practice night in my backyard to get a feel for the thing. It was about 15 degrees. Same with the second night. When i finally took the tent camping in Allegheny National Forest on January 29-31st the overnight lows were -15 degrees. (I hope that i never have to do that again) :)
Anyway, the tent is a cinch to setup and if staked, internally guyed out and externally guyed out properly, this tent is a very sturdy shelter that I feel could handle some serious conditions. It is what you would expect from a single door tent. You have to climb over your gear somewhat to get in and out. If that bothers you then get a 2 door tent I guess. It is a good sized two person tent. There is plenty of room for you gear and I didn't feel cramped with two guys in it.
Well, as for how the tent performed in the really cold weather, it is about how you would expect. It was still very cold in it. The condensation froze before it could escape out the vents and then it snowed a little inside when you bumped the tent walls. I don't really feel it had anything to do with the design just so freakin cold.
Overall I would recommend this tent to others who are looking for a tent that can be thrown up to be a nice summer tent and one that can be staked down to be tight and bomb proof in some real rough conditions. Get this tent and you won't be sorry.