Sierra Designs
Superflash
Reviews
We (my wife and I) purchased the SuperFlash as our…
Rating:


Design: 4-season non-freestanding expedition hoop design
Sleeps: 2
Ease of Setup: Very simple to set up (3 hoops + some stakes)
Weight: 6.2 lbs
Price Paid: $250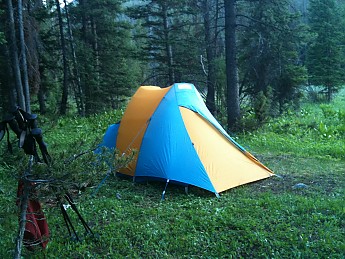 We (my wife and I) purchased the SuperFlash as our very first tent back in 1990. Twenty years and probably two-dozen tents later, it remains our grab-and-go favorite. The SuperFlash was apparently a short-lived design based on the North Face Westwind (a legendary 4-season performer) and neither tent has been available for several years.
While we currently have, and use, 10 other tents (and have owned and sold many more), none of them seems as versatile as this favorite little tent of ours. The SuperFlash is _just light enough_ (6+ lbs.), _just big enough_ (32 SF), _just spacious enough_ (the two tall hoops provides essential headroom for two people and a means of attaching a ceiling attic to throw essentials into, unlike the Clip/Flashlight), and is a 4-season "bomb-shelter" to boot. In other words, unless we have special requirements, such as wanting to travel ultra-light, or to have a lot of extra room, or unless we are going someplace //very// hot, the SuperFlash always goes with us.
Pro's:
- Very rugged and storm-proof design
- Reasonably light
- Reasonably spacious
- Easy to set up
- Pitches //extremely// taught (like the Tiros, Stretch Dome, etc.)
Con's:
- A bit small for big people or to be shared by casual acquaintances
- Heavier than modern single-wall and/or 3-season shelters
- Not freestanding
- Not for very hot places (we left this home during a recent trip to Zion NP, Utah)
- No longer available for purchase
I have used this tent at work (backcountry park ranger)…
Rating:


Design: Four season 3 hooped version of the clipflash light
Sleeps: 3
Ease of Setup: eassy
Weight: 6
Price Paid: ??

I have used this tent at work (backcountry park ranger) for the last 11 years and it has never failed. It is probably one of the best tents ever made. Same shape as the North Face Westwind. Very strong in the wind. Never leaked. If I could find a good used one I would buy it just to have one myself.
I bought one of these when I was 16 in about 1990.
Rating:


Source: bought it new
Price Paid: About $200

Summary
I bought one of these when I was 16 in about 1990. It finally died last year (shock cord broke while setting up in a windstorm... lost poles). It was a sad day. It was a perfect tent.

As other post say, good for almost any camp...all around solid performer. Wish I could get another one.
Pros
Relatively light, esp for 4-season
Once staked super easy to pitch
Rock solid in wind etc
Cons
Not freestanding
No longer made .... :(
I remember coming back from an attempt to climb Mt Rainer. We turned back due to a bad storm.  My good old Super Flash was standing strong. I was half convinced as we were hiking down that it might have been blown off the mountain.
I put this tent through hell and back. No other tent has been able to replace it.
SIERRA DESIGNS --  PLEASE PUT THIS BACK IN PRODUCTION!!
I originally purchased this tent in the early '90s…
Rating:


Price Paid: $85 on ebay

I originally purchased this tent in the early '90s and used it for many winter and river trips. It was lent to a friend in 1998 and was never seen again. I've owned many tents since but always missed my Superflash.
I just purchased one on ebay this week and i feel as though a missing part of me has been restored. This tent is the best tent i have ever owned. Sure there are lighter more tech advanced but the superflash is timeless and as bombproof a tent as i have ever used. This will always be my go to shelter and it will never leave my sight again.
If i could find another i would buy it in a second.
Sierra Designs Superflash
Discontinued
The Superflash has been discontinued.
reviewers paid:
$85.00 - $250.00
The Sierra Designs Superflash is not available from the stores we monitor.
If you're looking for a new four-season tent, check out the best reviewed current models.
Recently on Trailspace