Skratch Labs
Exercise Hydration Mix
2

reviews

5-star:

1

4-star:

1

3-star:

0

2-star:

0

1-star:

0
Reviews
Finally an exercise drink with real ingredients and…
Rating:


Source: received for testing via the Trailspace Review Corps (Sample provided by Skratch Labs for testing and review)

Summary
Finally an exercise drink with real ingredients and no bellyache
Pros
Raspberries
Less concentraded, absorbs faster
Low-ish calorie
No phlegm
No side-ache
Cons
Pineapple
Small amount of white precipitate that doesn't mix well
Oh great, another sports drink! A powdered mix of something you can't pronounce that promises to make you run faster, the hills flatter and drive the women crazy. Heard it all before? Me too, and truly I am kinda tired of it. 
"So wait a minute Jeff, why the heck are you reviewing a sports drink?"
Good question. In my opinion the world of sports drinks has, for too long, been dominated by huge companies that care more about marketing hype than real performance and nutrition. Their syrupy offerings, loaded with overdoses of random vitamins you don't need and flavors that have long since dropped any pretense of resembling food seem to me to go against the whole idea of backcountry which is to simplify and enjoy the natural world. Call me Hippy, but shouldn't food taste like food and have real food in the ingredients list?
Enter Skratch Labs. They make a hydration/sports drink too and the difference is that the food the drink is flavored like is actually a listed ingredient on the label. A novel concept. The raspberry flavored drink has raspberries as the fourth ingredient on the list! I know, I was shocked too. 
I told my daughter, "I don't think God intended us to eat things with weird ingredients that are impossible to pronounce." 
She replied, "Well, we're the ones who named them that." So she won that argument. 
One packet per 16oz water.  80 calories each.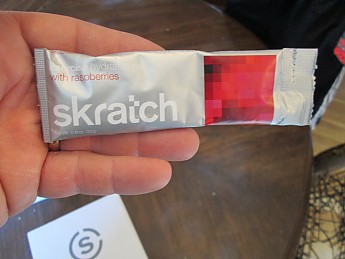 The idea of Skratch hydration mix is that less sugars and more electrolytes are easier to absorb than highly concentrated mixes.  Skratch Labs believes that you are better off eating REAL FOOD to fuel your activities rather than goo and food-like products.
Not only do these guys offer the drink but cool recipes for real food to eat which they make for pro cyclists all over California. They offer a cookbook I might be purchasing soon as well. If you get a chance, visit their website http://www.skratchlabs.com/ to get a feel for who they are. I have been making some rice cakes with their recipe and the family and I love them. Skratch Labs has sent this mix to areas of Africa to help people who get dehydrated from cholera. I thought that was cool of them. 
Does it mix well with water?
Maybe I'm picky but I don't like drinks that settle to the bottom and give you a concentrated surprise with your last gulp.  Unfortunately you need to remember to give this stuff a jiggle before you gulp. One consequence of using real food instead of fire retardant in your beverage and is that some of the solids settle. So I guess it's a penalty you have to pay for something with real ingredients. There was just a light dusting of white powder in the bottom of my Nalgene bottle, no matter how much I shook it.
So, how's it taste? 
Skratch Labs raspberry mix hit the ball out of the park in the flavor department! Since it has real raspberries in it there is no surprise that it tastes just like them. Raspberry is my favorite followed by orange, lemon-lime and pineapple. I must say that I personally found pineapple to be only so-so and my kids all hated it. I tried to give some away but my friends disliked it too. Three out of four isn't bad. Pineapple was a bold effort, it just didn't work so well. 
Performance
For me though it's all about hydration, I live in a semi-desert and we dry out here. The 80 calories in this drink is a small penalty for the electrolytes and the good flavor that keeps me drinking. I get bored of plain water so the good flavor is a bonus. 
I am drinking this mix before my morning trail runs where I try in vain to keep up with my whippet of a daughter. I feel zero weight in my belly for drinking 16 oz of this 15 minutes before my runs and I appreciate being able to run without getting parched. 
I like that, with less sugar it doesn't cause me to need to spit the phlegm out like sugary offerings. I also drank this fifteen minutes before a 5k mud run last weekend in 80 degree heat. I was well hydrated, had zero side-ache and finished the race strong. This is a good mix for working hard in the heat where dehydration is the main risk. 
I am giving this drink powder 4.5 stars. I would give 5 if anyone I met liked the pineapple flavored ones. I'll also add the last half star if they figure a way for it to stay mixed better. Having said that I'd gladly run several more 5k runs for another box of the raspberry flavored mix. 
Skratch has good product, it has good taste, and doesn't…
Rating:


Source: bought it new

Summary
Skratch has good product, it has good taste, and doesn't cause GI issues.
Pros
Taste
Lower calorie count so you don't get digestion issues
Good electrolyte balance
Cons
Can be hard to carry and mix on long runs
I for one love the pineapple, enjoy the raspberry but I'm not as big of a fan of it. After two triathlon seasons using other sports drinks and having poor results, including GI issues, cramping and other issues. I found skratch labs, and I've had really good results. With no GI distress or cramping. I've also found that I can drink it and not get sick of it on the bike and run.
I am also impressed with the company.
Where to Buy
sponsored links
Help support Trailspace by making your next purchase through one of the links above.
Manufacturer's Description
All natural ingredients you can actually pronounce: cane sugar, dextrose, sodium citrate, real fruit, citric acid, magnesium citrate, calcium citrate, potassium citrate, ascorbic acid (vitamin C)
Visit Skratch Labs's Exercise Hydration Mix page.
Retailers' Descriptions
Here's what other sites are saying:
Use the Exercise Hydration Mix to optimize hydration, whether cycling, running, skiing--in fact, whenever you're sweating.
- REI
Silence. That's all Dr. Allen Lim heard when he knew he had arrived at a solution. No longer were his Garmin riders complaining of the headaches and bloated stomachs that had plagued them for so long. Lim had spent countless hours mixing formulas in buckets to create not a product, but a solution that was informally dubbed Secret Drink Mix, or SDM. Why a secret' Because word had spread through the peloton that Lim had perfected a hydration solution that was effective and delicious, and it led to many pros pouring out the electrolyte-heavy, overly sweetened beverages provided by their sponsors and replacing it with Lim's contraband. Fortunately for us, the secret is out, and Lim is offering this pro-developed and battle-tested solution to the world. It's now called the Exercise Hydration Mix, from Lim's Boulder, Colorado-based Skratch Labs. Unlike many sports drinks, which are formulated around electrolyte or caloric replenishment during physical exertion, the Exercise Mix focuses on keeping your body's sodium levels carefully regulated. Lim discovered that the rampant headaches plaguing his pro riders were not induced by a lack of fluids, but rather, a lack of sodium -- a very typical symptom of dehydration. Essentially, your kidneys regulate fluid retention based on the body's concentration of sodium. When sodium concentration is high, your body is forced to hold on to that fluid to dilute it. But when your sodium levels get too low (ie: through sweat loss), the opposite happens and your kidneys must expel that fluid. Lim's mix is designed to keep your body's sodium balance carefully regulated, maintaining hydration while also slowing diuresis. With diuresis slowed, you'll be able to pre-hydrate and drink more before a race without needing to make those three inopportune bathroom breaks right before your call-up. If these concepts around a sodium-based formula sound familiar, that's because they are -- Lim's drink mix contains nearly four times the amount ...
- Backcountry.com
Exercise Hydration Mix, also known as "Secret Drink Mix", was developed and tested in the field with athletes competing in races like the Tour de France.
- EMS
This is an all natural sports drink. It replaces both the fluid and electrolytes you lose in your sweat while providing just enough calories to help fuel your working muscles. Flavored with only real fruit and containing no artificial colors or preservatives, our drink mix won't upset your stomach, leave a bad taste in your mouth, or challenge your IQ with tongue twisting chem-lab ingredients. It just works better. Maybe that's why, for years, top athletes have been secretly replacing their sponsors' products with drink mix made from Skratch. You Sweat. We Hydrate.
- RockCreek
Skratch Labs Exercise Hydration Mix
currently retails for:
$1.95 - $19.50

where to buy: