Snow Peak
Mini Hozuki
2

reviews

5-star:

1

4-star:

0

3-star:

0

2-star:

1

1-star:

0
Snow Peak is a great brand, with products whose sleekness…
Rating:


Source: received it as a personal gift

Summary
Snow Peak is a great brand, with products whose sleekness and aesthetic is on the level with a company like Apple Computers. This could have been a game-changer for lanterns:, there'd be no need to buy any other lantern than this one. However, poorly-manufactured components have a difficult time staying assembled, and this wound-up being an REI store return for me. While I really appreciate a yellow, warm LED light (which I will admittedly miss), I ultimately couldn't rely on this lantern to stay in one piece.
Pros
Magnetic loop able to hang off hooks or be clipped onto hanging points
Lightweight (3.1 oz)
"Mini" is right - only measures 2.2" X 2"!
Shatter-proof, flexible silicone "lampshade"
60 strong lumens of warm, yellow-hued LED light
Cons
Silicone lampshade prone to become loose and easily come off over time
Battery door assembly has difficulty keeping a tight and consistent seal (not a weatherproof lantern)
SNOW PEAK MINI HOZUKI LANTERN
This year, I've promised myself that if I'm not 100% satisfied with a product, it's returned to the store and replaced with something that works better.
Snow Peak's Mini Hozuki lantern - sadly - is one of those items.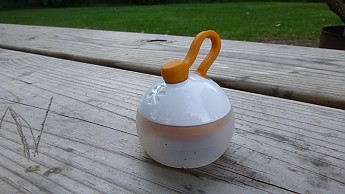 CONDITIONS
This lantern was used over the past year on all of my car camping trips and all but the most recent of my backpacking trips: hung inside a tent, hung off tree branches, stuck to metal poles, and stored both inside and on the gear loops of my pack.
SIZE
This product had me honestly excited. Backpacker Magazine RAVED about it, and even made it an Editor's Choice item. It instantly made it onto my 2012 Christmas list, and eventually beneath the Christmas tree. I still remember how shocked I was opening the box, and seeing how small it was (3.1 oz and 2.2" X 2")!
BRIGHTNESS
A lantern that small couldn't possibly put out a usable amount of light, could it?
Well, it can.
60 lumens on high, powered by three "AAA" batteries.
MODES
There are three brightness settings (high/medium/low), a strobe mode, and a "candle-light" mode that flickers like the flame of a candle would.
Cool, right?
Turns out I only got use out of the lantern when set to "high," and didn't have much use for the other lighting modes. Each mode is activated by how many times and for how long you push directly on the plastic-domed bulb.
BATTERY LIFE
That said, it will eat-up batteries more quickly when kept on high.
SP quotes the battery life at 40 hours on high, and 70 hours on low. I've found it can get you by on a weekend or 3-day trip on one set of batteries, and that's when you keep it turned on from sunset until bedtime each night.
LOW BATTERY INDICATOR
Once the battery gets low enough, the snowflake-shaped logo debossed onto the white top half will engage a red warning light to suggest changing batteries.
LAMPSHADE AND DIFFUSION
The lampshade is made from silicone rubber (making it shatterproof and something you can pack thoughtlessly), and diffuses the light nicely, leaving the bottom diameter open for more direct light. It lights up a 2-3 person tent well, but careful not to stare directly up at the light - the white LED is harsh on the eyes. Better to place it toward the corner and let it diffuse more evenly.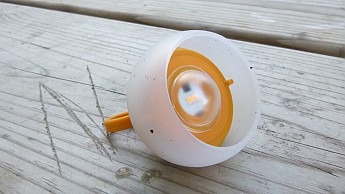 LED
LOVE the warm-hued, yellow LED light. 
I really wish more lantern manufacturers would make theirs with the same kind of LED.
It makes a tent so much more livable, comfortable, and cozy.
HANGING LOOP
The biggest concept this lantern introduces is the magnetic hanging loop.
The ball-shaped magnetic end of the rubber loop detaches from the top of the lantern, and is secured back in place via a magnet built into the top lid.
You can:
A.) Thread it through a gear loop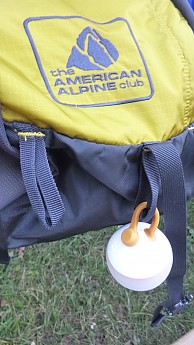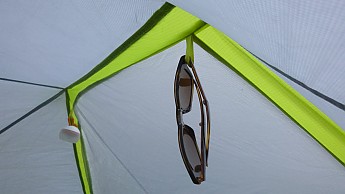 B.) Keep the loop closed and hang it from a hook
C.) Hang it from a line or tree branch, because why not?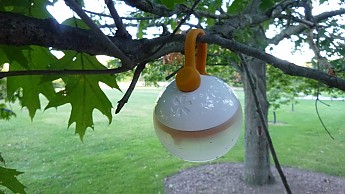 C.) Stick the magnetic end directly onto a metal surface and the magnet will hold it into place.
Again, all cool, but I wound-up threading it through my tent and pack's gear loops most the time.
And this is where I began having problems.
PROBLEMS
Because the silicone rubber lampshade is readily flexible (you can remove it and turn it inside-out for cleaning, too) this also means it loosens over time, and doesn't stay on the lantern as strongly as it did fresh out of the box. My lampshade kept falling off the lantern assembly, and I could no longer trust it would stay in one piece if hung on the outside of my pack.
Much the same, the two halves of the lantern twist together, and - in conjunction with a loosened lampshade - become increasingly difficult to keep tightly sealed. I wouldn't dare test the water-resistance of this lantern, that said.
MY $0.02
If SP's construction and quality could match their concepts, I'd buy this again in a heart beat. Sadly I couldn't rely on this lantern and was forced to take it back.
Bright, Light, and TIGHT! Range: Lit up my tent like…
Rating:


Source: bought it new
Price Paid: $39.95

Summary
Bright, Light, and TIGHT!
Pros
Bright
Light
Magnetic located hang loop
Candle mode
Cons
Globe comes off easily
Leaves stick inside like a dry cornflake in a cereal bowl
Range: Lit up my tent like a battlefield. Not being a focused beam, it doesn't throw light far. But you can probably see it from a long ways away due to its brightness.
Beam & Brightness: Unlike most tent lanterns, this throws all of its light straight down. No annoying dark spots in the tent, which is a big bonus. I had to turn it down a bit because it was turning my retinas into beef jerky.
Burn Time: Long enough for a weekend trip plus use around the house so far. Rated for 70 hours, and I believe it.
Power Source: 2 Minutes to swap AAA's batteries.
Ease of Use: Hang, Push the globe, "Let there be light". Magnetic hang loop makes it easy to hang almost anywhere.  The red low batter indicator tells you when to change batteries.
Weather: It was cold out and still worked.  Doesn't claim to be watertight, and it isn't.
Features: Candle mode is good for making your buddies jealous of your high tech Japanese lantern.  Magnetic hang loop is the best I have used so far.
Modes: Infinite brightness on both normal and candle mode.

Construction & Durability: Seems to be good, like I said above, the globe comes off easily, but also reattaches easily.
Best For: Backpackers, people that live in darkness, and those that can not see during the night without a light source.
Where to Buy
sponsored links
Help support Trailspace by making your next purchase through one of the links above.
Snow Peak Mini Hozuki
currently retails for:
$39.95

where to buy: