Solo Stove
Specs
nested
assembled
Weight
9 oz

Diameter
4.25 in

Height
3.8 in
5.7 in
Material
fully hardened 304 stainless steel, nichrome wire

Time to Boil
8-10 min

Reviews
A no-brainer stove. With abundant wood availability,…
Rating:


Source: bought it new
Price Paid: Don't remember. Bought it 2 years ago (promo for reviews seems to have ended).

Summary
A no-brainer stove. With abundant wood availability, this is my go-to backpacking stove.
Pros
Durable
Predictable
Consistent
Doesn't need packaged fuel
Cons
Could be lighter
Design ripoff
Limited use based on fuel availability
This is an excellent stove, with a few important limitations.  First, the good:
This is a two-piece gassifier wood stove with no moving parts—just the stove itself and the pot stand. You drop a few pieces of wood into the stove, light it, stick the pot on top, boil water, reconstitute your stuff, and eat.  Very simple.
This stove is a design ripoff, though as eqfan592 points out not an exact one, of the original Bushbuddy.  There seem to be a group of people who absolutely loathe the Solo Stove for this. However, considering the original designer/manufacture of the Bushbuddy never patented the design and seems to be completely accepting of the Solo Stove's existence and marketing strategies, any conflict here seems to be academic, existing solely in the minds of uninvolved fans of one or the other.  Samsung/Apple this is not.
The differences between the two stoves in question are minor. The Solo Stove is a bit heavier and a bit more robust. The Bushbuddy is a bit lighter and a bit more delicate.  The end.  The Bushbuddy is also more expensive.  Ok, now it's really the end. Of the comparison, not the review. Bear with me.
I've been using the Solo Stove for around two years and it's performed flawlessly.  It takes very little wood to boil water and the gassifier effect causes the wood to burn almost entirely down to ash.  As advertised, it takes around 10 minutes to boil a moderate amount of water (2 cups or so).
The stove is stable, though depending on the size of the cooking pot used, the pot stand might be a little small.  I use this stove for solo backpacking with a Snow Peak Ti 900 pot and it works great.  Solution for stability:  don't kick it whilst cooking.  The stove fits perfectly inside the pot for packing purposes.  It's also fairly strong.  I doubt it would crush inside a pack without a pot in which to nestle.
A wind screen is highly recommended in gusty conditions.
The big caveat, as with all wood-burning stoves, is the wood: if you don't have any, it won't work.  But considering how easy it is to find small twigs in most backpacking destinations vs. how difficult it usually is to find precise amounts of alcohol/gas (let alone esbit etc.) lying around in the bushes (and I've looked!) I'm usually not too worried when going backpacking without the blankey of packable fuel along to comfort me when I'm feeling weak.  Unless it's rainy.  Like super rainy.  Or on a mountain top where you can't find wood.  That would suck.
This stove is best used on trips where the weight of the stove will offset the weight of the fuel you don't have to carry.  ie, the longer the trip sans resupply, the more weight you save.
I'd love a lighter-weight (titanium?) model.  Are you listening solo stove people?  Lighter weight please.
The stove burns solid fuel like small wood chips,…
Rating:


Source: bought it new (Disclosure: Solo Stove rebates consumers in exchange for product reviews.)
Price Paid: $70 CAD including shipping to Canada

Summary
The stove burns solid fuel like small wood chips, twigs etc. that can readily be found in most environments efficiently and clean.The impact on the environment is minimal.The weight of your pack can be greatly reduced by not having to carry heavy fuel canisters.
Pros
Sturdy construction
efficient burning
independence from fuel that is heavy to carry and sometimes hard to get
light weight and easy to pack
Cons
needs a little practice to achieve optimal performance
soot on cooking gear considerably more than on gas burning stoves
hard to regulate temperature for simmering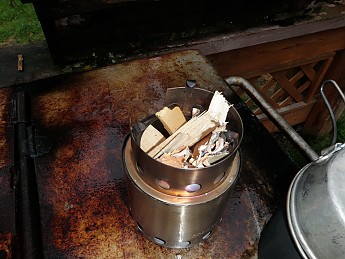 When my solo stove arrived I was positively surprised how small and lightweight it was.
The construction is very sturdy and the stove is easy to set up.I decided to give it a try right away in my back yard,even though it was a rainy day.The stove is extremely easy to set up and is very stable.
I gathered some dry wood chips and a bit of birch bark (which is my favourite fire starter).In next to no time I had a fire going. Kind of like in a miniature camp fire ring.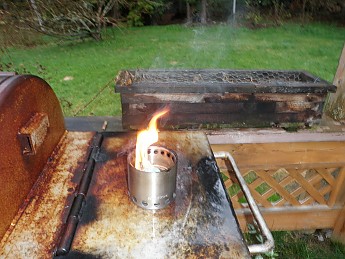 I had a pot with exactly 1 litre of cold water ready to see how long it takes to bring that to a boil.I can not support the 8 min. water boiling claim, but if one is that pressed for time on what is supposed to be a relaxing trip,may be camping is not the right past time. So really,who cares!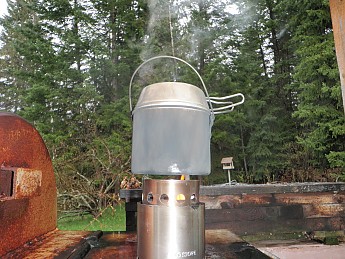 The flames were quite high to start with and I made the mistake to wait until the fire had calmed down before I put the pot on the stove, but this is not necessary.
Consequently I had to refeed the fire, which can be easily done, but slowed down the boiling process.
The stove is quite fuel efficient in that respect, but it is a challenge to maintain a simmer, or regulate the temperature at all.
For my style of backpacking kitchen, this will be just fine.Most of my meals only require hot water, but this might not be everybodies game. May be with some practicing time spent one could refine the burning technique.
As I found out even on my first try the stove works well in rain and wind,just as is, without a screen.
I love the simplicity of this stove,no parts that can break down, no maintenance required.The impact on the
environment is minimal,the impact on my budget is not very big either seeing as I won't have to buy fuel
and the initial investment of appr.$70 is not bad compared to a lot of other products out there.
A major advantage is the independence from fuel canisters that are heavy to carry and sometimes hard to find.
In case there should be an absolute fire ban on, I plan to bring one tube of fondue fuel and a little aluminum cover of a tea light,which works very well with this stove as well.
The solo packs away nicely in a small sized cooking pot,so does not eat up extra space in your pack.
Overall I am very pleased with my new solo stove. I will bring it on my PCT trip and I am sure it will serve me well.
[Disclosure: Solo Stove rebates consumers in exchange for product reviews. Compensating for reviews without disclosure of material connections is a violation of FTC endorsement guidelines.]

Lightweight and easy to use, this handy stove is a…
Rating:


Source: bought it new (Disclosure: Solo Stove rebates consumers in exchange for product reviews.)
Price Paid: $59

Summary
Lightweight and easy to use, this handy stove is a needed addition to any backpacker's gear wish list. It uses small sticks and twigs found laying around any campsite as fuel to boil water at a suprising rate.
Pros
light weight
no fuel cannisters
fast cooking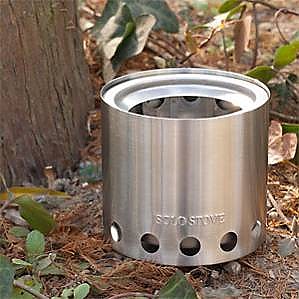 I was tired of buying and lugging fuel canisters every time I went on an overnight trip. Canisters aren't great in the cold, and even though they can now be recycled I never got past the fact that they need to be recycled. Generally, I used a liquid fuel which required the priming and extra weight of fuel and fuel canister.
This winter in the Wyoming Medicine Bow Mountains, I tried a dry fuel stove – the Solo Stove. The Solo Stove company website is clean and easy to read and contains everything you need to know. I checked reviews and did a little research before buying this product. This stove is not to be confused with the Primus ETA solo stove which uses gas for fuel.
It is however similar to another dry fuel stove. A comparison to that stove is on the Solo Stove website. It looks like the Solo manufacturer wanted a sturdier version of the other stove and found a way to sell it at a lower price. The Solo Stove is definitely a well made and sturdy little unit. That results in a couple of extra ounces of weight as compared to the other dry fuel stove, but I like sturdy and knowing that it will last. Solo Stove weighs in at 9 oz.
There is absolutely no maintenance except disposing of the ash and wiping it down with a cloth to keep it clean. It comes with a light bag, so any soot on the stove stays away from other gear when you are on the trail.
I took the stove out on a two day winter trip. Using just the dry dead twigs from the underside of fir trees I was able to heat up water for oatmeal and cocoa. It is quiet (which I love) and does not expel much heat from the bottom, so could be used easily in our snow hut. The twigs burn down to almost nothing so there were no problems with unburned charcoal or excessive ash. It was stable and held my water cup steady. No priming, no pouring gas, no pumping, cleaning out burners or need to buy/store fuel. Did I mention it was quiet?
I remember years ago being taught that my campfire should be small enough to be able to be contained within a blanket wrapped around my head and body. The Solo Stove makes that a reality and when the fire is out there is no trace on the ground that it ever existed. From my winter camping experience this is the way to go.
I just bought another one for my sister. I am looking forward to seeing how this little stove fares this summer.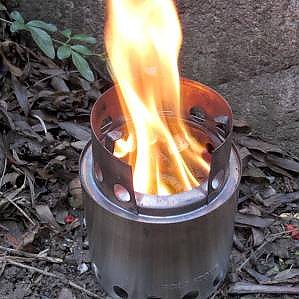 [Disclosure: Solo Stove rebates consumers in exchange for product reviews. Compensating for reviews without disclosure of material connections is a violation of FTC endorsement guidelines.]


Poor quality stainless steel—it rusts! Here's my…
Rating:


Source: bought it new
Price Paid: $70

Summary
Poor quality stainless steel—it rusts!
Pros
Uses wood *just like* the Bushbuddy
Copy of the Bushbuddy stove
Cons
The stainless steel they used in the first production rusted within 4 months use
Company refused to exchange or refund
Company uses gimmicks to get positive reviews
Here's my take on the Solo Stove (Original). The BushBuddy company's owner was not/is not financially backed in the way that the Solo Stove company was funded; thus the stove pattern/type was *copied* with someone looking to capitalize upon the BushBuddy's success.
I purchased a BushBuddy back in 2002 from the maker owner and realized he is a one person CRAFTSMAN, and made YOUR BushBuddy stove to order. He uses QUALITY materials that have stood up to 13 years of wear and tear being used at least 3 or more times a week.
The Solo Stove I purchased was RUSTING OUT WITHIN 4 MONTHS! I contacted 'Customer Service' (A joke!) for a replacement or refund and they told me to go pound sand! "We so sorree!"
If you want a REAL wood burning BACKPACKING stove BUY A BUSHBUDDY FOR YOUR PACK. If you want a POOR QUALITY IMITATION, THEN GET A SOLO STOVE which weighs so much there is no way you'll pack it backpacking!
The Solo Stove works as advertised, and is an efficient…
Rating:


Source: bought it new
Price Paid: $79

Summary
The Solo Stove works as advertised, and is an efficient wood-burning stove. It is great for packing where you can find small sticks to use as fuel, which is mostly everywhere. The top rack for the pot has some sharp edges.
Pros
Efficient
Sturdy
Well designed
I read a lot on this and competing stoves before buying the Solo Stove (nearly didn't because it's clearly copied from a previous stove, but IP protection is lacking, so that's life). I used this in a test in my barn before using it on the trail several times, and was very pleased.
It packs easily, though not small, and once you start a few twigs in it, it burns very efficiently and hot (though not without smoke if the wood is a little damp). You do have to feed it occasionally, and faster than you think since it burns efficiently, but it boils water in 5 minutes or so.  I used the Solo Pot with it, and it worked great, though the pot becomes hard to clean from the soot on the bottom.
A couple of caveats. There is a little stand that is for a pot, that is removed when starting the fire, then placed on top the stove. While this works well, the edges of this are very sharp so you need to be careful.
The other caveat is to make sure the stove and pot are on a somewhat level surface, since the setup becomes top heavy when you have a pot full of water on top the stove, and it can tip over if you're not careful.
Solo Stove a great camping stove and lightweight.
Rating:


Source: received it as a personal gift

Summary
Solo Stove a great camping stove and lightweight.
Pros
Very light weight
No gas needed
Very little wood needed to boil water
Cons
Have to feed fire constatly to keep flame
Can only use very small peices of wood for it to burn properly
Received the Solo Stove for Christmas and was very excited. I took it out back for a test run and found it to be very easy to get started and easy to keep burning with very little wood. The stove was cooled down enough in about 3-4 minutes to pack up and move on down the trail, if in the woods.
A main point that I like about the Solo Stove is that the fuel for it is usually found on the forest floor and you don't have to carry gas around in your pack. I can't wait to use it on backpacking trips. I'm sure you will be very satisfied with the stove.
The stove is not a bad stove. I purchased it for the…
Rating:


Source: bought it new
Price Paid: $60

Summary
The stove is not a bad stove. I purchased it for the price but upon receiving it, I realized that it is a bit too heavy for backpacking. It was my fault though, a couple of ounces doesn't seem much until you actually hold it. It is heavier than an alcohol stove setup or even a lightweight canister stove and fuel setup. It would be good for a survival kit or cooking one person "solo" meals when camping.
Cons
Weight
Unstable Pot Support
I tried to post a review on the company's website but they delete all of their negative reviews. The reviews are also doctored on Amazon. On their website, they are offering the stove on sale for $59.95 AND a 5-star review must be written for it in order to make the purchase.
They are certainly in the market to buy reviews—after purchasing one, buyers are enticed to make a positive YouTube review on it to receive a 20 dollar rebate and a 45 dollar rebate for a positive website or blog review.
To top off the cake, they are offering a buy-one-get-one-free for Amazon purchases if buyers make a 5 star review after purchase. Well, I don't need an extra stove and I certainly would not have purchased from them if I knew they were doing this.
I thought it was peculiar when contacting them with questions prior to purchasing the stove but like a fool, I dismissed it. They claimed that they DID NOT take anyone's idea for the stove but instead, simply "improved" upon existing stoves on the market. He has "designed" the Solo Stove after many hours of research and testing done in order to achieve the "perfect dimensions" for the "one of most efficient stoves on the market". Uh, what? I've seen a stove that has the exact same dimensions for years before this one.
They make no mention of where it is made in but it is made in China and the steel is similar to what you get when you buy pots that are made in China.
The pot support is also not very stable with all pots despite their claims. I will try to find a pot that will be more stable on it (probably a Snow Peak 900) and maybe even try to contact Bushbuddy to see if they will sell just the pot support (theirs has 4 tabs on the pot support).
This is one of the most well built compact woodgas…
Rating:


Source: bought it new (Disclosure: Solo Stove rebates consumers in exchange for product reviews.)
Price Paid: $89.99

Summary
This is one of the most well built compact woodgas stoves that I've had the chance to try. It's the same design as the Bushbuddy but is a little heavier as the walls are thicker. The overall construction is impressive and the brushed steel design is very nice. I've used this stove with various fuels including a homemade alcohol stove and it burns really well. I would recommend this stove for any backpackers, survivalists, canoe trekkers, kayakers, who are looking for a solid/multi fuel burning stove.
Pros
Well built. Solid stainless steel outer shell + integrated pot stand
A great multi fuel stove (wood, alcohol, esbit). Saves you from buying canned fuel.
Secondary combustion/gasification vents create a near smokeless burn.
Requires little fuel to achieve boils. An efficient stove.
Lightweight at 9oz.
Cons
As with any wood burning stove, your pot will blacken with soot.
Difficult to use if wood is wet.
Takes some practice at getting a fire going.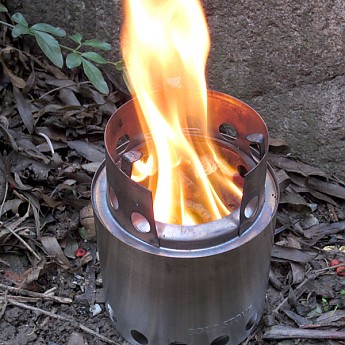 Setup: Setup is easy. The integrated pot stand nests in the stove so that just needs to get flipped over. It's rests on the stove nicely and securely. 
Ignition: I used a cotton ball fire starter to get it going the first time. I piled on small twigs and it was fairly easy to get lit.  I also did a second burn where I filled the entire stove with wood then put a lit cotton ball fire starter on top and let it burn down.  I prefer the first method.  
Flame control: The flame is pretty easy to keep steady but holding a smaller flame takes a little practice. 
Cooking: So far I've boiled water and fried a small chicken breast on it. It works well and cooks as expected. 
Boil Time: I boiled a cup of water is a few mins. 
Wind: The integrated pot stand works as a wind screen and does ok but I do recommend you use a wind screen if there is a strong wind. 
Fuel Efficiency: Excellent. I went through 4 burns with wood/twigs I gathered in 5 mins.  I didn't weigh the amount of twigs but I'll do that next time. This stove burned the twigs down to a very fine white dust. There was hardly anything left which signifies an efficient burn.
Stability: Fairly stable. Make sure you use it on a flat surface. I was testing it at home on a flat table so it was very steady.
Packability: Fits a Snow Peak Trek 900. It's strong enough to not need to be placed in a pot if you don't have one.  If you have a pot, then it makes sense to pack it inside.  
Ease of use: It's very straightforward. You'll need to learn how to use a fire starter or tinder to get it going but if you're capable of that, then it's not difficult to use. 
Features: The air flow on this stove is excellent. I tested it with an alcohol stove inside just to see how it would burn and the double walled features of this stove helped increase the height of my alcohol stove flame. The inner jets aid in strengthening the flame. 
Construction & Durability: This stove is built very strong. The one piece outer construction make is feel like a very finished/polished product. I don't doubt this stove will last a lifetime if taken care of.
Conditions: I've used this stove for 3 weeks now. I plan to take it on a canoe trip this summer.  
[Disclosure: Solo Stove rebates consumers in exchange for product reviews. Compensating for reviews without disclosure of material connections is a violation of FTC endorsement guidelines.]


Solo Stove
currently retails for:
$71.96