Superfeet
Berry
1

review

5-star:

1

4-star:

0

3-star:

0

2-star:

0

1-star:

0
Reviews
When you buy a boot, ya gotta buy an insole. The money…
Rating:


Source: bought it new
Price Paid: $50

Summary
When you buy a boot, ya gotta buy an insole. The money goes into the boot and not the insole, so it can mean the difference between an adequate boot and a great comfortable fit. Matching up the insole to the boot can be the most critical part of your boot system.
Pros
Comfortable
Customizable
Heel stabalization
Ball strike coushioning
Cons
Seem costly
Can be limited in transfer to other shoes
I hike in Keens and everything is great, except a couple incidents where I had heel slippage on the ups and toe smacks on the downs. I decided to get Superfeet and was worried about the fact once I got them, I was stuck with them, or I would have to buy a new set and try them out too.
But REI encouraged me to spend a lot of time walking around in the store with them in my boots. So I did. Like 40 minutes. After comparing the various ones I selected the Berry. Not too much arch, which I need to be careful of but it was just enough to snug down my heel in the back. My feet have never slipped in the heal again. That combined with better lacing technique made my boot system perfect!
I wore them every day on an 8 day trek to Mt Everest Base Camp and know that my hard working feet were treated to less pain than prior to having them in my boots. They hold up very well. I gave my boots away, but took my Superfeet! (I did replace them with the stock insoles, so the Sherpa who got them had insoles!). I have them in my boots always now.
I just trimmed them to size, inserted them and there it was. Never missed a beat and they fit well without slipping around the inside. I simply traced the stack insole on to the raw Superfeet. I don't really have pictures of demoing the trim, but it is pretty self explanatory. And the picture below of me at EBC reveals a delighted trekker with happy feet having depended on my Superfeet to carry me all the way to 17, 800 feet!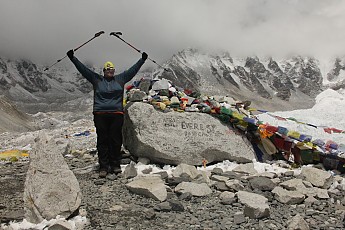 Take your time trimming. You don't want to wreck the set or have them trimmed too small and create a ridge or edge for your toes or heels to rub on. I have used my Superfeet for 3 years or so and wish I had known about them sooner.
Read the packages to see what each of the colored insoles do, as each color has a different arch, softness, rigidity etc. These berry ones are specifically designed for woman. And they do have a deep and narrow heel cup as they say they do. That is what locked my heel in.
I do NOT have narrow feet, so don't think the heel cup may pinch or not wrk. It is perfect for cradling your heel and stabilizing it. The ball of the foot is cushioned well and all day heel strikes and ball push offs are so well handled that the fatigue factor after 7-9 hours of hiking is greatly lessened.
Where to Buy
sponsored links
Help support Trailspace by making your next purchase through one of the links above.
Retailers' Descriptions
Here's what other sites are saying:
Superfeet Berry Insoles FEATURES of the Superfeet Berry Specifically engineered to address the unique qualities of women's feet and footwear Designed to improve shoe fit and comfort Provides shock absorption for women who run, walk or stand for extended periods of time Features a full-forefoot shock pad to provide extra comfort and shock absorption under the metatarsals and toes Intrinsic design that promotes ideal biomechanical alignment and function Hybrid EVA contouring REBOUND foam provides an incredible fit and feel
- Moosejaw
The Superfeet BERRY insole is designed primarily to provide comfort with support, for anyone having to run, walk or stand for an extended period of time. Superfeet BERRY insoles have a forefoot shock pad for added comfort. Features Agion antimicrobial top cover treatment. Ideal for Women s Medium to High Arch shaped feet. Recommended footwear: Industrial and athletic footwear with a removable insole. 1) Rear-Foot Control Point Only Superfeet provides this feature to control over-pronation, thus helping keep your foot correctly aligned. Result: less stress on muscles and joints. 2) Mid-Foot Control Point Another Superfeet original. This area stabilizes the mid-foot. Combined with Rear-Foot Control Point, this enables you to use your skeletal strength to your advantage. Result: a very stable foot, creating less muscle fatigue and more endurance. 3) Patented Support Bridge This feature activates all the control points for better balance and alignment during the stride. An essential feature exclusive to Superfeet. 4) Long-Wearing Trocellen TM Foam We use only high-quality, durable closed-cell foam. Result: long-lasting comfort for your pursuits. 5) Natural Shock Absorption System Only Superfeet uses this three-part system to naturally soften heel shock. This includes: (a) deep heel pocket to center fat pad (b) slight rocker bottom to allow for some foot roll (c) soft flange to allow for some soft tissue expansion. Result: a soft landing every time. 6) New Etc. Top Cover Only from Superfeet Significantly reduces friction and heat inside the shoe. Also keeps you cooler in summer and warmer in winter Result: less moisture, blistering and bacteria. SUPERFEET SIZING CHART. Men's: 5.5-7 (C), 7.5-9 (D), 9.5-11 (E), 11.5-13 (F), 13.5-15 (G), 15.5-17 (H). Women's: 4.5-6 (B), 6.5-8 (C), 8.5-10 (D), 10.5-12 (E). Kid's: 11.5-13 (J), 13.5-2 (A), 2.5-4 (B).
- Appalachian Outdoors
These women-specific Superfeet insoles align and control the motion of your feet, providing balance, support and shock absorption for hiking and other active sports.
- REI
Designed to provide comfort with support for anyone having to run, walk, or stand for an extended period of time, the women's-specific Superfeet Berry insoles have a forefoot shock pad for added comfort. Featuring Agion antimicrobial treatment to prevent odors and bacterial growth.
- EMS
Designed primarily to provide comfort with support for anyone having to run, walk or stand for an extended period of time, Superfeet Berry footbeds from Superfeet have a forefoot shock pad for added comfort.
- Mountain Gear
Superfeet Berry
currently retails for:
$40.45 - $45.00

where to buy: