The North Face
Hightail
3

reviews

5-star:

3

4-star:

0

3-star:

0

2-star:

0

1-star:

0
Specs
| | Regular | Long |
| --- | --- | --- |
| Weight | 2 lb 0 oz / 910 g | 2 lb 2 oz / 975 g |
| Fill weight | 1 lb 4 oz / 565 g | 1 lb 5 oz / 604 g |
| Temperature rating | 15° F / - 10° C | 15° F / - 10° C |
| Fill | 850 Fill-Power Down | 850 Fill-Power Down |
| Shape | Mummy | Mummy |
| Max User Height | 6 ft 0 in / 183 cm | 6 ft 6 in / 198 cm |
| Shoulder Girth | 60 in / 152 cm | 62 in / 157 cm |
| Hip Girth | 58 in / 147 cm | 60 in / 152 cm |
| Foot Girth | 38 in / 97 cm | 38 in / 97 cm |
Reviews
This bag is amazing, even for the ladies! Very warm,…
Rating:


Source: bought via a "pro deal"
Price Paid: $150

Summary
This bag is amazing, even for the ladies! Very warm, and extremely light and compressible. Great for backpacking, hiking, and comfy enough for car camping.
Pros
Warm
Lightweight
Packable
Water resistant
Comfortable
This bag is amazing. Well worth the hefty price tag for anyone who wants to lighten their load but stay nice and toasty at night. I bought it last year via a pro deal and immediately took it out to the mountains to test it out.
The bag lists its comfort temperature at -3 Celcius, or 27°F, its upper limit at -9C or 15°F, and extreme rating at -28C or -19°F. An upper limit of -9 in a men's bag usually translates to about 0 (32°F) when a lady uses the same bag, because we are just colder people than the guys. That's the only reason I was hesitant to buy this bag, rather than a women's specific, which is rated more generously fits better, and has more down in the toe box (my feet would have loved that).
The bag performed extremely well considering my expectations. Despite it being the third week of August, we saw -5°C on the last night of camping, and woke up to a nice coating of frost on everything. What a way to test the temp. rating! I was very surprised that I kept warm all night, but I did! There are no drafts or cold spots in the bag, and the hood cinches down well, so everything was covered except my nose and mouth.
I wore some wool socks, leggings and shirt, and a very light wool sweater. I think I had thin gloves on, too, because I have circulation problems in my hands. I was very comfortable all night, and even the cold air on my face wasn't enough to cause a shiver. In fact, I woke up in the middle of the night to my boyfriend, who was sleeping in the less-lofty Hightail 2S in only his underwear, shivering and looking a little sorry for himself. That's the difference between the two bags. 
The bag's zipper doesn't catch at all. The water resistance is pretty good; the only time I noticed any dampness was in a leaky tent that dripped on my legs most of the morning. No problems with condensation, though.
The best part? It's SMALL. And LIGHT. Here it is packed in a dry compression sack. I'm sure I can compress it even more if I really wanted to. But that's pretty damn small.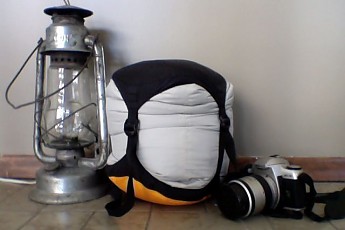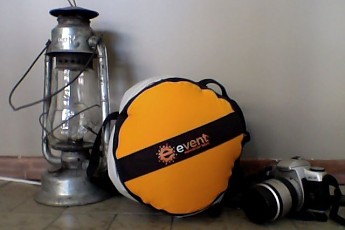 I have no complaints about the Hightail 3S. It's a great bag if having light, small items matters to you and if you'll be encountering shoulder-season weather or will be in the mountains, where weather is so unpredictable.
Yes, it's expensive, but well worth the money and is constructed very well, so I have no doubts it will last a long time if treated with care. An investment for sure, but a wise one. 
This is a GREAT sleeping bag. It packs small, light…
Rating:

This is a GREAT sleeping bag. It packs small, light and toasty warm. It has the highest rated down on the market.
I only bought this bag because I could get a screaming…
Rating:


Design: mummy
Fill: 900 fill down
Temperature Rating: 15 degrees F
Weight: 28 oz
Price Paid: $150

I only bought this bag because I could get a screaming deal on it. That aside, it is the warmest and lightest bag I have ever owned. At well under two pounds, I can't imagine a warmer bag.
The pertex shell is extremely soft, and so far has held up to abuse. It also is surprisingly water repellent. I have packed down and opened this bag many times, and I have yet to see one feather fall out. As far as warmth goes, I would say 15 degrees is a pretty accurate, or even conservative, rating. I was camping last weekend at about 12,000 feet, and it probably got down to mid 20s for the overnight low, and I didn't even have the bag zipped up I was so warm.
Which brings me to the one downside of this bag, the zipper is so short it's hardly even worth it. I would take the few extra ounces for a full length zip, but that's me. Also, it seems that several of the upper baffles are a tad underfilled. No biggie.
That being said, this bag is awesome. Nothing tops 900 fill down. Some of the North Face product quality may have declined in recent years, but their sleeping bags are still top notch. If you have the money for a bag like this, you won't be disappointed.
Where to Buy
sponsored links
Help support Trailspace by making your next purchase through one of the links above.
Retailers' Descriptions
Here's what other sites are saying:
Follow your adventurous spirit to beautiful mountain summits and know you'll sleep comfortably at night when you get there in the warm and lightweight Hightail 3S sleeping bag from The North Face.
- REI
The North Face Hightail 3S 15F Down SleepingThe North Face Hightail 3S 15F Down Sleeping is an ideal choice for those cold nights spent in the wilderness. This comfortable sleeping bag will keep you warm during cold nights in the great outdoors. It uses Pertex endurance fabrics on the head, collar and foot box so that these moisture-prone areas stay dry and warm. Filled with 850+ fill Eastern European grey goose down, this bag is warm and cozy. The full-length zipper makes it easy for you to get in and out of the bag. It is extremely travel friendly and portable, and comes with a nylon mesh storage sack to transport and store your bag in. The zipper pulls glow in the dark, making them easy to locate during the dark nights.The North Face Hightail 3S 15F Down Sleeping is just right to take with you on a fun camping trip.
- SunnySports
If moving fast in the backcountry is a concern, you need the lightest, most packable bag that you can get your hands on. The North Face Hightail 3S 15-Degree Sleeping Bag can handle camping in most areas from mid-spring to mid-fall and weighs an incredible two pounds. Also, because it's made with 850 fill-power down, it packs down to an incredibly small size in your pack, so you'll have plenty of room for the rest of your essentials.
- Backcountry.com
The North Face Hightail 3S is a 850+ fill goose down filled 3-season expedition sleeping bag for sub-zero environments. This bag is technically crafted to reduce weight and maximise comfort and warmth when the mercury plunges. A fitted, ergonomic hood maintains warmth while reducing weight and excess volume. Trapezoidal baffle construction better traps the air and prevents the down fill from shifting resulting in greater warmth. Body mapped synthetic Climashield Prism compression pads on high pressure areas in contact with the ground provide up to 13% greater thermal efficiency than other sleeping bags. The shaped vaulted foot box allows natural foot flex, blood circulation and overall increased thermal efficiency. Pertex Endurance shell fabric is used on the head, collar and footbox to prevent wet-out in moisture prone zones. Two-way separating, full-length zipper. Collar and footbox to prevent wet-out in moisture prone areas on the bag. For taller adventurers seeking an exceptionally warm and technical down bag in cold weather and at high altitudes, the Hightail 3S Long expedition sleeping bag is your ticket to a great night's sleep. Fill Material: 850+ Hungarian Goose Down. Fill Weight: 1 lb 3.2 oz (546 g). Total Weight: 2 lb 2 oz (964 g). Stuffsack Size: 9.84x19(in) or 25x49(cm). Zipper: Right Zip. Color(s): High Rise Grey/Athens Blue, Metallic Silver/Athens Blue
- Tahoe Mountain Sports
Free Shipping. The North Face Hightail 3S Sleeping Bag FEATURES of The North Face Hightail 3S Sleeping Bag 850+ fill Eastern European grey goose down Two-way-separating, full-length zipper Pertex Endurance fabrics used on the head, collar and footbox to prevent wet-out in moisture-prone areas on the bag SPECIFICATIONS of The North Face Hightail 3S Sleeping Bag Temperature Rating: 15deg F / -9deg C Comfort: 27deg F / -3deg C Limit: 15deg F / -9deg C Extreme: -19deg F / -28deg C Fill: 850+ Down Shape: Mummy Stuffed Dimension: 10 x 19in. / 25 x 49 cm SPECIFICATIONS for Short Total Weight: 1 lb 14 oz / 850 g Fill Weight: 1 lb / 464 g SPECIFICATIONS for Regular Total Weight: 2 lbs / 907 g Fill Weight: 1 lb 2 oz / 505 g Compressed Dimension: 466 cubic inches / 7.6 liter SPECIFICATIONS for Long Total Weight: 2 lbs 2 oz / 964 g Fill Weight: 1 lb 3 oz / 546 g Compressed Dimension: 497 cubic inches / 8.1 liter This product can only be shipped within the United States. Please don't hate us.
- Moosejaw
The North Face Hightail
currently retails for:
$338.90 - $429.00

where to buy: