The North Face
Tadpole 2
Reviews
Fine little tent! Would recommend it to anyone looking…
Rating:


Source: bought it new
Price Paid: $195

Summary
Fine little tent! Would recommend it to anyone looking for a sturdy backcountry two-person tent in the four pound range.
Pros
Sturdy
Drum-tight pitch
Light
Liveable
Cons
Doubt it could handle much of a snow load
North Face tents used to be the most innovative, durable, and carefully stitched backcountry tents in the business, IMHO. Nothing lasts forever though, and it's been years since anyone has mentioned North Face as a cutting edge gear supplier.
Until now: Wow! The current incarnation of the Tadpole 2 (2014 vers.) seems like a return to the old North Face. Proven, rock solid pole configuration, (but tweaked for lightness and added space); drum-tight pitch; livable, ergonomic interior; full coverage fly.
I put some pictures of the tent on my Flickr stream. Feel free to go have a look: https://www.flickr.com/photos/vandiik/sets/72157648916513308/
When I shop for a backcountry tent, I want to try and hit two pounds per person. Two-pole domes in their many small variations make for a decently light four-person tent; two pounds per person is common. (I have a Kelty Gunnison 4 and like it very much.) When scaled down to two-person versions though, the two-pole dome's weight per occupant usually jumps considerably. Design considerations intended to lighten these tents does little for my confidence they'll stand up to a wind. 
Older versions of the TNF Tadpole were heavy, though they were known for sturdiness. This updated Tadpole weighs in under four pounds, until you put the stakes on the scale. Then it weighs four pounds five ounces. I'm very happy they delivered the light weight without compromising the sturdiness of the frame.
Another weight saving feature is a single door at the end of the tent instead of the now common two door side entry configuration. And while I'm at it, the tent offers loops to hang lights overhead, but has no gear loft. There are two stash pockets, one on either side of the door.
So here's the pole tweak in this year's version of the Tadpole: In this current version, pole tips at the front end of the lengthwise poles have moved from the ground to the top of the tent. It provides more headroom and lightens the package.
As I mentioned, I think this tent would have a hard time clearing or supporting snow. But in Virginia, where I live, we don't get much of it, so I'm not troubled by this design decision. Rain and wind I'm quite confident this tent can handle. Also on the topic of pole weight, DAC provided thinner and lighter poles than what had previously been used. If they're not sturdy enough, TNF's guarantee should have my back.
The tent is beautifully tailored, and the pitch is very tight. There is nothing loose to flap in the wind, either with the tent body or the fly. This is an uncommon treat these days.
Ventilation in the tent is not bad. There is lots of mosquito netting, and there are two good sized vents near the door, which work very well. In the night when we open the door, we feel a rush of cool air though, so I bet this tent would provide some warmth in spring and fall, but may be a little clammy in the rain. You can unzip the vestibule door a little or a lot for additional ventilation in good weather.
Size is small. I'd be happy to share this tent with my wife or either of our kids. Beyond that, I think I'd consider it a one-person shelter with lots of room for gear. Last week using it with my son, our sleeping bags, pads, and change of clothes for the morning pretty much filled the space. Other gear went in the vestibule. Setting aside my personal space hangups, I'm sure the kids would be happy to share this tent with a friend. 
I will be keeping this tent for awhile I imagine.
Rating:


Source: bought it new
Price Paid: $130- smokin deal on eBay

Summary
I will be keeping this tent for awhile I imagine.
Pros
Rock solid
Super taut- like a drum
Hubbed poles
Light
Spacious
Tall ceiling
Cons
Small vestibule
One color
Thats about it.
This tent is the jam. An honest 2-person tent that provides good room for 2 average sized adults. My 5'10" body easily had ample room from head to toe with added space for extra gear and that sort of thing.
Did I mention  this thing is stable? Like Bulldog stable. I've had it in 30mph winds broadside and it took it like a champ. It wasn't even guyed out. Not the smartest location on my part, but whatever, the tent held up just fine.
There are loops near the head of the tent for hanging things, perfect if you have a candle lantern or are hanging your compass/GPS up for the night. Each wall has one pocket for items. They are big pockets so each person should be able to fit their stuff in one.
One thing I did not care for was the small vestibule. It's doable, but would be tight for two people's gear. One 70L pack on each side will leave a tiny walkway for you to crawl in and out of. The yellow color wasn't my first choice, but it is now starting to grow on me. This is an excellent tent...buy it!!!
This tent is based on the ever popular Tadpole. The…
Rating:


Source: bought via a "pro deal"
Price Paid: $145

Summary
This tent is based on the ever popular Tadpole. The design is a definite improvement over the regular Tadpole mostly in the weight dept. It is also designated as a "featherlight" weighing in at a respectable 3 lb. 15 oz. Also the font vestibule offered an extra almost 9 sq. ft. of gear space.

This tent in my opinion is a great overall 2-person tent. Great for the overnight trek/camp, or even any multi-day camp experience.
Pros
Great light weight
Extra vestibule space
Overall well-rounded 2-person tent
Cons
Although it is great for most any 3-season adventure, I would not consider it for a heavy wind/rain excursion.
Love it. It packs down small and light, and I still have plenty of room for myself and gear. If a second person joined me, it would get a bit snug inside. So I consider this a one-person+gear tent, and in that role it excels.
It has come with me on three outings so far, with rain falling on two of the trips overnight. No major storms yet, but during one windy night with light rain, I was amazed at how well the tent remained stable and quiet and kept me dry.
Also, the inside was comfy and roomy (in my opinion) and it stayed dry, and well-ventilated.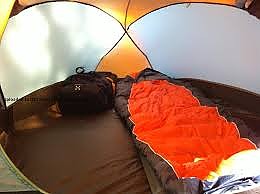 The North Face Tadpole 2
currently retails for:
$308.90 - $309.00