Therm-a-Rest
Antares 20
1

review

5-star:

0

4-star:

0

3-star:

1

2-star:

0

1-star:

0
Therm-a-Rest fills its Antares three-season sleeping bag with 750+ power goose down for warmth down to 20°F (-7°C). And at just 1 lb 15 oz (890g) it's a lightweight load in your pack, and the lightest three-season offering from Therm-a-Rest.
Thermal mapping positions insulation just where it's needed—more on top, less on the sides, and none below where a mattress pad insulates you from the ground. The fit is roomier in the torso, great for side sleepers, and closer at the head and foot.
The Antares won't slide around on top of your sleeping pad either, thanks to SynergyLink Mattress Connectors. Two flexible fabric bands connect your bag with any sleeping pad up to 25 inches wide, not just Therm-a-Rests, to keep you centered all night.
The Antares's shell is made of 30D nylon rip stop with DWR and the lining is 30D nylon. It features a sculpted hood, trapezodial foot box, draft tube and collar, snag-free zippers, stash pocket, stuff sack, and storage sack.
Specs
Regular
Long
Temp Rating
20°F / -7°C

Fill
750+ goose down

Weight
890 g / 1 lb 15 oz
890 g / 2 lb 2 oz
Fits Up To
178 cm / 5 ft 10 in
193 cm / 6 ft 4 in
Girth
158/147/102 cm / 52/58/40 in
163/152/102 cm / 64/60/40 in
Reviews
The Antares is a roomy, versatile 3-season down sleeping…
Rating:


Source: received for testing via the Trailspace Review Corps (Sample provided by Therm-a-Rest for testing and review)

Summary
The Antares is a roomy, versatile 3-season down sleeping bag with a hybrid design which both keeps overall weight low while keeping you on your pad! The Antares mates beautifully with just about all modern inflatable sleeping pads thanks to a pair of stout elastic bands on the bottom; this attachment system allows Therm-a-Rest to remove the down from the bottom of the bag, where it would otherwise be essentially wasted. It is a system that, perhaps somewhat surprisingly, works pretty well for both side and stomach sleepers. A generous cut that lets you get a leg out, 750 fill-power down, and a lightweight, progressive design…yes please?
Pros
The elastic pad attachment system unfailingly keeps the bag centered and secure…no more sliding off your pad!
Progressive design, lightweight-yet-strong fabrics and 750-fill power down keep the warmth-to-weight ratio pretty competitive.
Chest-level pocket keeps small items warm and close at hand.
Matte-finish nylon shell fabric is less noisy and has a softer hand than the more common nylon shells.
Warm, well-designed, amply-filled hood
Cons
For me, it's not a 20-degree bag…I'd feel comfortable calling it a 30-degree bag.
The draft tube, while well-designed, could use a bit more down.
Not sure what it wants to be?
Best For:
Larger-framed backpackers looking for a feature-rich, kinda-traditional 3-season down sleeping bag that still comes in at 2 pounds and change. Anyone who is tired of futzing with poorly-designed pad attachment systems, or done with sliding off their pad. Side sleepers who like cocking a knee out to the side. Couchsurfers worldwide.
Design:
This is not your father's sleeping bag: the Antares uses three different construction techniques, is differentially filled in the chest/hood area compared to the lower leg area, and employs a foot-box trapezoidal in cross-section which puts less material in contact with the cold, cold ground.
Regarding the baffling, the top of the Antares is fully baffled with an average loft of 4 inches in the chest and 3 inches in the legs. The sides of the bag are a transition zone, employing a sewn-though design on the lower half where the sides of the bag wrap under the user. The bottom of the bag is a single piece of fabric, effective at keeping away drafts, while weighing next to nothing. The whole package stuffs away to the size of a small loaf of bread.
Sewn to the bottom of the bag can be found a pair of 3 inch-wide elastic straps which, when secured around an inflatable pad 20 to 25 inches in width, create a rock-solid connection. They do not adjust, and simply slide over your pad. Also present are small 1" loops of thin webbing sewn every couple of feet around the bottom perimeter, to ostensibly augment or replace the elastic straps.
Down is very precisely distributed throughout the bag, with more being used in the chest and hood area when compared to the foot area. Therm-a-Rest's thinking here is that in order to stay warm, one must keep one's core warm, and methinks this is solid logic. The hood is especially amply filled, a feature that will not go unnoticed by many.
The colorway of the Antares is striking: a bright, pleasant orange with a creamy, smoky grey. The top of the shell features a dynamic contrast line which runs the length of the bag, curving salaciously about the contours of the bag. The shell is not as shiny as most nylons, and really, just looks and feels nicer to me. The zippers are not used as accents and can be found in a neutral grey, with grey cordage zipper pulls.
Special attention was paid to the direction the seams were sewn when putting this bag together, meaning that they are sewn so that forces are applied along the length of a seam, rather than against it. This means that as one rolls around in the bag even with the zippers open, things do not catch and snag; zippers zip blindly, without needing to make sure they're perfectly aligned, and the hood fastens down to make a good seal around the face without any bunched-up material.
Construction:  
Top notch. I thrashed about the bag as not only my go-to sleeping bag on the trail for a couple of months, but also as my normal, everyday "home" sleeping solution, and still cannot find a loose thread anywhere. I've felt all the baffles and they are still 100% intact. The seams are still all good.
I have not experienced more than a handful of feathers working their way out of the Antares since I've used it. I have had a few sleeping bags and quilts over the years, and the fabrics employed with the Antares are more downproof than both 1.1oz nylon and 7d nylon, and are probably on-par with Pertex Quantum.
The Antares is made in China, and it is quality construction like this, that informs my argument in support of the direction the Chinese textile industry is heading. Other questions aside, if I know the product I'm consuming will be durable and have a reasonable service life, I'm generally a happy camper. It is very difficult to find a piece of technical outdoor clothing or gear that is not made somewhere in Asia, and it is good to see such quality coming out of their mills.
Performance:
The Antares sleeping bag was kind of a mixed bag for me--you see what I did there?—but I know it's gonna make many, many people very happy. The problem is that I'm really skinny. I'm 6'-1" tall, and 165lbs soaking wet.  So I need long sleeping bags, and being an every-position-imaginable sleeper means I like roomy bags, but sometimes I don't quite "fill them out," and that is really what happened here. Thing is, I realize its ability to work very well with a large number of people…If I was my height at 200lbs, it'd be a whole 'nuther story. Anyways, on to the pertinent stuff…
Antares, size long, looking uber-roomy on top of a Large NeoAir All-Season...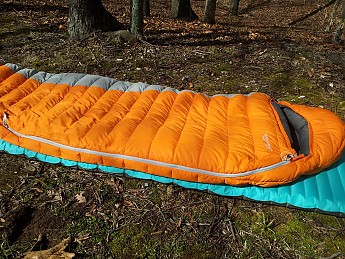 Really, for what you get, a roomy as-all-get-out, two pound, 20-degree down bag for around $350, the Antares is a helluva deal. One of the best things about the Antares is its ability to "adapt" to varying conditions based on what pad you bring along. Bring a "winter" pad with an R-value around 5 and you can push the Antares below 20 degrees…bring a pad with an R-value closer to 3 and you have a comfortable 50 degree setup.
Now, the elastic straps do a stand up job of gripping just about any pad; indeed, I found them a perfect solution when crashing on my friends' floors, as I always knew I'd have a comfortable sleeping system no matter what pad I was lent. I found the bottom fabric layer worked well to keep drafts out by draping nicely while not billowing too much.
Another nice feature of the Antares is that, with this fabric panel, the warmth of the bag can be greatly adjusted just by "twisting" it so that a given amount of the panel faces up. On very warm nights, or variable nights, one can just not use the elastic straps and adjust the temp rating as needed; I did eventually take to not using the straps altogether, as I really like freedom to move around.
The rip-stop shell fabric has an effective DWR treatment that keeps in-tent condensation at bay. Again, for comparison, the fabric seems to be a little less effective at blocking moisture than Pertex Quantum, though breathability seems better as well. A tradeoff, like most things, though I still wouldn't use any bag without cover of some sort, even in the lightest rain.
The trapezoidal footbox shape is comfortable for me in all sleeping positions, but I did not notice any discernable effects from the (reputedly) more thermally-efficient design…Allow me a note on this concept of "thermal efficiency" as it relates to the footbox shape and differential down distribution employed with the Antares:
What is "thermal efficiency"? If it is being as efficient as possible with one's thermics—minding the transfer of heat as best possible—than perhaps it is useful to ask oneself "in what ways am I 'losing' the most heat the fastest", often by way of the question "why did this night suck?" In freezing conditions we know it is especially critical to keep one's "core temperature" where it wants to be and so, when traveling out-of-doors in these environments, we don warm coats.
When backpacking, I don't mind—and in fact enjoy—wearing such clothing to bed, as it's often filled with the same wonderful down that's in my sleeping bag. Point being, I don't need extra down in the chest and hood, that's what my down jacket is for. I don't need less down in the foot area; in fact I need more because I don't bring down pants. Hence, when I take the Antares near its 20 degree rating, I'm very warm on top, with very cold legs. That, for me, is not thermally efficient.
I've tested the size long Antares with a variety of sleeping pads, and can personally confirm that the best fitting ones, for me, were 25" wide and about 2.5" thick. I used the following five pads with the Antares, listed alphabetically: The Klymit Inertia X-Lite, a 1.5" thick, three-quarter-length, mummy-shaped inflatable; the Pacific Outdoor Equipment SL Basic, a full-length, mummy-shaped, 3/8" thick, closed-cell foam mat; the size Long Therm-a-rest Neoair All Season (provided for testing by TAR),  a 2.5" thick, rectangular, 25"-wide inflatable; the size Long Therm-a-rest Neoair X-Lite (provided for testing by TAR), a 2.5" thick, mummy-shaped, 25" wide inflatable; and the size Long Therm-a-rest Prolite Plus, a 1.5" thick, mummy-shaped, 25" wide, foam-core self-inflatable.
The pads I employed have an R-value ranging from 1 to 5, and I found I'm most comfortable using a pad in the 3 range, and calling the Antares a 30-degree bag. Again, if you look at the specs the Antares is an EN-rated bag, and is therefore as standardized as these things get, but I put it closer to 30 than 20. I spent a couple comfortable-if-not-annoyed nights at 20 using a winter pad and supplemental clothing, but if I was expecting 20 degree lows I'd bring a different bag.
State of the Market:
It's a crazy world we live in. Even with all this information at our fingertips it is sometimes quite difficult to find the differences between the $80 bag and the $800 one. One "30 degree" bag weighs half as much as another one, and costs less. The EN rating shows up as much as it doesn't.
Therm-a-Rest's Antares is a very competitive bag in terms of value and warmth for weight. It employs good quality 750 fill-power down, with above-average fit and finish in construction. Therm-a-Rest went through the trouble to have the Antares EN rated, though it follows the current manufacturer trend of "name inflation": naming a bag in such a way as to implicitly suggest a temp rating. It seems one must still pony up $500 to Western Mountaineering or Feathered Friends to get a bag that's unquestionable in its rating.
Conclusion:
The Antares is a good bag that doesn't quite know what it wants to be, and that's not really a bad thing. It's not an ultralight bag, it's not a traditional mummy, and it's not a quilt, but the Antares deftly incorporates elements of them all. Maybe the Antares just suffers from poor marketing, mixing genuinely inspired design with seemingly whiz-bang gadgetry.
The Antares is in many respects a very good jack-of-all-trades-and-master-of-none piece of equipment, so long as it fits you and your needs. The old adage still holds true: Warm, light, cheap...pick two.
Testing Conditions:
Location: Shawnee National Forest, Giant City State Park, Fern Clyffe State Park, Southern Illinois.
Pretty average early spring conditions for the Shawnee, with temperatures ranging in the 30s and 40s during the day, dipping into the 20s at night. Snow, sleet, hail, rain, and an hour of sunny, 60 degree weather on any given day…
About the Author:
Vince Contreras has been working as a professional Forester and Ranger for various federal land management agencies since graduating with a Bachelors Degree in Forestry from Southern Illinois University in 2010. He enjoys rock climbing, backpacking, and German Idealism. Other hobbies include leatherworking, bushcraft, and really, just creating original things.
Visit his Trailspace page at: www.trailspace.com./people/pillowthread or email him at pillowthread@yahoo.com
Where to Buy
sponsored links
Help support Trailspace by making your next purchase through one of the links above.
Retailers' Descriptions
Here's what other sites are saying:
Therm-a-Rest Antares 20 Down Bag - Long SizeKeep yourself warm and cozy in the outdoors with the Therm-a-Rest Antares 20 Down Bag. This bag has many smart features that make sleeping in the woods warm and comfortable. With 750+ fill capacity, it is ultralight and provides compressible warmth. This sleeping bag bag is warm down to 20 F (-7 C) which makes is ideal to be used on skiing trips. The zoned insulation technique (70% upper and 30% lower) ensures consistent warmth in areas where it is required the most. It features an efficient comfort fit design which has an extra torso room and tapered ends for comfortable space and warmth, without cold spots. The Synergy Link mattress connectors keep the bottom of your bag positioned on your mattress while still allowing you to roll and move freely. It also eliminates the sliding, twisting for an uninterrupted sleep. With great performance and less bulk, the Therm-a-Rest Antares 20 Down Bag is a product you must have while travelling outdoors.
- SunnySports
The backcountry can be a demanding place whether it's summer, spring or fall late snowstorms and early frosts often come unexpectedly. These conditions require a sleeping bag that is warm down to 20F (-7C) and light enough to go the distance on the trail. The award-winning, down-filled Antares sleeping bag offers ultralight performance without sacrificing the warmth and comfort you need. The result is a restful night of sleep, and another great day on the trail.
- Ramsey Outdoor
Hike deep into the backcountry and sleep comfortably and soundly in the Therm-a-Rest Antares 20 Degree Down Sleeping Bag. When the weather surprises you with some early frost, rely on the 750+ fill goose down insulation, unique Zoned Insulation design, and Efficient Comfort fit to give you the warmth and comfort you require without weighing you down while you hike the next day.
- Backcountry.com
New for 2013. The backcountry can be a demanding place whether it s summer, spring or fall - late snowstorms and early frosts often come unexpectedly. These conditions require a sleeping bag that is warm down to 20F (-7C) and light enough to go the distance on the trail. The award-winning, down-filled Antares sleeping bag offers ultralight performance without sacrificing the warmth and comfort you need. The result is a restful night of sleep, and another great day on the trail.Sleep Securely: SynergyLink Connectors bring your sleeping bag and mattress together for uninterrupted sleep.Sleep Warmer: Zoned insulation puts fill where you need it most, for efficient warmth.Move Freely: Our Efficient Comfort design gives you room to move where you need it, without creating too much space to heat efficiently.Carry Less: 750+ fill goose down offers compressive warmth.Features: Draft Tubes Collar, Snag Free Zipper, Stash Pocket, Sculptured Hood, Trapezoidal Footbox, Storage Stuff SackSpecs:Weight: Regular - 1 lbs 15 oz. /890 g; Long - 2 lbs 2 oz. /980 gFits: Regular - 6 ft / 183 cm; Long - 6 ft 6 in/198 cmGirth, Shoulder: Regular - 62 in / 158 cm; Long - 64 in / 163 cmGirth, Hip: Regular - 58 in/147 cm; Long - 60 in/ 152 cmGirth, Foot box: Regular - 40 in / 102 cm; Long - 40 in / 102 cmPacked Dimensions: Regular - 7 x12 in / 8 liters; Long - 7 x 12 in / 8 litersEN Comfort: 1 C / 34 FEN Limit: -5 C/23 FEN Extreme: -22 C/ -7 FFill: 750+ Goose DownFill weight: Regular - 14 oz / 405 g; Long - 1 lb 4 oz / 460 gLiner Fabric: 30D NylonShell Fabric: 30D Nylon with DWRZipper Side: Left only
- Second Ascent
Therm-a-Rest Antares 20 Degree Down Sleeping Bag - Ultralight and highly compressible, The Antares 20 sleeping bag from Therm-a-Rest is the most efficient choice for three-season backpacking comfort. A modified mummy design with extra torso room and tapered ends offers the best balance of comfortable space and warmth. SynergyLink mattress connectors keep the bottom of your bag positioned on your mattress while still allowing you to roll and move freely. This patent-pending system stretches to accommodate any mattress up to 25 inches wide. Zoned Insulation provides consistent warmth with reduced weight and bulk. Fill is concentrated at the top of the bag, while your mattress limits heat loss on the underside. With great performance and less bulk, the Therm-a-Rest Antares 20 sleeping bag is the key to a warm night's sleep.
- Outdoorplay
Therm-a-Rest Antares 20
currently retails for:
$339.95 - $399.95
MSRP: $349.95

where to buy: