Therm-a-Rest
NeoAir Camper
1

review

5-star:

0

4-star:

1

3-star:

0

2-star:

0

1-star:

0
Reviews
The cushy and economical 3.5 season NeoAir answer…
Rating:


Source: bought it new
Price Paid: $90

Summary
The cushy and economical 3.5 season NeoAir answer for the average camper!
It is not always about the lightest and quickest for me...and certainly not for many people who enjoy staying overnight outdoors. For this reason I have been trying to review gear that is not specifically for the ultralight big and fast mile super-hikers out there...because the best gear for the average camper is not always the same as it is for ultralight super-hikers. Often more durable gear can be purchased for significantly less...at a cost of only a few ounces.

The Camper is the NeoAir answer for those who want to keep things relatively light and compact...but don't mind an extra ounce or two of comfort and durability. The full size is a dream for tummy sleepers (I am one)...and many side sleepers who are bothered by the small foot space on a lot of the trimmed lighter sleeping pads.
The Camper boast an impressive 3 inches of cushion and insulation...which I have been told on many occasions eliminates most of the pressure on the hips..and when used in conjunction with a bivvy bag the Camper keeps me warm in temps below freezing.
Thermarest is easily the most trusted name in sleeping pads...and though there are many pads out there which are just as good...possibly even better...the Thermarest reputation promises many trouble-free years of use (I still have my original Thermarest).
I abuse the crap out of my sleeping pads...in dry conditions I am just as likely to put the pad out on a boulder or other hard surface covered with little sharp stones and vegetation so I can have a comfy seat around the fire...as I am the floor of a tent...and I have never had an issue with any of my Thermarest products (I don't recommend this degree of abuse...and I do carry a repair kit).
I've heard tales of the valves going bad...but never had one actually fail on me...or actually seen a bad valve on another...so my guess is that it is not as commonplace as reviews might have us think.
The only thing I really dislike about the Camper...is like the other Neo-Air pads...they can be a bit noisy. This is such a minor complaint that it is hardly worth mentioning...but you can hear someone rolling out of bed on this pad from several feet away.
The other complaint I might have is also not really a complaint...but more of a warning...if you hate blowing things up the Camper takes several more puffs of air to fully inflate (which I rarely do). Before you think about getting this pad...decide whether a little noise + a few extra puffs of air is worth the added comfort and warmth that his pad brings in such a light and compact package.
In short...the Camper is a sleeping pad that will get the average hiker or camper through all but the most demanding of situations. If your hiking dry trails with long stretches between resupply and every ounce counts...I would look at the lighter trimmed Ne-Air pads...and if you plan on sleeping in temps 20 or more degrees below freezing...then you will need to bring some extra insulation to ensure that you are well protected from the ground...but for the average hiker and camper the Neo-Air Camper is a more comfortable + durable + economical version of the popular Neo-Air sleeping pad and worthy of consideration.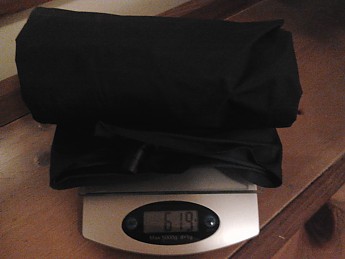 Where to Buy
sponsored links
Help support Trailspace by making your next purchase through one of the links above.
Retailers' Descriptions
Here's what other sites are saying:
The Therm-a-Rest NeoAir Camper is one of the thickest air mattresses on the market. This camping mattress offers 3 inches (7.6 cm) of soft, cushioning support, making it perfect for trips that demand a good night's sleep. PRODUCT FEATURES: Stuff sack and repair kit included Thick & Supportive: NeoAir construction offers 3 inches (7.6 cm) of stable support perfect for side sleepers and comfort seekers Advanced Materials: Woven fabrics and stretch materials create a soft mattress that cradles your body Durable: Tough, 75-d polyester bottom and rugged construction deliver the most reliable long-term performance Compact: Low-bulk construction allows the Camper to compress down to a surprisingly small packed size Size: Regular R-Value: 2.2 Weight: 1 lbs 8 oz Width: 20 in Length: 72 in Thickness: 3 in
- Appalachian Outdoors
Using their NeoAir technology, Therm-A-Rest created the Camper Sleeping Pad with a plush 3-inch thickness, making it one of the thickest air mattresses on the market. It is the most durable NeoAir mattress yet, with greater resistance to punctures and wear than any other NeoAir model.
- CampSaver.com
The Therm-a-Rest NeoAirTM Camper sleeping pad offers 3 in. of soft cushioning support so you can get a good night's sleep on wilderness adventures.
- REI
With a full three inches of thickness, the Therm-a-Rest NeoAir Camper Sleeping Pad is one of the plushest and most durable inflatable pads available. The NeoAir technology uses a heat-reflective layer to recycle body heat and conserve warmth, while the internal structure provides the support you need for a good nights sleep in the backcountry.
- Backcountry.com
Part of the ThermaRest Camp & Comfort Series, the Thermarest NeoAir Camper Mattress features NeoAir technology for the most comfort and versatility. At a full threeinches thick, it's one of the thickest air mattresses on the market. It features an internal structure that contours to your body and adds support. Camp & Comfort mattresses have luxurious features making them more comfortable than ever. For a great night's sleep, look no further.Full three inches thick for exceptional comfort and support.Durable, with greater resistance to punctures and wear than any other model.Lighter and more packable than most mattresses.75d ribbed polyester/75 denier polyester shell.Stuff sack and repair kit included.Made in USA.Regular Specs:Size Inches: 20x72Size Centimeters: 51x183Compressed Size: 4"x4"x12" (10x10x15 cm)Weight: 1 lb. 8 oz. (680g)Thickness: 3" (7.6 cm)RValue: 2.2Large Specs:Size Inches: 25x77Size Centimeters: 63x196Compressed Size: 4"x4"x15" (10x10x38 cm)Weight: 1 lb. 14 oz. (850g)Thickness: 3" (7.6cm)RValue: 2.2XLarge Specs:Size Inches: 30x77Size Centimeters: 76x196Compressed Size: 4"x4"x17.5" (10x10x44 cm)Weight: 2 lbs. 4 oz. (1020g)Thickness: 3" (7.6 cm)RValue: 2.2
- Campmor
Therm-a-Rest NeoAir Camper
currently retails for:
$79.98 - $149.95

where to buy: