Therm-a-Rest
RidgeRest Solar
1

review

5-star:

1

4-star:

0

3-star:

0

2-star:

0

1-star:

0
Specs
Weight


Regular - 1 pound 3 ounces (540 grams)

Large - 1 pound 10 ounces (740 grams)

Dimensions


Regular - 20 x 72 inches (51 x 183 centimeters)

Large - 25 x 77 inches (63 x 196 centimeters)

R-Value
3.5

Thickness
2 cm / .75 in.

Reviews
I will go without TP before I go without this pad.
Rating:


Source: bought it new
Price Paid: $22

Summary
I will go without TP before I go without this pad.
Pros
Light
Warm
Ridged for sleeping pleasure
WILL NEVER DEFLATE
Reflective
Inexpensive
Durable
Makes a good pillow
This is one of those iconic pieces of gear that came along and made the world a better place and will never go away. The bad thing for Therm-a-Rest is that, this works so well that I will never go back to an iffy inflatable mattress. I can buy enough of these to outfit my whole family for the cost of one super-light pop-able pad. 
I did my first 72 mile hike in my teens with no pad at all. Then I graduated to the ubiquitous blue foam pad.  Next I upgraded to an inflatable pad that popped on me one night in the snow so I switched to the RidgeRest Solar. 
Never again will I have to wake up at night to re-inflate my leaking sleeping pad!
I can wipe my butt with snow, it's not that bad; its actually quite refreshing. I will NOT sleep in the snow without this pad! The ridges keep you in place at night, trap warm air and provide enough comfort for my 200+ pound body to sleep soundly. The reflective material is a nice addition which, with no weight penalty, reflects a few more calories back to me so I stay warmer.   
I hike with kids and end up carrying a LOT of gear. The last thing I need is a heavy inflatable pad that might spring a leak on me some night. Oh, I know that lighter ones exist (a hundred bucks for a sleeping pad?? Seriously?) and that, with proper care an inflatable will offer dozens of nights of comfort before it pops but I have kids, I sleep on rocks, I'm not wealthy, I don't always sleep in a tent.   
I have slept on this thing in snow, rocks, dirt and even inside the occasional tent. Last month my son put a crampon spike through it. Did I cry?  He11 no! It still sleeps me fine and will continue to until I have to burn it to signal rescue planes.  I could shoot it with a MACHINE GUN and it will still be sleep-worthy.  Got any piece of gear that can do that??!! 
Druthers: It collects stuff like snow in those ridges, which will melt and get you wet and cold.  Shake it out before you sleep on it. What? It doesn't fit inside your minimalist 600 cubic inch pack? Lash it to the outside (with two pound monofillament of course to save weight) YOU WILL NEVER KNOW IT'S THERE!
So unless you medically require a pad that resembles the softness of your bed at home (why are you hiking?) this is the deal! In a world where gear technology cost and complexity are increasing exponentially, the humble RidgeRest remains. 
The pics: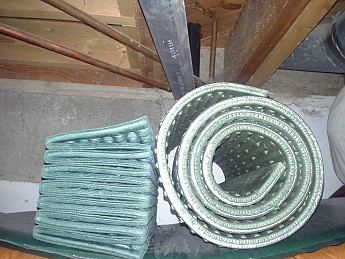 The Ridgerest sleeping in the man cave. Notice the bulk compared to the Z-Rest (which I inherited; did not buy)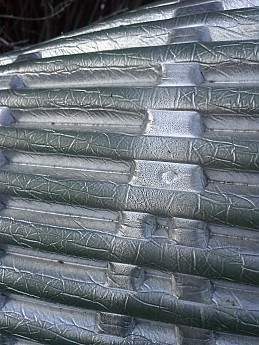 The cool shiny stuff in wearing off. I hope it shows up in your screen. Before it started wearing off after three seasons, it made a great reflector for tanning!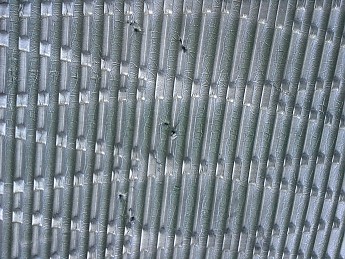 The boy stomped it with his crampons on.  Ridgerest don't care, Ridgerest says, "Bring it on," 'cause its tough.  This is why I eschew inflatable pads as a rule.
Where to Buy
sponsored links
Help support Trailspace by making your next purchase through one of the links above.
Manufacturer's Description
This time-tested workhorse of outdoor comfort is now 13% warmer than before with no increase in weight. Popular for its unique closed-cell foam ridged pattern that traps more heat and provides more comfort than any flat-foam mattress, it is practically indestructible.
A new alumunized surface reflects body heat back to the user, raising the R-Value from 3.1 to 3.5.
Visit Therm-a-Rest's RidgeRest Solar page.
Retailers' Descriptions
Here's what other sites are saying:
Therm-a-Rest's thickest and most comfortable foam mattress now boasts a heat-reflecting aluminized surface, adding to the effectiveness of heat-trapping valleys and soft, supportive ridges. The coating also adds durability to make this our toughest, worry-free mattress option for value-driven comfort in any season.
- CampSaver.com
The Thermarest RidgeRest Solar is their thickest and most comfortable closed cell foam mattress. Now boasting a heat-reflecting aluminized surface, the RidgeRest Solar efficiently traps heat with its soft, supportive ridges. The tough, worry-free RidgeRest Solar mattress is an excellent option for value-driven comfort alone or paired with a lightweight air mattress. Lightweight foams reduce weight for situations when every ounce counts Heat trapping ridges trap warm air to keep you insulated against the ground Durable cross-linked polyethylene can handle the rockiest of terrain and won't absorb water Pair with a three season air mattress to create a warm four season winter set up Made in Seattle, USA
- OMCgear
On Sale. Therm-A-Rest RidgeRest Solar Sleeping Pad FEATURES of the Therm-A-Rest RidgeRest Solar Sleeping Pad Our thickest and most comfortable foam mattress boasts a thermal reflective barrier that adds to the closed cell effectiveness of heattrapping valleys and soft, supportive ridges, resultingin.a 13% increasein.warmth The coating also adds durability to make this our toughest, worry-free mattress for value-driven comfortin.any season SPECIFICATIONS of the Therm-A-Rest RidgeRest Solar Sleeping Pad Thickness: 0.75in. / 2 cm R-Value: 3.5 The SPECS for Regular Weight: 1 lb 3 oz / 540 g Dimension: 20 x 72in. / 183 x 51 cm The SPECS for Long Weight: 1 lb 10 oz / 740 g Dimension: 25 x 77in. / 196 x 63 cm
- Moosejaw
The thickest foam offering from Therm-A-Rest, the Ridgerest Solar Sleeping pad is a tough, worry free mattress option for value driven comfort in any season.
- EMS
Therm-a-Rest RidgeRest Solar
currently retails for:
$29.96 - $54.95
MSRP: $39.95

where to buy: