Therm-a-Rest
Z-Rest
2

reviews

5-star:

0

4-star:

0

3-star:

1

2-star:

1

1-star:

0
Reviews
It exceeded my expectations. I like the compactness.
Rating:


Source: bought it used
Price Paid: $5

Summary
It exceeded my expectations. I like the compactness.
Pros
Very compact for a foam pad
Makes a great pillow
Durable
Inexpensive, even at retail price
Light
Cons
On the soft side for my preference, maybe it was worn out
I still prefer my Ridge-Rest
When I saw this at the flea market, I immediately snatched it up. I had been seeing these on the mountain and they looked cool all folded up and compact in people's packs. I was worried though; wouldn't the material fatigue along those folds and fail?
I talked the seller down from $8 to $5 
This pad, when I bought it, looked to be in about 70% shape; somebody had used it well.
I'm a bigger boy (220lbs) so the first thing that I noticed was that it wasn't quite as firm as my RidgeRest, which I love with something just shy of worship. The material seems softer but I think that is essential so that it doesn't tear with repeated foldings.
Being inferior in comfort to my favorite pad I gave it up to my son (he is 12) after three or four nights of use.  He has less room to store stuff in his pack so it works well for him. He loves it. His sister asked to borrow it for summer camp once and he looked at her as if she had asked for a kidney. He claims to have never slept so well outside and I caught him several times using on his bed at home. 
I guess that all of those summers sleeping on my old grey USFS foam pad made him appreciate something more modern.
Side by side you can see how the corrugations on the Z-Rest (on the left next to the RidgeRest) nest nicely in each other and how compact it folds: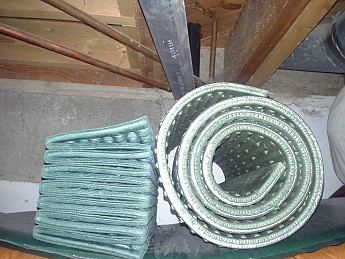 The answer to my question:  No, it has yet to show any signs of fatigue cracking or tearing along the folds, despite some severe abuse by my son!

The pic: Last summer, sleeping under the rainfly on rocky, uneven ground, this pad did its job very well. It wasn't a legit campsite, just a flat spot in the bushes. We pitched camp on top of several huckleberry bushes, roots and rocks. The Z-Rest is on the left in the picture. We woke up rested.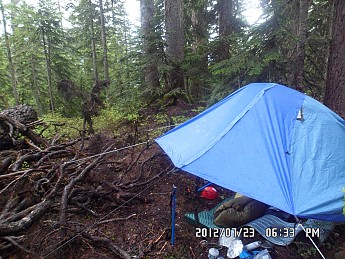 We also used this pad on Mt. Adams in the snow at 9000 feet. 
I do kind of envy my son because his pad fits inside his pack whereas my bulky pad has to ride outside. 
I still say that there are more comfy options out there but for light weight and compactness it does very well. 
This pad has a place with people who want an inexpensive, soft, light foam pad that will pack smaller than the average foam roll. 
I have the original Z-Rest that I purchased in Waynesboro,…
Rating:


Price Paid: too long ago

I have the original Z-Rest that I purchased in Waynesboro, Virginia, while I was on an all summer hike. I started out with another pad that wasn't adequate, so when I got to the first outfitter on an in town visit I thought I'd give the Z-Rest a try.
It is a durable pad and relatively lightweight. I really like the fold up and into itself design. And as an insulating pad it is very good. But for comfort it is in my opinion very uncomfortable.
Therm-a-Rest Z-Rest
Discontinued
The Z-Rest has been discontinued.
reviewers paid:
$5.00
The Therm-a-Rest Z-Rest is not available from the stores we monitor.
If you're looking for a new closed-cell foam sleeping pad, check out the best reviewed current models.