Vargo
Triad
10

reviews

5-star:

2

4-star:

5

3-star:

1

2-star:

0

1-star:

2
Rating:


Source: bought it new
Price Paid: $25

Summary
Super lightweight, effective at boiling water.
Pros
Ultralight
Sturdy
Stable
Easy to use
Fuel is accessible
Cons
Can be a little finicky until you figure it out
Can't simmer
This stove is made well, and weighs almost nothing.  I use it with my GSI Minimalist setup and it works great. It's sensitive to wind like all alcohol stoves so a wind screen is a must. The stove is super stable if you plant the legs into the ground.  
It can be a little finicky until you figure it out. If you over fill it it will usually boil over and surge flaming alcohol over the sides instead of the jets lighting. Priming the stove helps but isn't necessary. It will usually flare up on its own.  
I find that about a half inch gap all the way around the wind screen is best, it keeps the heat under the pot more and leads to a faster bloom and boil times. It takes about twice as long to boil as my MSR Pocket Rocket, but also gets rid of the need to carry a canister, and weighs like 1/10th as much.
If you're using your stove to simply boil water for dried foods like Mountain House this is a great option, but keep in mind it is more work to get going than a canister stove. I can get this stove, my wind screen, a lighter, the little potholder in my GSI Minimalist, a GSI Telescoping Foon and a small 4oz Listerine bottle for fuel inside the GSI minimalist pot with room to spare, super compact and lightweight setup.
Rating:


Source: bought it new
Price Paid: 26$

Summary
Lightweight and durable, having its own folding legs and pot stand "horns" built in. Fire is good and stable. Boiling time +- as promised yet fire is hard to control and extinguish.

Lighting: no primer or pre- heet need. feeling hole very small. u have to feel it all to light.

all by all, i think it's a good product that worth it's money.
Pros
Lightweight and relatively durable
Has its own folding legs and pot stand build in
Burns well and study with quiet a strong flame
Cons
Wind protection is a must
A bit hard to fill and light
Needs a bit of more gas, hard to extinguish
Need a small box or hard case to protect from damage in pack
Lightweight and durable, this light alcohol stove is quiet a good product aiming for light hikers. Considering it against an ultralight gas stove + canister, u save about 300 grams. Very nice.
Having its own folding legs and pot stand "horns" build in eliminates the need for a separate pot stand. (for the weight enthusiastics: consider it against your home made can stove+ pot holder. in my case, weight difference if about +13 grams).
So, for total of 28 grams, it's very nice for thruhikers or light hiker.
Lighting: this stove have no need for primer or pre- heet . yet feeling hole is very small, obligating a small and steady amount from a standard ultralight pouring bottle (not supplied). u have to feel it all to light up, so u "waist" some fuel - all together, i used round 45 mil per use. 
Boiling time is around 6 minuets for 2 cups, as promised (i Measured 5/5 min. for 500 ML of water, outside with a bit if of wind, round 22 Celsius , full wind protection in a covered pot).
Fire is hard to control and if fuel left in after finished your cooking it will not always blow when u try to extinguish it. 
Burn & simmering: fire is good and stable, yet as all alcohol stoves  it needs very good wind protector and is  hard to simmer on. in this model, home- made simmering rings were not so good and i found it best to improvise arrangement that leveled the pot from flame while simmering. have dune rise and soup and Dried stuff, it went ok but u have to know your way in basic trail cooking. i tend to use a 120 - grams 0.9L light steel pot with a bit thick bottom, willing to pay the "weight penalty"  for some better heat spreading that will not burn the food easily.  not sure if a beer can pot will do the same for it's thin bottom. 
Making your own ultralight can stove is not hard, yet eventually u need some export skills to make them really good, reliable and can be counted on the trail. after spending round 50 working hours and many model tests, i have decided to buy the vargo. should have dune it the first place and save all this bother... 
All by all, I think it's a good product that worth its money.
Rating:


Price Paid: I forget, about $30 I think.

Judging from the negative reviews, some people should stick to butane stoves. I have used the Triad for years in snow, rain and wind — and it has replaced all my many other stoves.
You have to use common sense in two respects: First the Triad burns methanol vapor, not liquid methanol.  The stove has to be heated to the boiling point of methanol to give maximum heat.  Rather than waste fuel with the puddle on top method, I use a tiny bottle cap under the stove to prime it.  Depending on the weather and temperature, about 5 drops of burning methanol in the cap is enough to begin to vaporize the methanol in the stove. 
Secondly, you HAVE TO USE A WINDBREAK! Alcohol flames are soft and low pressure and wind blows the heat away from the pot more than with other stoves. I use a piece of aluminum flashing that stores tight inside my MSR pot and takes no space at all. The handles of my pot get too hot to touch, but I boil 12 ounces of water in minutes with a half filled stove.  I
just began using an eyedropper to fill my Triad — 12- 15 ml. of methanol is more than enough to boil water for a meal and a cup of coffee. Then I let the rest burn out. I get three meals and three cups of coffee and have fuel left over in a two ounce fuel bottle. 
I pack two ounces of methanol per day. The Triad is the smallest, lightest, most reliable and efficient stove I have seen.  
Come on people, isopropyl is NOT stove fuel!  Use ONLY PURE methanol without the auto fuel line additives. And no, I have no interest in Vargo. I just enjoy warm food when I travel.
Rating:


Price Paid: $30

Does exactly what it says. One of these reviewers does not know SQUAT on alcohol stoves. FYI, hold a match or lighter under stove for a few seconds and boom, stove is on, no 2-3 minute priming time, that goes for pepsi cans too. Can be done in seconds and saves you a lot of fuel. As light or lighter then a pepsi stove.
I only know hikers that take it seriously, it's all about weight and function. This nails it. Ultra light and functions.
Rating:


Source: bought it new
Price Paid: $29.95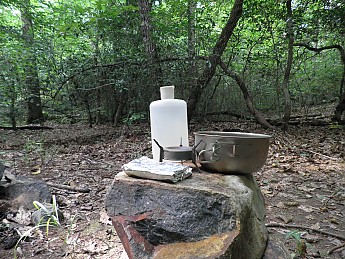 Excellent durability. I am confident you could step on this stove (legs folded) and not crush it.
This stove is extremely lightweight at less than an ounce.
I have only used this stove in fair weather and spring/ summer conditions. Coldest temp operated in is 50°F.
The burn time is ample to boil at least a quart of water. The stove seems to be more efficient with my Titanium pots than when used with my aluminum pots.
I also like the stability. My Snow Peak solo set fits nicely on the supports. I have had no issues with stability. I can also pack my stove in the small pot.
An 8 oz. bottle of alcohol will easily get me through three nights in fair weather with reasonable care in fuel consumption.
Windscreen is a MUST.
Rating:


Price Paid: $29

Love it... Very light and simple. I have used it down to 30 degrees with no problems. Must use some kind of wind screen or the heat output suffers greatly and/or the flame gets blown out.
I won't say its a good water "boiler" but it will produce steam and bubbles when heating 2 cups of water with one stove fill up. That is enough for freeze died dinner or tea etc.
I use a little flip bottle full of alcohol holds about 3 fill ups. Together with stove weighs 3 ounces! So figure about 3 ounces per day. One weekend is about 6 ounces of weight.

Rating:


Price Paid: 30 bux

I have never used this type of stove before. Although I was infatuated with the ideal of ultralite movement, this little item goes beyond its label as an AT type, chop your toothbrush in half and sleep in a bivy sack, device. Alcohol stoves are very efficient, both in terms of fuel savings and heat generated from that brilliant blue flame.
This little puppy boiled 16oz of water in 4 minutes flat, after a 1 minute prep at 450ft elev. That's enough water for a Mountain House dinner. Not to mention it kept burning for another 10 minutes on a spits worth of alchy.
Beyond that, all you really need is a nice little squirt bottle and some foil for a wind screen, and you just saved ~2lbs from losing the white gas cooker.
Plus:
*The legs can be used as a spout to pour the leftover alchy back into your bottle.
*Cools down fast and titanium is corrosion resistant.
*Can use fuel tabs if turned upside down.
*Denatured Alcohol was 5 bux for a quart at Lowes in the paint section. This will probably last me 2 years. I typically go through 2+ Primus/MSR white gas containers in a year at around 6 bux each.
Minus:
*Made in China, err, I mean it wasn't quite level out of the box so I had to finalize the QA process to make it just right.
Rating:


Price Paid: $25

Works great, needs windshield, hold flame underneath to light stove with less alcohol. Love it. Light as a feather, has legs and stand. NEEDS WINDSHIELD!
Pop cans are great too, have one, love the supports on either side of this.
Rating:


Price Paid: $29

I bought this stove based on how it looks. Compared to my friends stove (Zelph's Starlyte?) the Triad is a joke. The reader who referred to the BPL reviews was right. I wish I had read those before I wasted my money on this thing. Buyer beware-suggest you read the BPL alcohol stove/reader reviews first.
Rating:


Price Paid: $29

Anyone that gives this stove a positive review either works for the company or has serious mental problems. PLEASE read the "Reader Reviews" for Alcohol Stoves at BPL before you waste your $$$ (like me) on this stove. This stove does look cool but you will be 10 times happier with a homemade pop can type stove.
Where to Buy
sponsored links
Help support Trailspace by making your next purchase through one of the links above.
Vargo Triad
currently retails for:
$26.95 - $29.95
MSRP: $29.95

where to buy: