Vibram
FiveFingers Classic
5

reviews

5-star:

2

4-star:

3

3-star:

0

2-star:

0

1-star:

0
Don't have anything to compare em to. But I really…
Rating:


Source: bought it new
Price Paid: $35 @ Academy Sports

Summary
Don't have anything to compare em to. But I really dig these things. We call em skelator shoes down here.
Pros
Cheap
Compfortable
Good creek shoes
Cons
They get funky after a day or two
I use em as creek shoes. Most of our creeks here in southern MS are covered with a gravel bottom. And trust me, unless you're a barefoot bush hippy... it will eat your feet alive. These have more than come in handy along the creeks and rivers.
After years of trying various shoes, boots, orthotics,…
Rating:


Materials: Vibram, some kind of synthetic fabric upper
Use: Hiking, city walking
Break-in Period: None
Price Paid: $75

After years of trying various shoes, boots, orthotics, socks, etc., and never being quite happy with the way my feet feel, I tried the Vibram Classic. What a difference!
Hiking/city walking both work well. Your feet feel very light. After not running for the past 20 years due to bad knees, I'm tempted to break into a run just because it feels like it would be so much fun with these on. You do have to watch where you put your feet; gravel of a certain size can give you quite a poke in the heel or mid-foot.
It takes your feet and calves a while to get used to walking without all the structure of a regular shoe. I recommend using Glide or something similar in them; I was getting some friction under the joint where the big toe hits the foot. Throw them in the washer with your dark clothes each time you do laundry so the footbed doesn't get gross.
I knocked off half a star because of some very minor quibbles. First, while the individual toes do give you a greater feeling of stability, the extra fabric between the toes can get irritating -- especially between the little toe and the next one. Second, your feet can get pretty cold if you walk through damp grass or anything damp -- in that way, they are EXACTLY like being barefoot. Third, even if you don't walk through something damp, they tend to get a bit clammy after a while.
Don't believe the sizing chart; I wound up having to go down 2 sizes from what the chart said I would need (they use European sizes, so I went from a 39 to a 37), and after a month of use I think I might have been happier going down one more. So go to a store to try them on; or, if you order them by mail, be sure you can return them for a smaller size.
I've only had these for a month, but I love them.
Rating:


Price Paid: $70

I've only had these for a month, but I love them.
I have had chronic knee pain for years, and a doctor of physical therapy told me there was nothing more she could do, and I would be in pain the rest of my life.
After four weeks, while I still have pain, it is SIGNIFICANTLY reduced, and I've actually ran almost a half mile on the treadmill in these. That doesn't sound like much, but I hadn't run a step in years due to the knee pain. I work out in them, walk in them, and wear them every opportunity I can (they aren't right for dressing up).
Yes, they take some getting used to, and no, you can't just "throw them on." And you really need to be measured by someone who knows what they are doing to make sure you get a good fit. But they are worth the price of admission.
They are comfortable, tough, and easy to maintain. And for me, they have been a Godsend. No BS, just a good shoe.
I just got my Five Toe Classic's from REI and they…
Rating:


Materials: Vibram soles with a nylon(?) upper
Use: Daily walking, running and leisure wear.
Break-in Period: none
Weight: maybe a half pound total?
Price Paid: $78 w/tax REI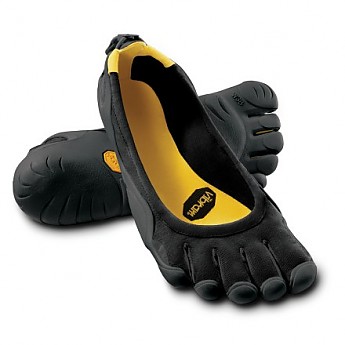 I just got my Five Toe Classic's from REI and they are great. I started wearing them immediately as I usually wear sandals all the time. My feet took to them like water and ducks. I think they are the best thing I have ever worn on my feet. I often forgot I had them on. My feet after wearing them about 5 hours today feel stronger already. The company says they will strengthen the foot and ankle muscles.
I recommend them to anyone who has thought about them or are looking for an alternative to regular sandals!
I love these crazy looking shoes! I have worn them…
Rating:


Price Paid: $70

I love these crazy looking shoes! I have worn them while hiking Squaw Peak and Also Camelback Mnt in Phoenix AZ. My only recommendation is that you take it easy when you're going up and coming down the Mnt. FiveFingers only have a little rubber padding but not enough to be hiking up the mnt as fast as you can.
Sizing is very tricky so make sure you actually go try on a pair. I know that you have the option to buy the Five Fingers with straps if it was up to me I totally would have done that. Swimming doesnt work out that well because they tend to slip off in water. If you are into water sports then Def get the Five Fingers with the strap.
Where to Buy
sponsored links
Help support Trailspace by making your next purchase through one of the links above.
Vibram FiveFingers Classic
currently retails for:
$27.73 - $85.00

where to buy: