Warbonnet
Traveler Double Layer 1.1
1

review

5-star:

0

4-star:

1

3-star:

0

2-star:

0

1-star:

0
Specs
Weight
19.5 oz

Weight Limit
275 lb

Dimensions
65 x 120 in

Reviews
This is Warbonnet's basic gathered end camping hammock.
Rating:


Source: bought it new
Price Paid: $75

Summary
This is Warbonnet's basic gathered end camping hammock. This particular hammock is constructed with two layers, facilitating the ability to slip a ground pad between the layers for insulation or the usual underquilts many hammockers use. This setup allows hammock camping backpackers to hang from trees when available or four to ground the next night when above the tree line.
Pros
Comfortable
Well constructed
Versatile
Options available
Exactly as advertised
Cons
The standard amsteel suspension should be whoopie slings
I received my Warbonnet Traveler 1.1 DL Hammock (hereafter the hammock or Traveler) and the hammock Travel Sock (more on the sock in another post) a few weeks ago. First thing I did was to weigh it and compare it to Warbonnet's published weight of 19.5 oz. Good news, my Traveler 1.1 DL was only 18 oz! Next, I inspected the hammock and with exception of some wobbly seams here and there, the workmanship is excellent.
Of course the next thing was to hang the hammock. The first thing I noticed was how much better this hammock is to sit on/in camp chair wise. My other hammock is an ENO Double Nest and between the Traveler being a double layer and made from ripstop nylon it makes for a lot less stretch in the hammock when seated.
I hung it with its structural ridgeline at the proper tension and spent the night. Interestingly the hammock was too taut. It actually felt hard, not uncomfortable but not nearly as comfortable as the next night.
The following night I hung it with a deeper sag (the ridgeline was just a bit slack) and that was a fantastic night's sleep. Almost perfection, the flattest lay ever. Side sleeping was awesome. I may have to consider shortening the ridgeline for future (I like the ridgeline for hanging stuff) trips. I'm taking the hammock out this weekend and will update this post soon.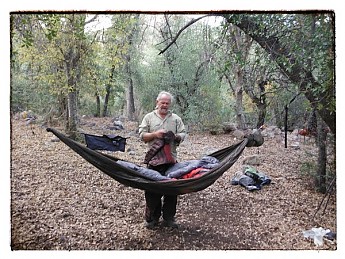 UPDATE: I took the hammock out for a two night trip recently and used both the hammock and the hammock sock. I wanted to see how warm the bottom of my hammock stayed with minimal hammock inulation. It did a remarkable job of creating a dead air space under the hammock even with the top portion of the sock open. The traveler was just as comfortable as at home and a bit easier to hang than the ENO because it a tad smaller. Definitely worth my investment in these two pieces of equipment.
I did have to swap out the stock amsteel suspension cord for amsteel whoopie slings. Amsteel is about as slick as teflon and anybody close to #200 even properly tied knots tend to slip. I'd pay $10-20 more for the hammock for the upgraded suspension.
Manufacturer's Description
The Traveler Hammock is a simple, no frills, end-gathered design. It measures 65"W x 120"L, so it's plenty wide for an asymmetric/diagonal lay. It is available in both single and double layer and also features a structural ridgeline to take most of the guesswork out of setting the sag. (98" RL). It comes with your choice of suspensions, and a stuffsac is included. All fabric has a dwr finish (durable water repellent). All models are the same dimensions and are comfortable for someone up to 6'8"
Warbonnet Traveler Double Layer 1.1
MSRP:
$75.00

The Warbonnet Traveler Double Layer 1.1 is not available from the stores we monitor.
If you're looking for a new hammock, check out the best reviewed current models.