Wenger
EvoGrip S 18 Patagonian Expedition Race Knife
1

review

5-star:

0

4-star:

1

3-star:

0

2-star:

0

1-star:

0
Reviews
Since I have small hands, the size of the knife is…
Rating:


Price Paid: Loaner from Wenger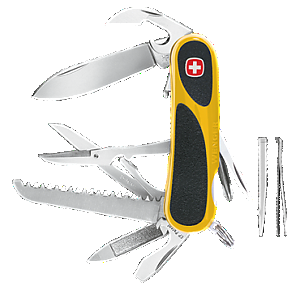 Since I have small hands, the size of the knife is important. I want to feel a sense of control when I'm handling a knife. At 3.25 inches long, the Wenger EvoGrip™ S 18 is ideal. Though Wenger supplied me with this knife for a winter camping trip in February, it's very well suited for multi-day backpacking trips where weight will be an issue. The EvoGrip weights in at a svelte 3.1 ounces.
The EvoGrip has 11 implements that perform 15 functions. I put these to the test and here's what I found:
Ergonomic handle with rubber: This worked extremely well in winter camping conditions. When condensation built up or the knife got dropped into wet snow, the rubbery grips on the ergonomic handle kept my hand firmly attached. Will work equally well in rain/storm conditions on the trail.
2.5" locking blade for safety: I've never had any "accidents" with pocket knives, but if your finger happens to be in the wrong place when the knife blade suddenly snaps shut, there's a good chance that finger is coming off. The 2.5-inch flat locking blade is sharp enough to whittle wood logs down to kindling for the fire.
2.75" double-cut wood saw: Wenger calls it a "2.75" double-cut "wood saw" but if you've read [i]Between a Rock and a Hard Place[/i], you'll know its functionality extends beyond sawing dead branches from trees and bushes to make marshmallow roasting sticks. Another very sharp blade so use caution.
2.4'' springless scissors with serrated, self-sharpening design: These scissors actually cut a very impressive straight and narrow line through a wash cloth. On the trail, these scissors will be valuable for cutting a shirt into bandages or cutting a pant leg to administer first aid.
Can opener: Sharp (really sharp), precise and smooth, I have never, in my life, had a more pleasurable experience opening a can of baked beans than I have with the EvoGrip's can opener.
Tweezers: Any time you work with wood, you increase your chances of getting splinters. The tweezers easily extracted one that I got from sawing logs and marshmallow sticks. In the summer, they'll also be useful for removing bee stingers.
Additionally, the EvoGrip has the following features, which may seem trite and superfluous, but you'd be surprised how valuable they really are:
Patented locking screwdriver: Phillips® head screwdriver
Cap lifter/Wire stripper
Nail file/Nail cleaner
Reamer
My only disappointment with the knife was the absence of a corkscrew and a serrated edge on the 2.5" flat blade. I believe that if they made the scissor blades serrated, they could have also done so with the flat blade.
Manufacturer's Description
Visit Wenger's EvoGrip S 18 Patagonian Expedition Race Knife page.
Retailers' Descriptions
Here's what other sites are saying:
The Wenger EvoGrip S 18 Swiss Army knife makes a classic design more ergonomic than ever with specially shaped handle scales, nonslip rubber inlays and a locking blade. Knife features a 2.5 in. stainless-steel, straight-edge blade, 2.75 in. double-cut wood saw, springless scissors, locking screwdriver, bottle opener and wire stripper. The Wenger EvoGrip S 18 Swiss Army knife also features can opener, nail file, nail cleaner, Phillips screwdriver, reamer, awl, toothpick, tweezers and key ring.
- REI
The Wenger Patagonian Expedition Race (WPER) is an international sports event in which spirit is combined with the true meaning of expedition and adventure. This non profit event is run to help protect and raise awareness of the fragile environment in the region of Chilean Patagonia.Known as the 'race to the end of the world', the 10-day event challenges mixed teams of four athletes in the disciplines of trekking, sea kayaking, orienteering, mountain biking and rope activities. The title sponser of the race is Wenger and they have included a group of special Swiss Army Knives to represent the WPER. The Wenger EvoGrip? S 18 WPER features a locking blade, 11 implements, 15 functions and the WPER logo.Ergonomic handles with rubber and laser engraved WPER logo2.5" locking blade2.75" double cut wood saw2.4" springless scissors with serrated self sharpening designPatented locking screwdriverCap lifterWire stripperCan openerNail file, nail cleanerPhillips head screwdriverReamerToothpickTweezersKey ringSize: 3.25"Weight: 3.1 oz.
- Campmor
Wenger EvoGrip S 18 Patagonian Expedition Race Knife
MSRP:
$74.95

The Wenger EvoGrip S 18 Patagonian Expedition Race Knife is not available from the stores we monitor. It was last seen August 16, 2012 at Campmor.
If you're looking for a new multi-tool, check out the best reviewed current models.