Wilderness Logics
Tad Pole
Reviews
I needed a good tarp for my hammock that didn't weigh…
Rating:


Source: bought it new
Price Paid: $110

Summary
I needed a good tarp for my hammock that didn't weigh 3 pounds or was only 7 feet by 5 feet. The size was perfect and the weight was a joy for my back, and the cost will not break your wallet. If you're a 3-season camper or need a lightweight option this may be the tarp your looking for.
Pros
Weight, less than 1 pound
Size 92 inches wide, and 144 inches long
Order the way you want it, allows many options
Great service
Cons
In high winds, not sure if it will hold up
It's not a tent, if not used to tarps may not like this
The reason for my need of a good tarp was for my hammock camping. I started out with good old blue tarp until I felt I was ready for a better tarp. I checked around to find information of what other hammock campers use, and decided on the Tap Pol, I would also say price had a little to do with my choose.
Company information:
Located in USA; http://www.wildernesslogics.com/
if you contact them (Marty) will respond very fast; the same day and will try to help you making a inform decision. I found information that was needed to make a correct decision for my needs. The size I got was 144 inches by 92 inches. The weight of the tarp is around 13 ounces, comes in four colors and you can make it almost any way you want, lots of options. If you follow the link it will take through the order process without making order.
When I received it I wasn't disappointed. I did practice at home to setting it up and breaking it down, I would estimate about 15 times. The ridgeline setup gave me some problems until I figured the best way for my needs. 
Here are a few pictures that may help you.
This was only testing my abilities to set up and take down the trap. The lines that are used in the pictures are too long, but I needed to understand before I went out in the field. I also set this up in the backyard, and camped four times. 
I have to state that after one I was an expert, after my third time I was still learning. I had problem with dew in the morning on my third time, which was caused by my space blanket on the ground, but if you leave the dew alone it will not drip on you. Also you should have something to wipe the tarp down before packing, but most likely you need to keep it the outside of your pack for a while to allow it to dry down.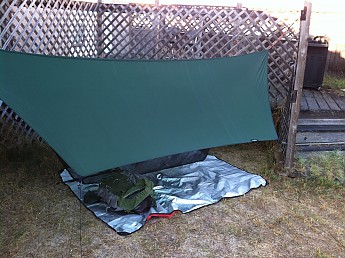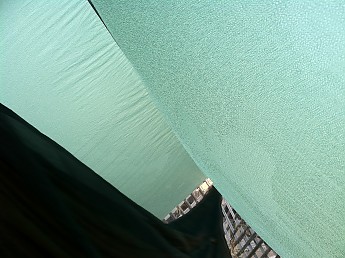 I use figure 9's to secure the tarp with MSR Groundhog stakes, but I am going to change the figure 9's because I am better at knots now. The four outside lines are 10 feet long, but now they are 6 feet. The Ridgeline was 50 feet and has been changed to 25 feet. In the field I didn't have any problems or failures. I only use one hiking stick and I set the stick were I have a view of my camping area.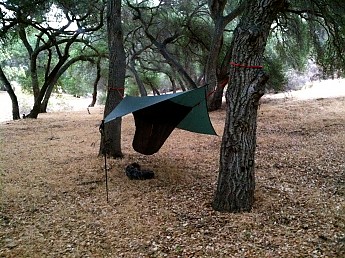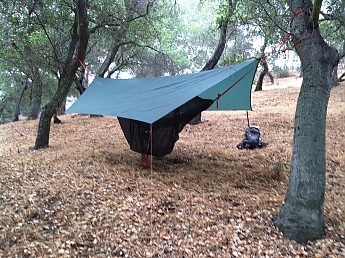 I am very happy with this tarp; the size is perfect for me; great support from Wilderness Logic. The other thing is after a while if you want to modify it, just contact them and they will tell you how much and when. The reason I went with the longer tarp was my hammock is 11 feet long, about 1 foot longer then normal. I am a 3-season camper and 4-season hiker.
The only other thing, I would have changed my order to tri-loops (allows better tie downs) which cost an extra $10. The tarp cost was $105, the 134-inch is $90.  I enjoy this tarp a lot, and it gives me more freedom in the great outdoors.
Wilderness Logics Tad Pole
reviewers paid:
$100.00

The Wilderness Logics Tad Pole is not available from the stores we monitor.
If you're looking for a new tarp/shelter, check out the best reviewed current models.