Alicia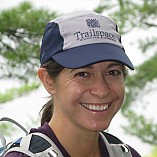 Full Name: private
40-year-old woman
Maine
Affiliations: In my role as editor of Trailspace, I have professional relationships with numerous outdoor industry professionals, primarily outdoor gear manufacturers and their public relations representatives.
| | |
| --- | --- |
| Get to Know the Unknown Caver, Reviewer of the Month | July 3, 2015 |
| Review Your Outdoor Gear to Win an Elie Touring Kayak | July 1, 2015 |
| It's Go Time! Meet Cliff Jumping, Hiking, Foraging Jesse | May 12, 2015 |
| Meet Jeff: Texas Climber, Adventure Traveler, Engineer | April 10, 2015 |
| Meet JR: UL Backpacker and Reviewer of the Month | March 11, 2015 |
About
When I'm not inside working on Trailspace, I like to get outside to run, hike, and ski on the trails and in the woods and mountains of Maine, northern New England, and beyond. I like snow, trees, and summits.
Before I had kids I hiked the 4,000 Footers in New England. Now with two kids, I occasionally whittle away at the New England 100 Highest list. I've also hit a few high points, including Rainier, along the way.
In the last few years I've started running trail ultras of 50K to 50 miles.

I would rather be outside and in motion than typing on this computer.
Activities
Hiking
Backpacking
Snowshoeing
Trail running

Backcountry skiing
Mountaineering
Canoeing
Kayaking

Vitals
| | |
| --- | --- |
| Height | 5'4" |
| Weight | 128 lbs |
| Torso Length | 17" |
| Boot/Shoe Size | women's 7 - 7.5 US |
| Jacket/Shirt Size | women's small-medium |
| Pant Size | women's small-medium |