Ben Rivers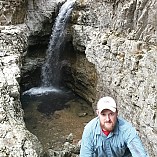 Full Name: Ben Rivers
male hiker
Tennessee
Email: private

About
I am new to hiking, but not to the outdoors. I grew up outside camping, hunting, fishing, canoeing, bike riding, etc. 
I love being in the outdoors and seeing God's creation. I like untouched places, getting away from the noise. My job requires me to be very connected so I love it when I get the chance to disconnect from our connected world. 
To me, there is not much better than drinking a good hot cup of coffee on a cool morning, watching the world wake up. 
Activities
Hiking
Backpacking

Canoeing
Mountain biking

Vitals
| | |
| --- | --- |
| Height | 5'9" |
| Weight | 175 |
| Boot/Shoe Size | 9.5 |
| Jacket/Shirt Size | L |
| Pant Size | 34X30 |