BlueTang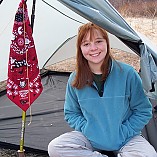 Full Name: private
24-year-old female backpacker
Bozeman, MT
About
I am a high school student that is graduating a year early. As a grad present my dad is treating me to a thru hike of the AT beginning March 1st at Springer.
My younger years were spent backpackinbg with my dad in the Green and White Mountains of New England along the AT and LT.
I am in the process of launching a new website centered around practical trail meals. The website will be an open source site that will provide a "cookbook": in downloadable format for free, along with numerous recipes that are easily printable and searchable.
I hope my posts here help you to have better meals on the trail.
Megan
Activities