Cat8808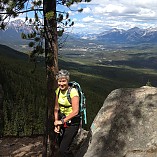 Full Name: private
hiker

Email: private

Gear Reviews
Cat8808 hasn't written any gear reviews.
About
Born and raised in Alberta and have spent most of my childhood summers at the lake canoeing, swimming and doing whatever my brothers did.  My parents loved the outdoors and as we lived 4 hours from Jasper AB I spent time exploring the foothills and the mountains.  
As my daughters were growing up most of the camping and hiking was focused around what they could do so car camping and day hikes when we were in the mountains or on Vancouver Island.  Now that I get to focus on me I find that I am drawn back to what I loved as a kid, wandering in the mountains and exploring as many new trails as I can.  I am very much a water person so kayaking, especially sea kayaking is  something I try to do when I am at the coast.
If I can't make it to the mountains I have some favorite places outside of the city that I spend much needed time walking/hiking in.  I am a member of a local hiking group, enjoy getting out with them but also enjoy being out on my own or with one or two people as well.
Activities