CLOWN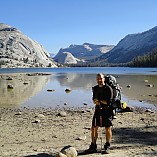 Full Name: private
39-year-old male backpacker
Virginia
Email: private

Affiliations: I work at an small outfitter that I will not name. I work the retail floor and I'm the equipment buyer for the st
About
My name is Mike but on the trail I go by CLOWN. You only get the story about the name if we hike together. In 2002 I Thru-hiked the Wonderland Trail around Mount Rainier in Washington. 2004 I Thru-hiked the Appalachian Trail and between 2011 and 2012 I finished the Tahoe Rim Trail around Lake Tahoe. My goal for 2014 is the John Muir Trail. I work in an outfitter part time and have used, and I like to say test many different pieces of gear. I'm a gear geek for a lack of a better term. 
 My favorite spot around here is the Mount Rogers and Grayson Highlands area in Virginia. I have visited dozens of National Parks and I'm a big fan of pretty much anything west of the Mississippi River even though I live in the East. I love the diversity that we have in this country that we have to enjoy. Hope to see you on the trail. 
 Slide shows with short videos can be found on Youtube with a  search for "Watch Mike Hike"
Happy Trails!
CLOWN
Activities
Hiking
Backpacking
Snowshoeing

Rock climbing
Canoeing
Kayaking

Vitals
| | |
| --- | --- |
| Height | 5'9" |
| Weight | 180 |
| Torso Length | 19 1/2" |
| Boot/Shoe Size | 10 1/2 |
| Jacket/Shirt Size | L |
| Pant Size | 34 |