Daniel Oates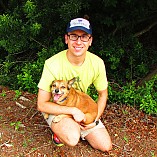 Full Name: Daniel Oates
backpacker
Willow Spring, NC
Occupation: Accountant
Email: private

About
Love hiking, playing disc golf and being outside!
I went on a great backcountry hiking trip in August 2013 and I haven't looked back.  The trip was to Glacier National Park and I was with three of my college roommates.  We got back together for a 4-year reunion (of sorts) and it was a blast. I saw amazing views, trading great stories, crossed various wildlife, and got memories that will last a lifetime.
Since that time hiking and camping has been the highlight of my free time.  I had barely any gear just a few months ago, but have started to accumulate a few pieces here or there.  
In addition to camping and hiking, I love to play disc golf and Ultimate.  A few years back I came across the adventure of Geocaching; check it out, it's a great way to get the family outdoor and working together!
My reviews come from the gear that I either borrowed or currently own.  I'm glad to pass on my experience and feel free to add any comments or questions that you think may help others.
Below is a picture of that trip to Glacier.  All four of us are at the top of Red Gap Pass on our way down to Elizabeth Lake (Many Glacier region of the park).  Pretty much sums up the trip, the breathtaking and "what's next?" feeling of the park.
I've always been a hands-on person and love to build things from scratch and taking pride in what I've accomplished.  Since spring 2014, I've started making some of my own gear and accessories.  Well worth it and one-of-a-kind!
Activities
Hiking
Backpacking
Trail running
Orienteering
Adventure racing

Geocacheing
Mountain biking
Disc Golf
Ultimate Frisbee
Photography

Vitals
| | |
| --- | --- |
| Height | 5'9 |
| Weight | 150 |
| Torso Length | 18 and 7/8 |
| Boot/Shoe Size | 9 |
| Jacket/Shirt Size | M |
| Pant Size | 32x32 |