J Sage (Dox)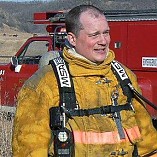 3 reviewer rep
16 forum posts
joined Jan 18, 2014


Full Name: J Sage
46-year-old male hiker
Canada
Occupation: Welder/Firefighter
Email: private

About
I live in a small town in Southern Manitoba, where i'm a member of the Fire department and Local GSAR group and Search and Rescue Manitoba (SARMAN).
I'm a Ex-Canadian Forces member where I served as a Medic and previously held civilian EMR qualifications.
I've been camping and generally playing in the outdoors for as long as I remember, everything from car camping to lightweight backpacking
I prefer hammock camping nowadays my current set up is a ENO double nest, Eno Guardian bug net and a MEC Scout Tarp. But I do have a 2 Man tent because someplaces in Manitoba it can be tough to find 2 useful trees.
I hope to win the lotto and spend the rest of my days Hiking trails like the AT, PCT, camino de santiago, Etc.
I've spent a great deal of my life helping others, so If you have a question go ahead and ask I'll help if I can
Activities
Hiking
Backpacking

Geocacheing