Eric Labanauskas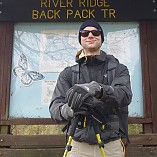 Full Name: private
29-year-old male backpacker
Chicago Suburbs, IL
Email: private







| | |
| --- | --- |
| Forest Glen Preserve (Westville, IL) November 15-17 | November 19, 2013 |
| HRH's IL Backpacking Tour: Weldon Springs SP (Clinton, IL) | October 27, 2013 |
| PT #3 – TS on the R2RT, with HornRimmedHiker, G00SE, jrenow, and pillowthread | October 27, 2013 |
| Messenger Woods Nature Preserve - Homer Glen, IL | October 11, 2013 |
| PT #2 – TS on the R2RT, with HornRimmedHiker, G00SE, jrenow, and pillowthread | October 4, 2013 |
About
From time to time, you'll hear me referred to as "HornRimmedHiker," or "HRH" for short. The trail name came from time spent portraying Buddy Holly in the namesake stage musical. While the gig comes and goes, the frames stuck. 
My goal for the next year is making it out to as many backpacker-friendly locations in Illinois as I'm able. It's a mighty big state with an impressively small number of resources on the subject. Conquering it one weekend and/or a few days at a time, I hope to come back home with enough research and photographs to add one more resource and make my contribution to the outdoor community, here.  
As a teenager I was diagnosed with spinal stenosis: what I purchase and pack is directly related to my ability to carry it. In short? When my back's happy, I'm happy.
GEAR CURRENTLY USED
PACK: Mountainsmith Haze 50 (M/L)
TREKKING POLES: Black Diamond Distance FL Z-Poles (140 cm)
HAMMOCK: WB Blackbird 1.1 DL (2nd Generation), ENO SingleNest
SUSPENSION: WB Webbing/Buckles, ENO Atlas Straps
SHELTER: ENO ProFly
STAKES: MSR Mini Groundhog
TOPQUILT: ENO Ignitor
UNDERQUILT: AHE KAQ New River (30F, Non-Apex)
STOVE: Trail Designs Caldera Cone
POT/MUG: SP Titanium Trek 1400 Cookset
COZY: AntiGravityGear Pot Cozy
UTENSIL: SP Titanium Spork
FILTER: Sawyer Mini
CONTAINER: Recyclable 1L Water Bottles
CUTTING TOOL: Morakniv Companion MG Carbon Steel
FIRESTARTER: LMF Firesteel Scout 2.0, Mini BIC Lighter, Paper Matchbook
TROWEL: Qi Wiz Titanium "Mega Dig" Cathole Trowel
COMPASS: Brunton 9020G
LIGHT: Black Diamond Spot (2014 Model)
BRIEFS: Patagonia Lightweight Briefs (S)
BASE - BOTTOMS: REI Polartec Power Dry Crew Shirt (M)
BASE - TOP: REI Polartec Power Dry Long Underwear (S)
MID - BOTTOMS: REI Selkirk Fleece Pant (S)
MID - TOP: OR Radiant Hybrid Pullover (M), TNF Icecap Half-Zip Fleece (M)
OUTER - BOTTOMS: TNF Paramount Valley Convertible Trekking Pant (S)
OUTER - TOP: TNF Full-Zip Thermoball Jacket (M)
RAIN SHELL: TNF Venture Rain Jacket (M)
HAT/HEADBAND/SCARF/BALACLAVA: Original Wool Buff
SHOES: Merrell Vertis Ventilator (12M)
TRIP REPORT - MISSISSIPPI PALISADES SP
TRIP REPORT - SHAWNEE NF & THE RIVER-TO-RIVER TRAIL, PT ONE
TRIP REPORT - SHAWNEE NF & THE RIVER-TO-RIVER TRAIL, PT TWO
TRIP REPORT - SHAWNEE NF & THE RIVER-TO-RIVER TRAIL, PT THREE
TRIP REPORT - WELDON SPRINGS SP
TRIP REPORT - FOREST GLEN PRESERVE
TRAILSPACE "REVIEWER OF THE MONTH" FEATURE
Activities
Vitals
| | |
| --- | --- |
| Height | 6 ft 0 in |
| Weight | 150 lbs |
| Torso Length | 18.5 in |
| Boot/Shoe Size | 12 |
| Jacket/Shirt Size | M |
| Pant Size | S |