Eric Labanauskas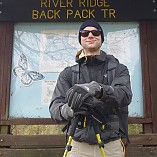 Full Name: private
29-year-old male backpacker
Chicago Suburbs, IL
Email: private

| | |
| --- | --- |
| Forest Glen Preserve (Westville, IL) November 15-17 | November 19, 2013 |
| HRH's IL Backpacking Tour: Weldon Springs SP (Clinton, IL) | October 27, 2013 |
| PT #3 – TS on the R2RT, with HornRimmedHiker, G00SE, jrenow, and pillowthread | October 27, 2013 |
| Messenger Woods Nature Preserve - Homer Glen, IL | October 11, 2013 |
| PT #2 – TS on the R2RT, with HornRimmedHiker, G00SE, jrenow, and pillowthread | October 4, 2013 |
About
As a teenager I was diagnosed with spinal stenosis: what I purchase and pack is directly related to my ability to carry it. In short? When my back's happy, I'm happy.
My goals for the next year:
1.) Hike as many backpacker-friendly locations in my home state of Illinois.
2.) Become more reliant on skills instead of gear, and supplement an ultralight backpacking style with bushcraft/survival skills.
PERSONAL GEAR CHECKLIST
WORN OR CARRIED
TREKKING POLES: Black Diamond Distance FL Z-Poles
SUNGLASSES: R/X Eyeglasses with Transitions Lenses
WRISTWATCH: Casio G-Shock AWGM100-1ACR Atomic Solar
WALLET: Innate Portal Billfold (with Cash, ID, Debit Card, and Insurance Cards)
CAR/HOUSE KEYS
PHONE/CAMERA/GPS: iPhone 4s
PHONE CASE: OtterBox Armor Series Waterproof Case for iPhone 4s
CLOTHING

UNDERWEAR: Patagonia Lightweight Briefs (S)
BASE - TOP: REI Polartec Power Dry Crew Shirt (Midweight, M)
BASE - BOTTOMS: REI Polartec Power Dry Long Underwear (Midweight, S)
MID - BOTTOMS: REI Selkirk Fleece Pant (S)
MID - TOP: OR Radiant Hybrid Pullover (M), TNF Icecap Fleece (M)
OUTER - BOTTOMS: TNF Paramount Valley Convertible Pant (S)
OUTER - TOP: TNF Thermoball Full-Zip Jacket (M)
RAIN GEAR/PACK COVER/EMERGENCY SHELTER: Sea to Summit Nylon Tarp Poncho

HAT/HEADBAND/SCARF/BALACLAVA: Merino Wool Buff

HIKING SHOES: Merrell Vertis Ventilator (12M)
TRAIL RUNNERS: Merrell Grassbow Air (12M)
BACKPACK
PACK: Mountainsmith Haze 50 (M/L)
LINER: Plastic Trash Compactor Bag
SHELTER
HAMMOCK: WB Blackbird 1.1 DL (2014 Model)
SUSPENSION: WB Webbing/Buckles and Dutchware Ti Dutch Clips
TOP COVER: WB Travel Sock (Calendared Fabric Prototype)
STAKES: MSR Mini Groundhog (or Foraged and Downed Wood)

SLEEP
INSULATION (TOPQUILT): ENO Ignitor  
INSULATION (UNDERQUILT): Arrowhead Equipment New River KAQ
INSULATION (SLEEPING PAD): Gossamer Gear Thinlight (3/8")
PILLOW: Klymit Pillow X
WATER 
CONTAINER: Recyclable 1L Water Bottles 
COOKING
ALCOHOL STOVE: Trail Designs 12-10 with Adjustable Simmer Rings

SOLID FUEL STOVE: Trail Designs Gram Cracker
WINDSCREEN/POT STAND: Trail Designs Caldera Cone
COZY: AntiGravityGear Pot Cozy

POT/MUG: Snow Peak Titanium Trek 1400 Cookset

UTENSIL: Snow Peak Titanium Spork
SM NALGENE BTL: Extra Virgin Olive Oil
FIRE 
FIRESTEEL: Light My Fire Scout 2.0 Firesteel

LIGHTER: Mini BIC
FIRESTARTER: Fatwood Shavings and Small Pieces
TOOLS
KNIFE: Morakniv Companion MG Carbon Steel (Bushcraft)
MULTI TOOL: Victorinox Classic SD SAK  (Hiking)
COMPASS: Brunton 9045

LIGHT: Black Diamond Spot (2014 Model)

TROWEL: Qi Wiz Titanium "Mega Dig" Cathole Trowel
FOOD HANGING
STUFF SACK: Sea to Summit Ultra-Sil Stuff Sack (9L)
CARABINER: Black Diamond Neutrino

PARACORD: 50' 
FIRST AID 
REG-SZ BANDAGES
LG SZ BANDAGES 
ROLL GAUZE
BLISTER PADS
ANTIBIOTIC OINTMENT PKTS 
ALCOHOL PREP PADS 
SUNSCREEN
LIP BALM
TICK KEY
REPAIR
TENACIOUS TAPE
GORILLA TAPE
SAFETY PINS 
BATTERIES (AAA, X3)
PERSONAL CARE
SM PKT COMB
COLGATE WISP RECYCLABLE TOOTHBRUSH
BANDANA
TP SQUARES
SM NALGENE BTL: HAND SANITIZER
SM NALGENE BTL: BIODEGRADABLE ORGANIC SOAP
MICROFIBER LENS CLEANING CLOTH
SM NALGENE JAR:
1.) R/X Medication
2.) Zyrtec (Allergy)
3.) Ibuprofen (Anti-Inflammatory)
4.) Imodium (Anti-Diarrheal) 
TRIP REPORT - MISSISSIPPI PALISADES SP
TRIP REPORT - SHAWNEE NF & THE RIVER-TO-RIVER TRAIL, PT ONE
TRIP REPORT - SHAWNEE NF & THE RIVER-TO-RIVER TRAIL, PT TWO
TRIP REPORT - SHAWNEE NF & THE RIVER-TO-RIVER TRAIL, PT THREE
TRIP REPORT - WELDON SPRINGS SP
TRIP REPORT - FOREST GLEN PRESERVE
TRAILSPACE "REVIEWER OF THE MONTH" FEATURE
Activities
Vitals
| | |
| --- | --- |
| Height | 6 ft 0 in |
| Weight | 150 lbs |
| Torso Length | 18.5 in |
| Boot/Shoe Size | 12 |
| Jacket/Shirt Size | M |
| Pant Size | S |