Eric Labanauskas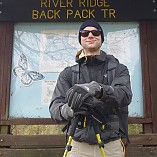 Full Name: private
29-year-old male backpacker
Chicago Suburbs, IL
Email: private

| | |
| --- | --- |
| Backpackin' and Bushcraftin' - Moraine View SRA (Picture-Heavy, y'all!) | April 23, 2014 |
| Forest Glen Preserve (Westville, IL) November 15-17 | November 19, 2013 |
| HRH's IL Backpacking Tour: Weldon Springs SP (Clinton, IL) | October 27, 2013 |
| PT #3 – TS on the R2RT, with HornRimmedHiker, G00SE, jrenow, and pillowthread | October 27, 2013 |
| Messenger Woods Nature Preserve - Homer Glen, IL | October 11, 2013 |
About
As a teenager I was diagnosed with spinal stenosis: what I purchase and pack is directly related to my ability to carry it. In short? When my back's happy, I'm happy.
My goals for the next year:
1.) Hike as many backpacker-friendly locations in my home state of Illinois.
TRIP REPORT - MISSISSIPPI PALISADES STATE PARK
TRIP REPORT - SHAWNEE NF & THE RIVER-TO-RIVER TRAIL, PT ONE
TRIP REPORT - SHAWNEE NF & THE RIVER-TO-RIVER TRAIL, PT TWO
TRIP REPORT - SHAWNEE NF & THE RIVER-TO-RIVER TRAIL, PT THREE
TRIP REPORT - WELDON SPRINGS STATE PARK
TRIP REPORT - FOREST GLEN PRESERVE
TRIP REPORT - MORAINE VIEW STATE RECREATION AREA
2.) Become more reliant on skills instead of gear, and supplement an ultralight backpacking style with bushcraft/survival skills.
SAMPLING OF GEAR USED
BACKPACK: Mountainsmith Haze 50 (M/L)
TREKKING POLES: Black Diamond Distance FL Z-Poles
TENT: Marmot Earlylight 2P
HAMMOCK: Warbonnet Outdoors Ridgerunner DL
SUSPENSION: WB Webbing/Buckles and Dutchware Ti Dutch Clips
TARP: Warbonnet Outdoors Cloudburst
INSULATION (TOP): ENO Ignitor Topquilt
INSULATION (BOTTOM): Gossamer Gear Thinlight Sleeping Pad (3/8")
PILLOW: Klymit Pillow X
STOVE: Trail Designs 12-10 Alcohol Stove with Adjustable Simmer Rings
WINDSCREEN/POT STAND: Trail Designs Caldera Cone
COZY: AntiGravityGear Pot Cozy
POT/MUG: Snow Peak Titanium Trek 1400 Cookset

UTENSIL: Snow Peak Titanium Spork
FIXED BLADE: Morakniv Companion MG Carbon Steel
MULTI TOOL: Victorinox Classic SD SAK
FIRESTEEL: Light My Fire Scout 2.0 Firesteel
COMPASS: Brunton 9045
LIGHT: Black Diamond Spot
TROWEL: Qi Wiz Titanium "Mega Dig"
WATER TREATMENT: Sawyer Mini Filter
SUNGLASSES: Ray-Ban Optical Frames with Transitions Lenses
WRISTWATCH: Casio G-Shock AWGM100-1ACR Atomic Solar
WALLET: Innate Portal Billfold (with Cash, ID, Debit Card, and Insurance Cards)
PHONE/CAMERA/GPS: iPhone 4s w/ OtterBox Armor Series Case
SAMPLING OF CLOTHING WORN
UNDERWEAR: Patagonia Lightweight Briefs (S)
BASE - TOP: REI Polartec Power Dry Crew Shirt (Midweight, M)
BASE - BOTTOMS: REI Polartec Power Dry Long Underwear (Midweight, S)
MID - BOTTOMS: REI Selkirk Fleece Pant (S)
MID - TOP: OR Radiant Hybrid Pullover (M), TNF Icecap Fleece (M)
OUTER - BOTTOMS: TNF Paramount Valley Convertible Pant (S)
OUTER - TOP: TNF Thermoball Full-Zip Jacket (M)
RAIN GEAR/PACK COVER/EMERGENCY SHELTER: Sea to Summit Nylon Tarp Poncho

HAT/HEADBAND/SCARF/BALACLAVA: Merino Wool Buff

HIKING SHOES: Merrell Vertis Ventilator (12M)
TRAIL RUNNERS: Merrell Grassbow Air (12M)
TRAILSPACE "REVIEWER OF THE MONTH" FEATURE
Activities
Vitals
| | |
| --- | --- |
| Height | 6 ft 0 in |
| Weight | 150 lbs |
| Torso Length | 18.5 in |
| Boot/Shoe Size | 12 |
| Jacket/Shirt Size | M |
| Pant Size | S |