FlipNC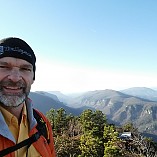 Full Name: private
male backpacker
Winston-Salem, NC
Affiliations: I am a member of the Trailspace Review Corps, but have no ties to any outdoor manufacturers or retailers.
About
I have been backpacking since the early 80's after moving to the US from Scotland, where I remember walking in the highlands  with my grandfather and along the rocky shores of England with my Dad. Scout trips in the early 80's introduced me to the overnight option and converted quickly into solo backpacking and some trips with friends in the mid-80's.  Since the early 1990's I have mostly backpacked solo interspersed with trips with my two sons before they grew up and moved out, and still some short trips with my beautiful wife. 
Most of my backpacking trips have been 2 to 4 nights due to work and family duties, with occasional trips up to a week or two.  Week long trips are a more regular occurrence now that I have time.  I also day hike a good bit (as an alternative to the elliptical to keep in shape between trips) and jump in one of my canoes whenever I can for a trip down the river (just Class I or II for fun and relaxation) or the lake for some fishing.
While I like new gear, I also appreciate older stuff that has served me well. In 2014, I retired a pot I bought in the mid 80's only when I had to get a new one fitted for my Caldera Sidewinder stove. I am on a gradual quest to go lighter that started in the 90s, but am not an ultralight hiker. With additions like a trail chair and pillow as I age, I like to call my approach "comfortably light". My current base weight is between 15 and 18 lbs depending on season (i.e. not including severe winter weather or light summer loads). I look for lighter and better quality gear as things wear out, but also sometimes have a hard time retiring a favorite item.  Over the last couple of years I have really enjoyed improving my gear reviews for Trailspace and find this a rewarding aspect of this pastime.
Most of my backpacking experience is in the east due to convenience, but I have spent time in the Rockies and backpacked in Big Bend and Glacier National Parks as well as many spots in between.  I have several favorite spots, but I'll keep the quiet ones off the record (and won't post trip reports for those spots) and go with Grayson Highlands State Park VA, Badlands, Glacier, and Guadalupe Mountains National Parks. I occasionally go with friends, family, or to introduce new folks to the joys of backpacking, but honestly enjoy the serenity and independence of solo trips in the quiet backcountry areas the best, often spending most of the time off trail in true wilderness where I can find it. I am not into mileage or peak bagging (although there is nothing wrong with that if it satisfies you), but love to explore areas that don't see traffic or interesting spots on the topo map. While this often leads me into rhododendron thickets or brier patches, it also leads to wonderful secluded campsites and rock outcrops etc. Well worth the pain!
Activities
Hiking
Backpacking
Orienteering

Canoeing
Fishing

Vitals
| | |
| --- | --- |
| Height | 6 ft |
| Weight | 170 |
| Boot/Shoe Size | 11.5 wide |
| Pant Size | 33 W 32 L |