FromSagetoSnow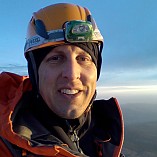 Full Name: private
male mountaineer
Washington
Occupation: Trainer
Email: private

About
I grew up backpacking, hunting and fishing.  I am a recent convert to skiing and sport-climbing. 
If I'm not doing something with my large-ish family (5 kids) then I consider my time wasted.  In the winters we hunt, fish, and ski.  The other three seasons find us sport climbing, backpacking and doing easy mountaineering routes. We don't wait for ideal weather so our gear routinely sees some tough conditions.
We've climbed Mt. Adams and a hand-full of fun alpine scrambles (like Kaleetan Peak).  On my own with other adults I have summitted Mt. Hood, St Helens (winter) and Rainier (x2).  My goal isn't to do the most exposed sketchy climbs we can find but rather have fun on in beautiful areas where I can bring as many of my kids as possible.  To me, I'd rather do a class 3 scramble with most of my kids than a multi-pitch trophy climb alone.
Having lots of kids means I carry a lot of gear.  The stuff I carry needs to be light enough for me to pack a lot of.  It also needs to survive all five kids since they will all use it as they grow.  Finally it needs to be inexpensive.  I can't go buying $300 jackets for my kids each time they grow so just about all the gear I get for them comes from closeouts, hand-me downs or thrift shops.  Discounts are the only way I can outfit the family and still get out to do things. 
If you have questions, suggestions or want recommendations on kid-friendly outdoor adventure, send me a PM.
Activities
Hiking
Backpacking
Trail running
Mountaineering

Rock climbing
Mountain biking
Fishing
Hunting

Vitals
| | |
| --- | --- |
| Height | 5'-10" |
| Weight | 185 lbs |
| Torso Length | 20 |
| Boot/Shoe Size | 9.5 US |
| Jacket/Shirt Size | Medium |
| Pant Size | 32x32 |