G00SE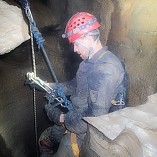 Full Name: private
man
Carlinville, IL
Affiliations: Standards Review Committee--Association of Challenge Course Technology (ACCT)
About
I run an Adventure Challenge program in central Illinois called Eagle Crest Adventures. https://www.facebook.com/eca.team.building?fref=ts High Ropes & Low Ropes/Initiatives are the bread 'n butter of my work. I work with a wide range of clients, from jr. high youth to Fortune 500 Execs.
When I'm not at work, I'm caving, hiking, or camping (or doing all three at once). My camping ranges from using the pop-up camper with the wife and kids to week-long backpacking.
As I was training for a 2015 ascent attempt at Mt. Rainier, I started running (1000+ miles in 15 months). I've since run one marathon and am planning to run more of them.
In March 2013, I was diagnosed with osteoarthritis in both knees. In order to continue with hiking and backpacking, I have started using trekking poles and moved to an ultralight approaching, carrying less than 25lbs on most trips under 4 days.
I am a hammock camper, with no plans to ever sleep on the ground again.
Activities
Hiking
Backpacking
Snowshoeing

Caving
Road Biking
Running

Vitals
| | |
| --- | --- |
| Height | 6'2" |
| Weight | 160lbs |
| Boot/Shoe Size | 10.5 |
| Jacket/Shirt Size | 42L |
| Pant Size | 32x34 |