GaryPalmer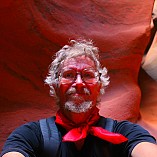 Full Name: private
57-year-old male backpacker
Orderville, UT
Occupation: Semi-retired
Email: private







About
I am a 57 year old, veteran of hiking, camping, traveling, bicycle touring and photography. I have been all over the USA since my first solo trip in 1977 at age 21. Before that I was a Boy Scout and grew up in the country playing in the woods and camping in them with friends. I never grew tired of being outdoors.
I hitchhiked 10,000 miles in the summer of 1977, ending up after going around the lower 48 states, in Alaska where I lived, working winters and hiking summers for 2 1/4 years. After returning to my parents home in Arkansas I started traveling extensively for 1 1/2 years and stayed to working just a few months a year (summers) and taking to the road by bike and the trails by foot the 6-9 months of the year I am unemployed by choice.
I have never owned a house, car (don't even know how to drive) or had any major bills. I spend way to much living in towns when I stop to work summers compared to what I live on 6-9 months a year at around $200-$300 a month, more for cycling than hiking. I bike tour about 5000 miles a year and hike about 2500 miles year on trails and routes thru the woods.  More than often I follow game trails and river beds and only do tourist trails when I don't know my way around or just want to see the sights in parks.
I am currently in Orderville Utah 20 miles NE of Zion NP working the summer (since mid April 2013) I bike 7 miles to and from work every day.  Anyone coming out to Zion, please let me know and I can let you stay with me at my place if need be. The campgrounds in Zion are often filled this time of year. 
I am 100 miles north of the Grand Canyon, 12 from Zion, 60 from Bryce and at the edge of the Grand Staircase area.
My new profile image is me in Red Cave a slot canyon near Mt Carmel Utah where I have been for the last 7 months.
Activities
Hiking
Backpacking
Snowshoeing
Orienteering
Backcountry skiing
Mountaineering
Canyoneering
Geocacheing
Canoeing
Mountain biking

Fishing
Photographer
bicycle tourer
desert rat/hiker
5.10 canyoneer
Adventure traveler
Bacakpacker
Etc
Etc
Etc

Vitals
| | |
| --- | --- |
| Height | 6' 7" |
| Weight | 205 lbs |
| Boot/Shoe Size | 13-14 |
| Jacket/Shirt Size | Medium-large |
| Pant Size | 34x36 inches |