Hutch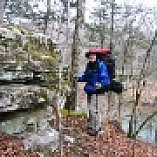 Full Name: private
male backpacker
Germantown, TN
Occupation: Engineer - retired
Email: private

Gear Reviews
Hutch hasn't written any gear reviews.
About
Love backpacking/hiking, especially in winter, also,camping and fishing. I enjoy woodcarving, oil painting and pastels. Also, into reading and music. I like to attend music and craft festivals.
My backpacking is usually done in the Ozark Mtns. of northwest Arkansas and the Smokey Mtns. in east Tennessee and western North Carolina. I would love to do some trips in the northwest U.S. and Canada. I have skied in Colorado, Canada and New Mexico and have done some day hikes there on off ski days, but desire to do some extended backpacking trips in those locations as well. I'm retired now, so I have the time to do it.
I've followed Trailspace.com for a couple of years prior to joining. Good site and resource for backpacking and gear information. I'm happy to be part of the group.
Activities
Hiking
Backpacking

Backcountry skiing
Fishing

Vitals
| | |
| --- | --- |
| Height | 6' 2" |
| Weight | 200 |
| Torso Length | 21.5" |
| Boot/Shoe Size | 11.5 |
| Jacket/Shirt Size | Large or XL (depends) |
| Pant Size | 38 |