Michelle (Innate)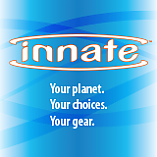 Full Name: Michelle
Vancouver, BC
Email: private

Affiliations: Employee at Innate.
Gear Reviews
Michelle hasn't written any gear reviews.
About
Innate creates innovative, cleanly designed essentials for active travel.  
The Innate collection of cleanly designed essentials includes storage and carrying systems for food, drink, digital mobile products and active travel.  Product collections feature original design solutions that use materials with a reduced ecological footprint and reflect innovative uses of recycled or repurposed materials.
Clean designs lead to a clear mind. Our cleanly designed essentials for active travel deliver seamless performance so you can focus on what's important in your life.  Inspiration starts with where we live; Vancouver, Canada is a spectacular city surrounded by mountains and water. The Innate team draws on this influence to create timeless product collections that will seamlessly fit into your life. Innate is derived from the Latin word Innatus, which refers to the inborn characteristics that are part of one's true core. Our core is the commitment to make carefully considered choices that reduce our ecological footprint and support our philosophy of Leaner, Cleaner, Greener.
The Innate community brings dedication bordering on obsession. Our team holds a successful track record of continuous improvement in design, product testing, production quality and dedicated customer service. 
We have a simple goal: for you to experience lasting satisfaction from our food, drink and active travel essentials and recommend them to your family and friends for daily use in their journeys.
Activities
Hiking
Backpacking
Snowshoeing
Trail running
Backcountry skiing

Mountaineering
Ice climbing
Rock climbing
Mountain biking