izogi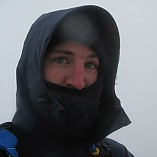 Full Name: private
man
New Zealand
About
Hello.

Until January 2011 I lived in Wellington, New Zealand. I generally hung around and helped out at the Wellington Tramping & Mountaineering Club, and my preferred stomping grounds were the Tararua Range and Ruahine Range (mostly weekenders) north of Wellington, but every so often I'd look further afield.
I've been finding places to go for daywalks for as long as I can remember, but have only been getting out for longer as habit since about 2006 after I decided that I very much want the outdoors to be a normal part of my life, and not just a treat or something I do very occasionally for fun. I've been trying to keep records of what I'm doing on my weblog.
As of the start of 2011, I've shifted to Melbourne at least for a while, sadly as an indirect consequence of low science funding in New Zealand.
Activities