Joseph Renow (jrenow)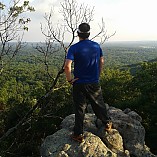 Full Name: Joseph Renow
38-year-old
Evansville, IN
Occupation: Adjunct Professor
Email: private







About
Hmm…these things are always so difficult…since I don't know who you are and what you want to know…but I'll give it a go. Below you will read a narrative I have constructed for how I came to spend ever increasing periods of time in the backcountry…and where I am at the moment in my evolution (horizontal not vertical) as an outdoor enthusiast. There is of course so much to say…and countless more ways to say it…but I think this essay best captures at this moment…my understanding of how I came to be writing to you today. I should also add that I see this essay as a work-in-progress…so the narrative is sure to change and morph over time…not because the events themselves changed…but because my understanding of this community has!
I guess you could say that I came to the backcountry a little later than everyone else…having never gone camping…or even thought about camping till I was almost seventeen. At that time the backcountry was simply a resource for shirking adult supervision…but I remember those times fondly…and it was certainly the start of what would become a long love affair with the more wild part of our world. After graduating high school and moving out…I was looking for a cheap way to holiday…it started with weekend car-camping trips to places like Ocoee…where my friends and I would run rapids all day…and then grill something on the barbeque grill before settling into our comfy tents big enough to stand in for the night. Of course we did not always look to risk life and limb…and it was during one of our more relaxed canoeing trips in the Ozarks that I saw people overnighting on a river for the first time. The idea intrigued me…because I realized that overnighting on the river would allow me to travel greater distances…and get further into the backcountry…a multiday adventure if you will…and this desire has only grown in the years since.
I think canoe-camping is a great way to explore overnighting in the backcountry…as rivers and lakes provide an unlimited water supply…a resource for staying cool in the summer…and in most cases a built in navigation system (I've never been lost on a river!). Moreover…canoe-camping allows for a lot of early experimentation at little cost…mostly because after buying a tent I simply brought anything I already owned at home that I thought might be enjoyable to have on a camping trip. Of course…most of these ideas were terrible…but it wasn't like I spent hundreds of dollars to learn this…I simply kept my barbeque grill and large camp-chairs at home on my patio!
Eventually I learned that I hated loading and unloading…almost as much as I hated setting things up and taking them down. At the same time I was also coming to realize that what I enjoyed most about getting out…was getting further out…so I quickly concluded that I needed to lighten my load and simplify my camping routines…as I saw myself spending too much time in these endeavors. Do not get me wrong…I am by no means an ultra-light zealot (too lazy to be a zealot)…rather I simply find that more often than not bringing extra so-called comforts were more work than reward for me personally. On canoeing trips with friends and people hesitant of the outdoors I still bring what I call my deluxe kitchen system (a simmer and fry set-up…that can also make a delicious blackberry steam-baked lump). I also sometimes bring a small cooler (lunch-box size) covered in reflective bubble-wrap to bring such perishable dairy delights like heavy cream and soft cheeses. The reason being…I have found that people have a food bias when evaluating their overall experience (also a bug bias!)…so the added weight and cubic inches of space required are exponentially more rewarding than other luxuries. The point is…I do not think that there is one certain way to enjoy the outdoors…and that weight and space are not concerns which always supersede others.
Lightening my load and simplifying camp routines eventually led to the ability to go further into the backcountry for longer periods of time…and it was on these +10 day adventures that I learned that the enthusiasm of my companions did not match my own! As a result…I found myself soloing more frequently than I had in the past….and it didn't take me too long to realize that my decidedly tandem canoe was simply too much boat for my solo trips…so I saved some cash (difficult to do as a graduate student) for a small kayak. I went as small as I could with the kayak (which saved a lot of cash)…but I chose the smallest boat I could because smaller boats are better suited for the small rivers and rapids that I spend most of my summers navigaing…and because my light and ultra-light weight loads simply did not require the extra space that larger boats provided. In hindsight I am really happy with my decision to go with the smaller boat…and I think my many years of experience with canoeing and my understanding of myself are what led me to making such an informed decision.
Kayaking is now my preferred form of travel down rivers…particularly when soloing…but because I chose such small and light gear for kayaking…backpacking gained a lot more appeal than it ever had. Over the last few years I found myself taking my lightweight kayaking gear out on trails more regularly…particularly in the colder months of the fall and spring which are perfectly suited for backpacking where I live in the Midwest (southern end). As I did with canoeing and kayaking I realized that with backpacking I like going further for longer periods of time. However...unlike canoeing and kayaking I had to grapple with the difficulties of carrying water and food which had up until that point been of little consequence. My base-weight is about as low as I can get without spending some serious cash or getting into stupid-light territory (which many might argue I am already well into)…so at this moment I find myself (nearly constantly) thinking of ways to reduce my water and food weights...which I see as the most affordable way to increase my enjoyment on the trail. Like a lot of people I have adopted chemical treatments over filters…become a culinary student of the one-pot high-calorie gruel-like meal…and a cache genius (freak?)…but I dream of the day that I NEVER carry more than 10lbs (lol)....I hope that as a member of this community I will quickly elevate my game!
I think I will leave things here for the moment. In the near future I will be adding gear reviews and trip reports as I find the time to do so...and I will also likely be visiting the forums to discuss all things food…backpacks…MYO or DIY gear…canoe and kayak camping…and many other topics I am currently passionate about…so look for me there…and let me know what gems you have discovered along your adventures...I love cognitive short-cuts!
Activities
Hiking
Backpacking

Canoeing
Kayaking