Joseph Renow (jrenow)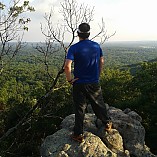 Full Name: Joseph Renow
38-year-old man
Evansville, IN
Occupation: Adjunct Professor
Email: private

About
Intro
In as few of words as possible…I would describe myself as someone who likes to go to remote places and stay there for days or weeks at a time. Typically this involves a backpack…a kayak…or a canoe…but I sometimes stay in one place and focus on an activity like fishing…or perhaps camping itself. What I do depends largely on who I go with…as well as when and where I go. I would say I have a lot of solo backpacking and paddling experience…but this is due to the fact that I like to go to remote places and sleep outdoors A LOT more than most of my would-be companions…not because I prefer it. Put differently…my particular experience has been shaped heavily by my desire to bring friends along with me…and what it takes to pursued them to do so. So while I can certainly speak to the needs and concerns of soloing…my perspective likely privileges what it takes to get others to come along on a week-long 100 mile adventure…more than it would the demands of successfully hiking the AT in three months.
Big Closet
After high school I made my first purchases of new gear…and well…I have not really stopped since. I do not consider myself a gear-head…but I do have a lot of stuff. In my defense…I buy only a few items a year…but over twenty years things just seem to accumulate. Do not misunderstand me…I am always looking to purge my closet of unused items…but what I do outdoors varies greatly…and that which is best for paddling down a spring-fed river in the summer is not always the same as that which is best to hike a rugged-trail for a week in the winter. Unlike a thru-hiker who might construct a single system which can handle a broad array of conditions…I take a very different approach…in that I have a large collection of items which generally work well together…and make possible a multitude of specialized systems.
Philosophy
My perspective on any particular matter is usually determined by the general formula (less work and cheaper > more work and expensive). Some things like good food + insect netting + inflatable mattresses defy the general formula…as their additional weight and cost are off-set by the magnitude of enjoyment they provide in a particular instance. For example…an inflatable mattress is both more expensive and requires more work than a foam pad…but if I use a foam pad I do not recover as fully…and my overall enjoyment is then less than what it would be if I had used an inflatable mattress. Given what I have said up to this point it is hardly difficult to imagine that I like to keep things light and stream-lined. However…while my pack-weights always range between 15 and 10 pounds…I would not call myself an ultra-lighter…in that I do not drop weight as a challenge in itself…I do it only to enjoy my time outdoors more.
Setting
Though I have slept outdoors in many places both within and outside of the US…I very much have a home-region that most of my experience is grounded in. This home-region roughly stretches from Missouri in the West + Tennessee in the South + Virginia in the East + Wisconsin in the North. Though not perfectly accurate...I would say I primarily spend my time in woodland river-valleys. For me then...water tends to be readily available and plentiful...as does heavy tree-cover...so both of these factors shape my opinions and perspective on choice of shelter + rain gear + hats + etc. in salient and significant ways. Similarly...saturated ground and high relative humidity during most of the year means that I tend to be less enthusiastic about wool base-layers and tents with poor ventilation. While I recognize the limitations of my perspective...and try to mitigate it as best I know how...it is of course impossible to be otherwise...as ALL claims of objectivity are necessarily false...and the stuff of scientific mythology.
Activities
Hiking
Backpacking
Canoeing

Kayaking
Fishing