Lah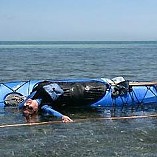 2,951 reviewer rep
86 forum posts
joined Dec 24, 2007


Full Name: private
female kayaker
Miami, FL
Occupation: Marine Operations for University Research
Email: private

Affiliations: I sell handcrafted Greenland paddles, made by my dad, at a small business/retail store in Miami, The Paddlehouse. I am an activity leader for the Florida Trail Association. I work for the University of Miami as the RSMAS Small Boats coordinator and mate on the R/V Walton Smith.
| | |
| --- | --- |
| Re: Coastal Mainah, Avid Backpacker, Aspiring Blogger: Meet Uriah, Reviewer of the Month | May 15, 2016 |
| Re: Inspiration | May 13, 2016 |
| Re: Florida Springs | May 13, 2016 |
| Top 25 reviewer Mug and Coffee Filter | February 22, 2016 |
| Re: Fuel, Flames, and Water: More Gear From Outdoor Retailer | January 11, 2016 |
About
I love the great outdoors, plain and simple. I have lived in a lot of different places, which has allowed me to experience all kinds of activities. I grew up in Colorado but found a passion for the ocean. I've adapted to be more of an aquatic adventurer but still find the opportunity to hit the trails any chance I get.  My all-time favorites are sea kayaking, free diving, and backpacking. And as much as I love the outdoors, I love all the fun gear that makes it so much more enjoyable. Cheers!
Activities
Hiking
Backpacking
Trail running
Orienteering
Adventure racing

Canoeing
Kayaking
Mountain biking
Greenland rolling

Vitals
| | |
| --- | --- |
| Height | 5'9" |
| Weight | 130 |
| Torso Length | 16 |
| Boot/Shoe Size | 9 |
| Jacket/Shirt Size | 6 |
| Pant Size | 2-4 |