Lah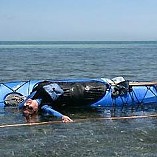 Full Name: private
female kayaker
Miami, FL
Occupation: Marine Operations for University Research
Email: private

Affiliations: I sell handcrafted Greenland paddles, made by my dad, at a small business/retail store in Miami, The Paddlehouse.
| | |
| --- | --- |
| Re: Q&A with Seth Levy, Trailspace's Community Evangelist | November 21, 2013 |
| Re: Trailspace Updates: Cameras, Apps, Thousands of Products | November 7, 2013 |
| Re: Shikinejima, Japan | November 7, 2013 |
| Re: Meet Peter1955, Trailspace's Reviewer of the Month | October 10, 2013 |
| Re: Adventures on The North Rim, Yosemite National Park (Yosemite Falls, Eagle Peak, El Capitan) | July 5, 2013 |






About
I love the great outdoors, plain and simple. I have lived in a lot of different places, which has allowed me to experience all kinds of activities. I grew up in Colorado but found a passion for the ocean. I've adapted to be more of an aquatic adventurer but still find the opportunity to hit the trails any chance I get.  My all-time favorites are sea kayaking, free diving, and backpacking. And as much as I love the outdoors, I love all the fun gear that makes it so much more enjoyable. Cheers!
Activities
Hiking
Backpacking
Snowshoeing
Trail running
Orienteering
Adventure racing

Geocacheing
Canoeing
Kayaking
Mountain biking
Fishing
Greenland rolling

Vitals
| | |
| --- | --- |
| Height | 5'9" |
| Weight | 130 |
| Torso Length | 17 |
| Boot/Shoe Size | 9 |
| Jacket/Shirt Size | 6 |
| Pant Size | 4-6 |