Lah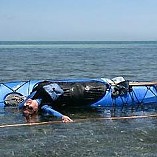 3,818 reviewer rep
138 forum posts
joined Dec 24, 2007


Full Name: private
female backpacker
Miami, FL
Occupation: Marine Operations for University Research
Email: private

Affiliations: I sell handcrafted Greenland paddles, made by my dad, at a small business/retail store in Miami, The Paddlehouse. I am an activity leader for the Florida Trail Association. I work for the University of Miami as the RSMAS Small Boats coordinator and mate on the R/V Walton Smith.
About
I love the great outdoors, and whatever kind of pursuits that get me out there and in it. I have lived in a lot of different places/climates, which has allowed me to 'sample' a wide variety of activities (master of none). I grew up land-locked in Colorado but found a greater passion for the ocean. I've since adapted to be more of an aquatic adventurer but jump at the opportunity to hit the trails any chance I get.  My all-time favorite pursuits are sea kayaking, surfing, and backpacking. Lately, I have begun to seriously consider and plan for a long-distance thru-hike. I hope to do the Te Araroa in New Zealand someday very soon.
As much as I love the outdoors, I love all the fun gear that makes it more enjoyable. Yes, I am a gear head, with no desire to seek help for my condition. I don't see it as a problem that I own multiple tents, tarps, quilts, bags, stoves, etc. My closet is full of shoes but they are all of the same model (New Balance MT10's) and none have heels. I proudly have a collection of titanium and aluminum stakes. Need I say more.
So if you have a similar affliction, you have come to the right place! You can receive support here but don't expect to find a cure. Your condition may even worsen.
Thank you for feeding my addiction Trailspace!
Activities
Hiking
Backpacking
Trail running
Orienteering
Adventure racing

Canoeing
Kayaking
Mountain biking
Greenland rolling

Vitals
| | |
| --- | --- |
| Height | 5'9" |
| Weight | 130 |
| Torso Length | 16 |
| Boot/Shoe Size | 9 |
| Jacket/Shirt Size | 6 |
| Pant Size | 4-6 |