Bill "L.Dog" Garlinghouse (Ldog)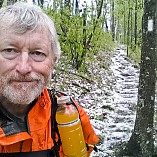 Full Name: Bill "L.Dog" Garlinghouse
59-year-old backpacker
Western, MI
Affiliations: I have no professional, or economic relationships with any manufacturer, and none have given me gear to review.
About
Been enjoying the outdoors since summers in the Whites with the boy scouts in the 60s. Trained in winter mountain travel and rescue by Ski Patrol and USMC. Extensive first aid training via Ski Patrol, NOLS and Navy Field Medical Service School.
In the last few years I've been hiking the Appalachian Trail in sections. Katahdin to Manchester Center, VT took me through the 100 Mile Wilderness, the Presidential Range of the White mountains, and the Green Mountains of Vermont. I just completed a section from Rock Gap, NC to the James River Footbridge in Virginia, which took me through the Smokies, the Roan Highlands and into the Blue Ridge Mountains.  This year I'll be hiking Shenandoah north till it's time to go home.

When I'm done with the AT, I don't know what's next.  Maybe I'll buy a boat ...
Activities
Hiking
Backpacking
Snowshoeing
Backcountry skiing

Geocacheing
Canoeing
Mountain biking
Fishing