Michael Sanborn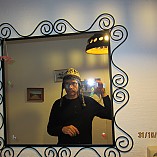 Full Name: private
52-year-old man
Waldkirch, Baden Wurttemburg, Germany
Occupation: Sales
Email: private

Affiliations: I would like to be a tester. I pay attention to detail and am very aware of quality and function of gear. I usually find some videos lack information that I find important.
About
I am just getting into backpacking, finally. I was in the Boy Scouts for two years and got tired of the ego driven leaders. So I dabbled in backpacking and never dove into it because of money, time, etc. I always had the idea on the back burner and now at 47 married with two young men, 19 and 15, we are now getting set up to go on some tours and are planning to hike in Austria, Italy, Bavaria, and hopefully Norway. 
So we are researching and getting information on what is really useful and what is a waste of money. Some equipment is not cheap and the selection is huge. So we bought quality backpacks, down bags, and want to buy light equipment, but not ultralight. I was just going to buy hydration bags from Deuter but read it is hard to tell when you run out-then what? So it seems most people are more comfortable with bottles, unless you store two liters for cooking. It pays to research and I don't have many to burn. But if some generous company would like to send me free product to test I would do it and make a video for I am a salesman. Yeah. Anyhow.
We want to get set up and be comfortable and prepare well for big trips. 
I love hiking rather than sitting around a campground playing ping pong. I like to move and empower my mind and body and experience nature, the wind, rain, the elements. Wife and boys feel the same way. They too can learn how to backpack and do it alone. There is a lot of great backpacking country in Europe. 
Activities
Hiking
Backpacking

Trail running

Vitals
| | |
| --- | --- |
| Height | 5'10" |
| Weight | 152 |
| Torso Length | 52 Medium |
| Boot/Shoe Size | 10.5 |
| Jacket/Shirt Size | Medium |
| Pant Size | 31x32 |