Notellin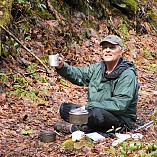 Full Name: private
backpacker

Occupation: Finance Director, Criminal Court
Email: private

Gear Reviews
Notellin hasn't written any gear reviews.
About
I've been camping, backpacking for about 50 years. Eagle Scout, OA brotherhood and still love to git out in the woods.
Fish mostly in Arkansas and backpack and camp during the winter in the Smokies. Ain't nothin like it.
Never done much hiking in Mississippi, even though I live in Shelby County, TN. When I do hike in the summer it's in the higher elevations where it's cooler up in the mountains.
Activities
Hiking
Backpacking
Canoeing

Kayaking
Fishing