Patman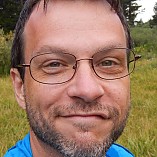 Full Name: private
Knoxville, TN
Email: private

About
Hello outdoor world…I'm a backpacking enthusiast (bordering on fanaticism some would say, but on Trailspace I'm normal!).
I roamed in the woods for much of my youth and went on many day hikes as I grew older. However, I only discovered my passion for backpacking later in life (early thirties or thereabouts) and have been pulling solo trips for about seven years with the last few years being fairly intense.
Living in Knoxville Tennessee, I'm surrounded by some nice places to hike and avail myself of the geographic opportunity as often as I reasonably can.
I now use Trailspace to journal most of my backpacking trips so check out my Trip Reports tab to see where I go.
Activities
Hiking
Backpacking

Trail running
Mental Health

Vitals
| | |
| --- | --- |
| Height | 5'7 |
| Weight | 160 |
| Torso Length | 18in |
| Boot/Shoe Size | 9.5 |