Paul W.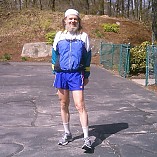 Full Name: Paul W.
57-year-old male hiker
Brunswick, ME
About
I take 10-14 two-night camping trips in the summer at my land in Pownal. I ride my mountain bike there, 15 miles each way. I'm not into mountain biking, though: As a matter of fact, I think of mountain bikers as a nuissance when I am walking along the trails.
I am into road biking and on sundays in summer, I do 60-milers, and 30 on wednesday.
Next summer, the road biking will be very limited because I'll be training for the 2015 UHC Newport Marathon. I'll still get my camping in, though.
Activities
Hiking
Fishing
Running

road biking
camping