Scotty Thompson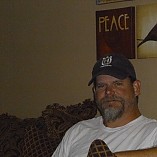 Full Name: Scotty Thompson
47-year-old man
Colorado
Occupation: Trail Crew
Email: private

About
I have spent most of my life trying to get out into the woods, now my work takes me there. I have worked on a USFS trail crew for the last 12 years. I get to spend most of every summer in the mountains working, hiking and camping.
Trail crews are notorious for being hard on equipment. Our packs are taken off and put back on hundreds of times a day. We carry chainsaws or crosscut saws over our shoulders, usually resting on (and tearing up) the top of our packs. We carry an assortment of hand tools including Pulaskis, Rogue hoes, shovels, loppers, and pole saws. We carry mil bastard files to sharpen the hand tools, wedges for sawing, Sig bottles of lube for the crosscut saw, or Sig bottles of saw gas, and bar oil for the chainsaw, and a pouch of replacement parts for the chainsaw. That's a lot of extra weight, and a lot of sharp edges.
We usually camp in a different spot every night, so our tents are set up and taken down again, over and over, all summer long. One filter provides water for the entire crew. When it's raining we work in our rain gear. We are constantly crossing rivers and creeks so our boots are rarely dry.
I guess what I'm trying to say is....... if I give a piece of gear a good review you can trust that it held up to more than just normal wear and tear.
Activities
Hiking
Backpacking
Orienteering

Fishing
Hunting

Vitals
| | |
| --- | --- |
| Height | 6 ft |
| Weight | 220 |
| Boot/Shoe Size | 10-11 |
| Jacket/Shirt Size | xl |
| Pant Size | 36x34 Large-Regular |