UUjohn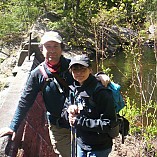 Full Name: private

Occupation: Voice Actor
Email: private

Gear Reviews
UUjohn hasn't written any gear reviews.
About
My sweetie and I are fairly new to hiking and backpacking.
Being over 50 we've committed to keep moving as long as we're able, and exploring the outdoors like we never have before is becoming quite an enjoyable challenge.

We're both trail crew volunteers for the AMC, Chatham Trails Association of Chatham New Hampshire, a couple municipal trail systems, and trail adopters for Mt. Monadnock.
We hope to do more overnite backpacking, and perhaps tackle a couple of NH's 4K footers.



Activities
Hiking
Backpacking

Snowshoeing
Trail Construction/Maintenance