wcsoccerfan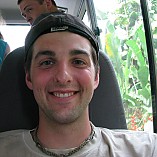 Full Name: private
31-year-old male hiker
West Lafayette, IN
Occupation: Purdue Student in Biology
Email: private

About
I'm lost. I am a cell biology major doing human cancer research at Purdue University. Ironically, I hate being stuck inside. Figures.
I've worked at a local retailer of casual/outdoor goods, such as footwear and apparel, for the past couple of years to pay the bills, and it has given me some great opportunities to try out quite a few brand names at cheaper-than-generic prices. I'm extremely familiar with brands such as Merrell, Keen, Patagonia's footwear line, The North Face (to an extent), and a few others you might associate with high quality if anyone ever has questions. (Oh what I would give to have stuff from Mountain Hardware and Marmot in my store too.) I specialize in knowledge of the little outdoor equipment we carry in our store, and am always blunt and honest to a customer who actually NEEDS a product, whether it is for warmth, support, features, or durability...once it leaves it typically won't come back if I've helped them.
For hobbies, I do light backpacking (never more than a single night alone), plenty of car camping, fishing, hiking, kayaking, mushroom hunting, and I play a few sports off and on too. I've been most places around the country, and I've spent a few weeks in Canada and Costa Rica as well.
Finally, being from Indiana, I've gotta say that while most people find this state boring and unimaginative, I find it a treasure trove of things to do. While there are certainly more beautiful and eventful places in the country/world, a little aimless wandering and love of the outdoors can go a long way in this state.
Activities
Hiking
Backpacking
Trail running
Geocacheing

Canoeing
Kayaking
Fishing

Vitals
| | |
| --- | --- |
| Height | 6'2 |
| Weight | 165 |
| Boot/Shoe Size | 11 |
| Jacket/Shirt Size | M/L |