Will Lyster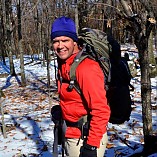 Full Name: private
backpacker

Gear Reviews
Will Lyster hasn't written any gear reviews.
About
I'm a professional photographer – which is actually a hobby that I happen to get paid for. Monday through Friday, I am a construction project manager for a general contractor in Charlottesville, Virginia.
I am a member of CERT – the Community Emergency Response Team and I am certified by the Virginia Department of Emergency Management in IS-700 National Incident Management System (through FEMA) as well as IS-907 Active Shooter scenarios. I'm also and avid hiker, backpacker and explorer. I usually start out on a trailhead, but it's not long before I'm taking a route not previously traveled. I also enjoy snow skiing, shooting, sailing and flying.
My trail name is "Toolbox" – a name given to me by a group of friends sometime in the 80′s. I'm not a fan of having a nickname, but on the AT there are just too many hikers named Will.
Why Toolbox? When I was younger, whenever we went hiking or camping, someone would always forget something of vital importance – and of course, none of the rest of us had that item either. No matter what it was, however, I could always find a way to create to necessary tool or instrument out of available materials to get past whatever obstacle was in our way.
My friends had originally considered calling me "MacGyver" – something I was really opposed to (although he impressed me back then). I just didn't believe in some of the things he came up with.
I can attribute most of my survival skills and back-country ingenuity to my training in the Boy Scouts. I didn't make Eagle Scout in time before I left the scouts, but I did get to the rank of Star Scout in 1979 and began working on my Life rank and I'm still proud of that.
I'm older now and financially better off – which has enabled me to buy all sorts of today's technology and super-cool gadgets, but I still retain my "toolbox" skills.
Activities